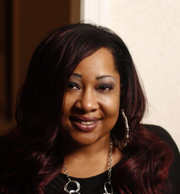 "The most beautiful people we have known are those who have known defeat, known suffering, known struggle, known loss, and have found their way out of the depths. These persons have an appreciation, sensitivity, and an understanding of life that fills them with compassion, gentleness and a deep loving concern. Beautiful people do not just happen."
— Elizabeth Kuebler-Ross
She couldn't afford the red bottom shoes or the Brazilian weave. In fact, she didn't really even have gas to make it to her appointments, but she wanted to model. She tried out for several casting calls only to hear each time that she was too big, too short, and once she was even told that she needed to polish her look. She wondered what that meant since she took hours doing what she thought was polishing before she got there. She couldn't understand, so she just assumed that she just wasn't pretty enough.
After a few weeks, a friend walked up to her and handed her a flyer for a new group, TAPS, which celebrated full-size women. Her friend told her that she should try out. She was reluctant because she just couldn't be rejected again. She didn't know if she would recover from being told she was not beautiful yet again. She had to pray.
The day of the model call, she got dressed and undressed three different times. She finally settled on a blazer she had purchased from a thrift shop and a jumper that she had for three years but never had the courage to wear because it made her breasts look big. But today, she thought she'd just give it a try.
Leaving her studio apartment, she noticed she had a flat tire. She turned to go back to the apartment, feeling defeated, when she noticed that she didn't have her keys. She'd left them inside and locked the front door. She fell to her knees in the middle of the parking lot and cried. Soon, she heard the voice of her friend (the one who gave her the information about TAPS) saying to her, "Come on. I'll take you."
When her number was called, she nearly lost it. But she gathered herself and started her strut. She walked as fiercely as she knew how. She smiled, and she gave "face." She put on the most confident demeanor she could muster.
When I heard this story after she had been selected, I knew that there is more to life than what we think. There is order in all things; there is purpose in all things.
Since I founded TAPS—Thick And Proud Sisters—I have had the pleasure of learning the truth that lives in the words by Elizabeth Kuebler-Ross. Before TAPS, I think I was like most people in that I characterized beauty as something physical. It was easy to identify beauty as having something to do with appearance. Now, I know that it is not a thing or even a description, it's an emotional characteristic. It can't be learned or prepped. Beauty is born and lives in our soul.
It doesn't just happen.
This young lady has turned out to be one of TAPS' biggest supporters, and she is one of the most beautiful women I have ever met in my life. To me, it's not her hourglass figure or her evenly toned skin that makes her beautiful. It's not her hairstyle or her tall, solid strides. It's the courage in her heart and the purity in her spirit. I know that she could have easily given up that day. I know what it's like to feel like every turn is pushing you away from positivity. I've lived that.
But this young lady was a true example of willing something into reality. She found herself that day, and so did I.
Please, do not cheapen beauty by thinking it so hollow as to only be about a person's physical features. Beauty is a tag of victory and completion.
One must earn the right to be beautiful, and it can't be accomplished by a long weave and pointy finger nails. It can't be met by butt injections or Botox. Beauty only lends itself to those who have gone through the fire to get it.
It doesn't matter what your style is or how you carry yourself, when your heart and soul is good, pure, and loving, you will radiate in beauty. You don't have to sell people on it, either. Beauty is something easily recognized when it belongs to you. We can see it!
Queen is a word lover, a poet, and an advocate for women and sisterhood. She struggles with an addiction to reality television. To find out more about TAPS, email [email protected] or find Thick And Proud Sisters on Facebook.
TAPS hosts a Fashion And Full Frames Model Showcase at 7 p.m. Nov. 7 at the Arts Center of Mississippi (201 E. Pascagoula St., Suite 102, 601-960-1500).
More stories by this author
Support our reporting -- Become a JFP VIP.
The news business has changed dramatically in the past year, and we need your help more than ever to keep bringing you important stories about Jackson and the Metro. Become a JFP VIP with an annual membership or you can Sign up as a monthly supporter. Thanks for anything you can do to empower our journalism!