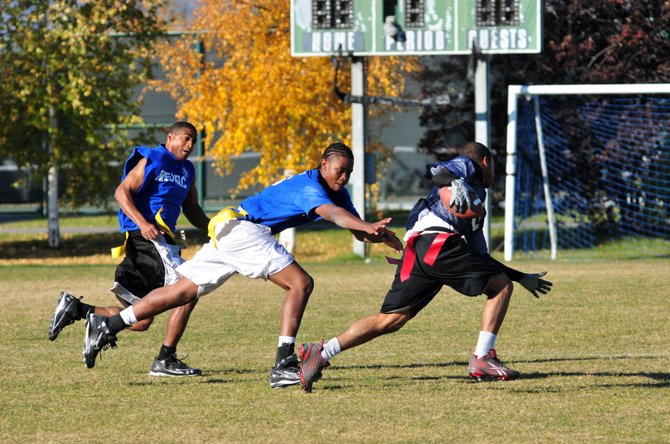 Around the country, especially in California and Texas, flag football leagues have grown in popularity over the last few years. High-school and college programs travel the country playing seven-on-seven flag football.
That doesn't mean just school-age athletes are playing flag football, though. Leagues for adults have also grown the last few years. Locally, Jake Wimberly wants to grow his Tri-County Flag Football league into the best in central Mississippi.
"There are some good leagues around the metro area," Wimberly says. "Flowood, Jackson and Clinton--just to name a few--have good leagues, but just about every league has different rules and nearly everyone says the officiating isn't very good."
Wimberly has been playing flag football for nearly a decade and has traveled the country playing in tournaments. He believes that his new league, sponsored by Performance 360 (853 Wilson Drive, Ridgeland, 601-991-3360), could become the "best league Mississippi has to offer."
Tri-County Flag Football is open to anyone 18 years or older, not just residents of Rankin, Hinds and Madison counties.
"If a team from Copiah County wants to come and play, we will welcome them," Wimberly says.
Due to space limitations of the field, the league will be four on four. Teams can have a maximum of eight players on their roster. The Performance 360 indoor field is 40 yards long and 35 yards wide with two 10-yard end zones (making the field a total of 60 yards long, although the playing area is shorter).
Games will have a 30-minute running clock, but the final minute of every game will be run like real football. The clock will stop for incomplete passes, players going out of bounds and other normal football clock stoppages.
The ball must be snapped before the 25-second play clock expires and the quarterback has just five seconds to throw the ball after it is snapped. If the quarterback fails to throw the ball before five seconds is up, he is down.
If the quarterback can't find an open receiver, he can't run the ball for a positive gain. The only running the quarterback can do is scramble if the defense rushes him.
Each game will have two officials on the field who spot the ball, along with other duties. One official's job is to watch the quarterback to make sure he throws the ball in five seconds, and the other's role is to watch the players going down field to catch passes.
This league features no kicking. The game starts with a team taking the ball at the 10-yard line and maintaining possession until they score, or turn the ball over on downs or a turnover. When a team scores a touchdown they can go for one point from the three-yard line or go for two points from the 10-yard line.
Most of the rules for flag football are just like regular football, although each league has a few notable differences--Wimberly is planning to put a list of the unique rules on the Tri-County league's Facebook page.
Wimberly believes that two things will make his league successful. "I have been working hard to get experienced flag football officials and making sure we are organized," he says. "I want to have good officials so no one is upset during and after games."
Officiating seems to be what Wimberly thinks will separate his league from others. "I have played in leagues where smack talk has gone too far, and the officials lose control of the game before the game ends," Wimberly says.
Wimberly says sportsmanship will come first, and he wants players from all teams to build a camaraderie based on friendly competition. He hopes to start a kid's league in the future and host a late summer league if the spring league is successful.
Each team pays a $300 fee, which helps pay the officials and cover use of the indoor field. The fee breaks down to $37.50 per person for a full team of eight players. The deadline to form a team is March 11, and games will begin March 19 at 6 p.m.
To learn more about the league, contact Wimberly at 601-613-8918 or by email at [email protected] You can also follow the Tri-County Flag Football league on Facebook (facebook.com/ TriCountyFlagFootball).
More like this story
More stories by this author