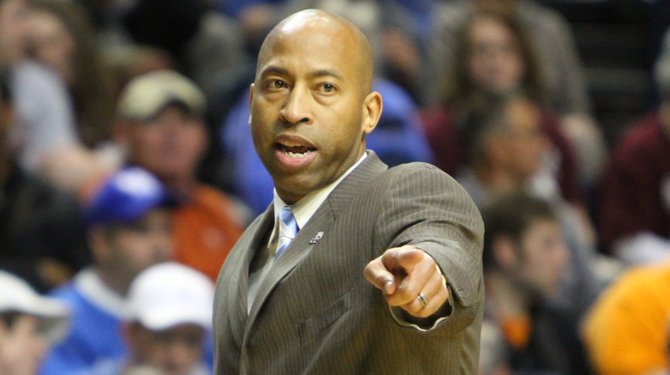 Basketball is one of a few sports where a special player can take over a game and lead his or her team to a victory (this is the only reason Kentucky coach John Calipari makes deep tournament runs). If you don't have one of these special players on your roster, you better have an outstanding coach.
A great coach knows when to use a time-out at the perfect time to stop an opposing team's offensive run of points. These coaches know when to substitute players with foul trouble or when to give their best player a rest for the stretch run at the end of a game.
As the college game becomes more micromanaged, especially at the end of game, a good coach becomes even more important. Our state might be starting to amass a nice collection of coaches who fit these descriptions.
Mississippi State Bulldogs
Coach: Rick Ray
Career coaching record: 17-24, all at Mississippi State
2012-13 season: 10-22 overall (4-14 SEC)
2013 Postseason: None
Arena: Humphrey Coliseum
Radio: 105.9 WRKS FM
Simply looking at the win-loss record for Mississippi State doesn't begin to tell the story of the heck of a job Rick Ray did in his first season in Starkville. Nearly every night on the floor the Bulldogs were the underdogs in terms of experience and talent. Nonetheless, Ray had his Bulldogs fight hard, even when they came up short. Lowlights, such as the 95-49 beat down from North Carolina (yes, that North Carolina), were balanced with some highlights, including a win over Ole Miss and a win over South Carolina in the SEC tournament.
Ray faced a rebuilding challenge last year. This year, folks expect the Bulldogs to be improved, but barring a magical run in the SEC Tournament for the league's automatic bid, an NCAA berth for Mississippi State is unrealistic.
Mississippi State returns most of last season's roster, which includes Craig Sword and Gavin Ware, both on the All-SEC Freshman Team at the end of last season. Sword, Ware and Roquez Johnson are all averaging double-digit scoring. This trio is part of eight players getting 12 or more minutes of playing time, which shows the depth of rotation Ray is building.
The schedule is filled with a bunch of cupcake games, but Ray is trying to rebuild a program and building confidence is part of that job.
Mississippi State has two losses so far against TCU (who finished last in the Big-12 last season) at home and Utah State (who finished fourth in the WAC last season) on the road. The Bulldogs had a terrible first half late against the Aggies, putting themselves in a big hole early on the road.
MSU hosted the Horned Frogs in the Big-12/SEC Challenge, losing that game by 10 points. The Bulldogs were down 59-56 with 2:24 left in the game, but couldn't close the deal. State is still learning how to win.
This season will be a success for Ray and the Bulldogs if MSU can earn a NIT bid to build on for next season. A NCAA bid should be the goal for the 2014-15 season if Mississippi State can keep this young squad together. Ray looks like a good hire after his first season, but the Bulldogs need to show improvement in SEC play.
Postseason: NCAA berth highly unlikely but NIT bid—which is possible—should be the goal.
Mississippi Rebels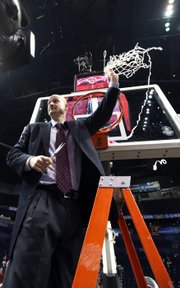 Coach: Andy Kennedy
Career coaching record: 159-89 at Ole Miss and 180-102 overall
2012-13 season: 27-9 overall (12-6 SEC)
2013 postseason: NCAA Tournament (ended with a 76-74 loss to La Salle in the round of 32)
Arena: Tad Smith Coliseum
Radio: 93.7 WFMN FM
Andy Kennedy finally did it: In his seventh season at Ole Miss, he led the Rebels to the NCAA Tournament.
Forget about the SEC being historically weak last season, and Ole Miss playing more cupcakes than you will see at bakery. The Rebels hadn't made the NCAA Tournament since 2002, and Kennedy made me and just about every other sports writer eat crow when he not only got Ole Miss into the Big Dance, but also led the team to a victory in the SEC Tournament.
This season, the Rebels have to replace low-post players and rebounders. The good news is Ole Miss is returning reigning Howell Trophy winner Marshall Henderson. The shooting guard has garnered headlines for all the wrong reasons, including an arrest this offseason. Henderson is, without a doubt, the best player on the Ole Miss team, but he is on thin ice with his behavior.
The Rebels also return Jarvis Summers, LaDarius White, Aaron Jones, Derrick Millinghaus and three other players from last year's squad. One newcomer to watch is Sebastian Saiz, who played internationally. Currently, the Rebels show a lot of depth with nine players averaging 16 minutes or more per game.
The non-conference schedule this season mixes teams from last year's NCAA Tournament with some tough games against Georgia Tech and Penn State. The non-conference slate ends with the Mercer Bears and Dayton Flyers—two of the best mid-majors in college basketball right now.
So far in the 2013-14 campaign, Ole Miss has defeated North Carolina A&T, the defending MEAC Champions, but lost very close games to perennial Big Dance teams Kansas State and Oregon.
The Rebels still have games against Middle Tennessee and Western Kentucky. Both teams reached the NCAA Tournament last season.
Reaching the NCAA Tournament for a second-straight season will test Kennedy's coaching abilities. Kennedy and the Rebels NCAA chances will improve if the rest of the SEC is better than last year, and if Ole Miss can finish with a good conference record.
The conference games that could help Ole Miss reach the Big Dance include home games against Missouri and Florida and a home series against Kentucky. Ole Miss will be a lock for the NCAA if it can win its home games against these three opponents.
Postseason: NCAA bid extremely possible & NIT bid is a lock.
Jackson State Tigers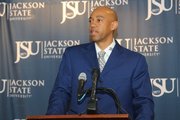 Coach: Wayne Brent
Career coaching record: 0-0 (First season as college head coach)
2012-13 season: 11-18 overall (9-9 SWAC)
2013 postseason: None
Arena: Lee E. Williams AAC
Many watchful eyes will be trained on the Jackson State basketball program over the next few years. Wayne Brent takes over for Tevester Anderson, who retired after spending the last decade on the JSU bench. They'll be waiting to see if Brent can repeat the success he had at the high school level. Brent was an assistant under former Ole Miss coach Rod Barnes and has won state titles at Provine and Callaway high schools.
No one is expecting Brent to win national championships at Jackson State, but the hope is that he can lead the program back to the NCAA Tournament for the first time since 2007. The eyes on Jackson will be watching to how well Brent's team play, with the hope of landing the next big coaching prospect (like Sean Woods at Mississippi Valley State).
Brent will get a chance to show off his coaching abilities right away. Jackson State only returns two players with experience from last year's team: senior Jeff Stubbs and junior Derrell Taylor, the only returning starter. The rest of the 12-man Tigers roster consists of new eligible transfer players, seven true freshman and a redshirt freshman. One freshman to watch is Javeres Brent from Provine High School.
Julysses Nobles is a senior and former Arkansas starter who will give Brent some on-the-court expertise for the team to rely on this season. B.J. West, a transfer from New Mexico State University, will also be immediate help for the Tigers.
Brent, Noble, West and Stubbs are the Tigers' current top four scorers. Currently, nine players for Jackson State are averaging 11 minutes or more of playing time.
JSU has only three wins so far, but the Tigers have been very competitive in nearly every game. That includes a two-point loss to Mississippi State, an 11-point loss to Louisiana Tech and a five-point loss to Tulane.
The only way the Tigers will make the Big Dance is by winning the SWAC Tournament to earn the conference's automatic bid. Jackson State has been picked to finish in the middle of SWAC this year.
If Brent can build a winner at Jackson State, Tiger fans can expect big jobs to try to lure the new lead Tiger away.
Postseason: It is NCAA or Bust for the Tigers.
Southern Miss Golden Eagles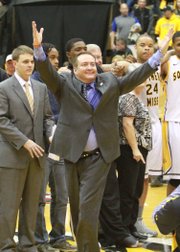 Coach: Donnie Tyndall
Career coaching record: 36-11 at Southern Miss & 180-100 overall
2012-13 season: 27-10 overall (12-4 C-USA)
2013 postseason: NIT Tournament (lost 79-62 in Quarterfinals to BYU)
Arena: Reed Green Coliseum
Radio: 105.1 WQJQ FM or 620 WJDX AM
Donnie Tyndall and USM might be the best coach-university fit in the state.
Tyndall has re-energized Southern Miss basketball in his first year with the program. Not since the late, great M.K. Turk was head basketball coach at USM has this much excitement existed around the program existed—not even during the James Green or Larry Eustachy eras.
In his first season in Hattiesburg, Tyndall and his Golden Eagles finished second in the conference, behind former Conference USA powerhouse Memphis in the regular season and C-USA tournament. Southern Miss lost the C-USA championship game in double overtime, denying the team a NCAA Tournament bid.
The last two seasons, USM has finished behind Memphis in C-USA, but the Tigers are gone, and the conference has added a slew of teams. Currently, it looks like C-USA will be a one-bid league in the NCAA Tournament this year, just as last year.
Tyndall will be trying to replace two major pieces from last year's team, Dwayne Davis and Jonathan Mills. Both Davis and Mills were instrumental to the success the Golden Eagles saw last season.
Southern Miss returns Neil Watson, Jerrold Brooks, Michael Craig and Daveon Boardingham from last year's campaign. The Golden Eagles also have two transfers eligible this season in Aaron Brown (from Temple) and Chip Armelin (Minnesota). Tyndall has plenty of depth with nine players getting 11 minutes or more of playing time so far this season.
This year's schedule already features wins over some strong mid-majors including DePaul, North Dakota State and Morehead State (coached by former MVSU coach Sean Woods). Southern Miss' lone loss so far this season came on the road against the defending NCAA Tournament Champion, Louisville.
Louisville blew out the Golden Eagles, but the Cardinals will blow out a lot of teams. USM also has a game against Western Kentucky (a NCAA team last year) and Drexel still on the non-conference slate. Southern Miss' non-conference schedule is filled with cupcakes from mid-major conferences, hurting their strength of schedule and making it necessary to win the C-USA Tournament. That could change if some of USM's opponents turn out to be diamonds in the rough in conference play.
A host of other teams will challenge Southern Miss in conference. Louisiana Tech, UTEP, Tulsa, Charlotte and UAB look to be the other major contenders for the C-USA crown.
If USM beats Charlotte, it could help their chances immensely since Charlotte already has big non-conference wins against Michigan and Kansas state, plus a good loss in overtime to Davidson. Even better could be a win against the 49ers, that could be huge down the season's stretch.
C-USA might get only one bid, but it is too early in the season to tell as teams play non-conference games. A good win early in the season can mean nothing in March and a meaningless win early could turn into a big plus for an at-large bid.
Southern Miss needs to hope they can be one of the top teams in C-USA and the teams they beat rack up good wins. A NCAA bid for Tyndall could be in reach come March.
Postseason: A lock for NIT bid and a better-than 50-50 shot at an NCAA bid
More stories by this author
Support our reporting -- Follow the MFP.