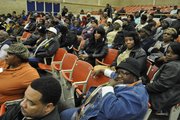 More than a hundred Jackson Public Schools bus drivers met with District Superintendent Cedrick Gray Friday morning at Powell Middle School. Drivers were on strike for the ninth day, demanding better pay, contracted hours and better discipline systems.
Gray, who has been head of JPS for 18 months, was tied to the proverbial whipping post for more than an hour, answering angry questions from the drivers. In a question-and-answer format, drivers, some striking and others working through what Gray called "the storm," peppered him with questions about when they could expect raises and what could be done about discipline.
Patricia Parker, who is in her 13th year of driving for JPS, said she hasn't received a raise in seven years, and asked the superintendent whether or not he, or anyone he knows, would stay on a job for seven years without receiving a raise.
Gray didn't answer that question directly, but pointed out that one of the first problems he recognized when he got to JPS was pay. "But you know better than I do that it's irresponsible to spend $30 when you only have $20," he said. "... We are working on it. There is an adjustment that is set to kick in (in the next 12 months), but it doesn't happen overnight. I recognize it; that's why we've been working on it."
The average pay for a part-time JPS bus driver is $10.79 per hour for a five-hour shift. Pay comes with health insurance, paid holidays and retirement, the Associated Press reported. The drivers, who are paid monthly, say they want to be paid more and more than once a month.
Although Gray agreed that drivers' wages were low, he said his hands were tied until the next school year, when the school district submits its next budget to the city.
Another driver, Charlene Hampton, who said she'd been a JPS driver for 17 years, said that she had one student who was suspended from school for 20 days, but only after his eighth write-up. "He came back to school after the suspension and continued to act the same way," she said. "He hung halfway out the window and one day grabbed the steering wheel while I was in traffic with a bus full of other kids. It took 11 write-ups before he was banned from the bus."
Hampton suggested there could be better systems in place that would hold principals more responsible for swift discipline on buses.
"Maybe we could file reports at the (bus) terminal and they could put the call in to the school," she said. "That way there is a record of it, and the call is coming from the district instead of from the drivers and their supervisors. Maybe then something would happen in a more timely manner."
A member of Gray's staff at the district office took notes, and Gray promised that her suggestion would be considered.
It is unclear how long the strike could continue, but some drivers are still making their routes to ensure the students make it to class.
"I want everyone to give these men and women a round of applause," Gray said. "I know it is hard on them, but they are doing the right thing."
More stories by this author