The 4-2 vote the city took last week to enact fingerprint scanning for the city's child-care programs might have been a little premature, following revelations that a previously filed injunction could delay and ultimately kill the Mississippi Department of Human Services mandate.
In an order filed Aug. 28, 2013, Hinds County Chancery Judge Denise Owens granted a temporary injunction that allows child-care providers who did not volunteer to be a part of the pilot program to opt out of the MDHS mandate. The legislation's supporters want public child-care programs to switch to fingerprint scanning to better track the time that children spend in the government-subsidized child-care centers.
That may mean Jackson's three city-run child-care centers, which service nearly 300 children, could also opt out of the fingerprinting program, at least for now.
State officials have argued that the system could cut administrative costs, more accurately record attendance and prevent fraud. Child-care advocates, like Mississippi Low-Income Child Care Initiative spokeswoman Cassandra Welchlin, say the policy is discriminatory, invasive and dehumanizing, especially considering that parents and guardians of other income levels would be exempt.
"We know it's going to be a hassle for the parents to have to scan in and scan out," Welchlin told the JFP last week. "These are low-income working parents we are talking about, and it's inconvenient to them, and to the child-care providers, to have them come down and give their fingerprints."
Mississippi has been participating in the Child Care Certificate Program (or CCCP) since the 1990 passage of the U.S. Development Block Grant Act and its provision known as the Early Child Care Program Development Fund. The program is run through the Mississippi Department of Human Services, which just switched to a new tracking system in 2012 that it now calls defunct.
The state's new contract with Xerox has already paid $1.7 million for 1,815 finger scanners and VeriFone machines that resemble credit-card readers, and will pay another $12.8 million to the company for upkeep and maintenance through 2016.
The Jackson City Council passed an emergency motion to comply with the move to the new system last week under the false pretense that the city had no choice but to go along.
"I wasn't surprised that there had been a legal challenge," said Ward 4 Councilman De'Keither Stamps, who joined Ward 6 Councilman Tony Yarber in voting against the measure.
"I made a few phone calls to some human-rights organizations, and found out there is more wiggle room than we believed there was Tuesday. If it hadn't been presented as an emergency item, we would have been able to research it."
The state says the new system will prevent fraud and save money. State officials have argued that child-care providers can doctor their records to receive additional funding, and those that do are likely to drop out of the program. Also, children who have too many absences could lose their vouchers.
"Mississippi has always been just about the last in everything," Jill Dent of Mississippi's Department of Human Services told NPR in November 2012.
"So we're taking a step forward, and we want to be one of the first states that utilize technology to be able to push a state forward."
At a meeting of the city council on Nov. 25, Jackson Mayor Chokwe Lumumba said he believes 99.9 percent of parents and child-care providers who receive vouchers don't jump through the hoops that are already in place to get the certificate vouchers to collect money to which they aren't entitled.
Jackson currently receives $78,000 a month from MDHS, without which the city says it cannot continue to run its three child-care facilities.
"There's really been no demonstration that there's been fraud," Lumumba said. "I don't know how many of us have had experience with welfare situations, but 99.9 percent of people aren't going to go through what you have to go through to get this money. There's dehumanization and other things that happen that prevents one to go in there and fraudulently slip into the system."
Welchlin's organization puts the number of kids in the CCCP program at 18,000, with more than 8,000 currently on the waiting list. She argues that the number of child-care centers that accept CCCP parents could drop, and that some centers would have to close their doors altogether.
"(Child-care providers) don't want to give Xerox access to their account information," Welchlin said.
"Also, (MDHS says) the program won't cost the child-care providers anything, but there are hidden costs. The reimbursements often are not on time, meaning they have to cover some costs until the payments come in, and many of the providers have to hire extra staff or dedicate man hours to implementing the program and making sure it runs well."
In September 2012, MDHS installed biometric finger scanners at 20 child-care centers in the Jackson metro. MDHS' move prompted a firestorm of complaints from child center directors who say the new system is wrought with problems and raises concerns about personal information security and privacy. Child-care providers took legal action to prevent the scanner program from taking effect statewide.
As of press time, Jackson had not reversed its decision to comply with the MDHS order, but the city council was set to take up the issue again at the Dec. 3 meeting. Stamps said he expected to hear from the management at several child-care providers.
More like this story
More stories by this author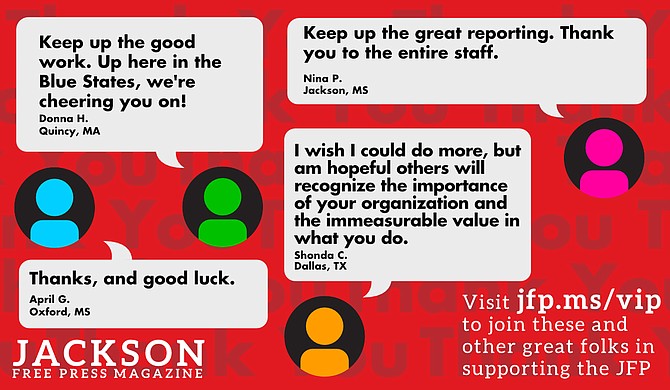 Thanks to all our new JFP VIPs!
COVID-19 has closed down the main sources of the JFP's revenue -- concerts, festivals, fundraisers, restaurants and bars. If everyone reading this article gives $5 or more, we should be able to continue publishing through the crisis. Please pay what you can to keep us reporting and publishing.