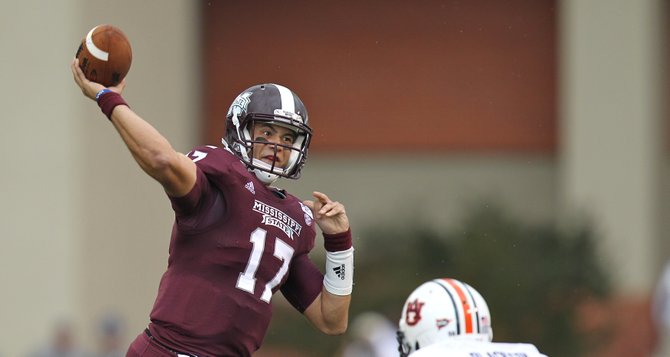 In America nowadays, we have two seasons: football season and waiting-for-football-to-return season.
The waiting season is nearly over as the calendar slowly moves its way to fall. Soon, the air will get cooler, and football season will be in full swing. Teams hope the dog days of summer and their work through August rewards them on the field in victories. Hopes, as always, run high every year at this time on every college campus.
This year, Mississippi teams are either building on success or rebuilding. Three of Mississippi's big four universities are hoping to build on last season's success, and one university hopes the memories of a doomed 2012-13 campaign fade away quickly with a new coaching regime.
Mississippi State
Mississippi State University Bulldogs
Head coach: Dan Mullen (29-22 overall record and MSU record heading into 5th season)
2012-13 record: 8-5; 4-4 SEC record (season ended with a 34-20 loss to Northwestern in the TaxSlayer.com Gator Bowl)
Stadium: Davis Wade Stadium at Scott Field, Starkville
Radio: 105.9 FM
Conference: SEC
Mississippi State started off last season with a bang, reeling off seven straight wins for a 7-0 record heading to the end of October. Then, the bottom fell out on the Bulldogs in the form of Alabama, Texas A&M and LSU.
MSU feasted on the bottom feeders of the SEC and weaker conferences when the Dawgs jumped out to their fast start. When the level of competition went up, the team didn't up their game to match its foes.
The Bulldogs sleepwalked their way through a second-half butt-kicking by arch-rival Ole Miss in the Egg Bowl to end the regular season. MSU still didn't look like they had woken up during their 34-20 loss to Northwestern in the TaxSlayer.com Gator Bowl.
Even with the late-season slide, finishing fourth in the toughest division in college football is not bad.
Now, Mississippi State needs to see the program take the next step and seriously challenge LSU, Alabama and Texas A&M, or MSU fans will start to rumble that Dan Mullen has hit his ceiling in Starkville.
Outlook:
Mississippi State returns Tyler Russell at quarterback, but the Bulldogs have to rebuild their receiving corps after losing last season's top receivers. Russell started out on fire last season but stumbled and struggled when the level of competition went up in the second half of 
the season.
MSU returns most of its starting offensive line, which is good for returning running back LaDarius Perkins.
The Bulldogs will need more ground production late in the year to avoid another late-season slide.
Mississippi State also needs to rebuild its secondary now that cornerbacks Johnthan Banks and Darius Slay are in the NFL. MSU also must fill the linebacking shoes of Cameron Lawrence, who led the team in tackling last season.
The Bulldogs have added a five-star defensive lineman, Chris Jones, and highly sought after junior-college player Justin Cox. MSU also returns budding linebacking star Benardrick McKinney.
Prediction:
Mississippi State returns 12 starters from last year's squad: six on offense and six on defense. The Bulldogs' season will be made or broken early.
MSU begins the season with a tough test against Oklahoma State in Houston, Texas. Mississippi State could use a big win in this kickoff classic game to set the tone for the season.
The Bulldogs also went 0-for against teams in the final top 25 polls of last season. A win against the Cowboys in Houston would give MSU a win over a contender in the Big-12 and an early top-25 team.
Mississippi State has some early wins available in its first seven games, including games against Alcorn State, Auburn, Troy, Bowling Green and Kentucky. MSU hosts LSU in early October, which will be a tough game to win—even at home.
The final stretch of the season will be a major undertaking for the Bulldogs. Games against South Carolina, Alabama and Texas A&M await after the Kentucky game.
MSU finishes the season against Arkansas and Ole Miss. The Egg Bowl this season could be the Bulldogs' last chance to get to six wins and go bowling for a fourth straight year, which would be a record bowl streak for the program.
2013-2014 Season Prediction: 6-6
Mississippi State schedule:
Aug. 31 Oklahoma State (neutral site); Sept. 7 Alcorn State; Sept. 14 at Auburn; Sept. 21 Troy; Oct. 5 LSU; Oct. 12 Bowling Green; Oct. 24 Kentucky; Nov. 2 at South Carolina; Nov. 9 at Texas A&M ; Nov. 16 Alabama; Nov. 23 at Arkansas; Nov. 28 Mississippi
Ole Miss
University of Mississippi Rebels
Head coach: Hugh Freeze (36-13 overall record, 7-6 Ole Miss record entering 2nd season)
2013-14 record: 7-6; 3-5 SEC record (season ended with a 38-17 win in the BBVA Compass Bowl over Pittsburgh)
Stadium: Vaught-Hemingway Stadium
Radio: 97.3 FM
Conference: SEC
The end of the first year of the Huge Freeze era was about as perfect as it could get for Ole Miss fans. The Rebels defeated in-state rival Mississippi State 41-24 in a second-half beatdown and went on to win the BBVA Compass Bowl 38-17 over Pittsburgh.
Last season saw Ole Miss lose close games to Texas A&M (30-27), Vanderbilt (27-26) and LSU (41-35). The Rebels also went 0-6 against teams ranked in the AP Top 25 final poll and USA Today Coaches final poll. Those losses were to Texas, Alabama and Georgia, along with the three close losses mentioned above.
The Rebels took care of business against teams they were supposed to defeat, but couldn't get over the hump against the top teams on their schedule. In the end, most Ole Miss fans were still happy with a seven-win season plus a bowl win after the final two years of the Houston Nutt era.
Outlook: Ole Miss returns Conerly Trophy-winning quarterback Bo Wallace this season, but Wallace hasn't thrown the ball much since having shoulder surgery. The Rebels have a talented group of wide receivers for Wallace to play catch with including last season's breakout star Donte Moncrief.
Joining Moncrief in the receiving unit is five-star recruit Laquon Treadwell. The freshman could give Ole Miss a big one-two receiving punch with Moncrief. The Rebels need more production from their running game to keep building on last season's success. Ole Miss returns senior running back Jeff Scott and four starters on offense.
Ole Miss should see defense improve right way adding the top high-school player in the country last season, defensive end Robert Nkemdiche, who teams up with his brother, linebacker Denzel Nkemdiche.
Prediction:
Ole Miss is not ready to challenge the big boys in the SEC just yet, but the way Freeze is recruiting, it could be only a matter of time. The early schedule is going to test the Rebels, with games at Vanderbilt, Texas, Alabama and Auburn, and a home game against Texas A&M in the first six games.
Things get easier for the Rebels in their final six games to make a move toward bowl eligibility. Ole Miss faces LSU, Idaho, Arkansas, Troy, Missouri and MSU, with all but LSU being winnable games.
A bowl game hinges on Ole Miss getting wins in that first six-game stretch—with a record of 2-4 or worse, the margin for error in the second six games becomes nil.
2013-2014 Season Prediction: 7-5
Ole Miss schedule:
Aug. 29 at Vanderbilt; Sept. 7 Southeast Missouri State; Sept. 14 at Texas; Sept. 28 at Alabama; Oct. 5 at Auburn; Oct. 12 Texas A&M ; Oct. 19 LSU; Oct. 26 Idaho; Nov. 9 Arkansas; Nov. 16 Troy; Nov. 23 Missouri; Nov. 28 at Mississippi State
Southern Miss
University of Southern Mississippi
Golden Eagles
Head coach: Todd Monken
2012-13 record: 0-12; 0-8 C-USA record (season mercifully ended with a 42-24 loss to Memphis in the final regular season game)
Stadium: M.M. Roberts Stadium "The Rock," Hattiesburg
Radio: 105.1 FM
Conference: Conference USA
Not much went right for Southern Miss last year. In fact, it might be hard to find anything that went right for the Golden Eagles in their 0-12 debacle of a season.
The hire of Ellis Johnson proved uninspired on the field. USM rarely looked like a team capable of winning a game, but even when the team did look like it had a chance to pull off a win, a lack of second-half coaching adjustments did in the 
team's chances.
Southern Miss was the only team in the Football Bowl Subdivision to fail to win even one game. Even bottom feeders such as Kansas, Akron, Massachusetts, Colorado, Idaho and New Mexico State all found some way to win a game.
Somehow those teams figured out to achieve something Southern Miss couldn't do even after having 18 straight winning seasons. Now, USM has to hope a new coaching regime can start a consecutive-winning-season streak once again.
Outlook: Finding a quarterback will be Todd Monken's first job after one of the most talented recruits in the school's history, Anthony Alford, transferred. Quarterback Arsenio Favor transferred out as well. That leaves just junior Cole Weeks, sophomore Ricky Lloyd and senior Chris Campbell to battle for the starting quarterback job. Weeks, Campbell and Lloyd were three of the five quarterbacks (along with Alford and Favor) to play under center last season, and all three showed some flashes of ability.
While quarterback is a weakness, the Golden Eagles return several good options at running back. Seniors Kendrick Hardy and Jeremy Hester will carry the rushing load with an assist from sophomores Tyre Bracken and Jalen Richard.
The wide receiver unit must find some playmakers in the wide-open spread. Monken's offensive system needs to make stars out of quarterbacks and wide receivers at Southern Miss.
On defense, the Golden Eagles will miss superstar Jamie Collins as he headed to the NFL. Collins was the lone bright spot last season for Southern Miss.
David Duggan returns to USM after one season with North Carolina and will have to rebuild a defense that was just as terrible as last season's offense. The Golden Eagles return eight starters on defense. Prediction:
USM gets a chance to get a win in game one of the season at home against Texas State. After that, victories will be hard to come by for a while.
To say that the Golden Eagles' September is brutal might be the understatement of this college football season. Southern Miss heads to Nebraska for the second year in a row. This was supposed to be a home game, but USM sold the game to the Cornhuskers to pay for the buyout in Ellis Johnson's contract. Next, USM heads to Arkansas and Boise State.
The rest of the schedule is manageable for Southern Miss if the team can find a quarterback and some playmakers on the defensive side of the ball. The hardest part for USM will be avoiding jet lag when playing seven games on the road.
A bowl game might be possible for the Golden Eagles this season. It all depends on how quickly Monken can turn things around.
2013-2014 Season Prediction: 6-6
Southern Miss schedule:
Aug. 31 Texas State; Sept. 7 at Nebraska; Sept. 14 at Arkansas; Sept. 28 at Boise State; Oct. 5 Florida International; Oct. 19 at East Carolina; Oct. 26 North Texas; Nov. 2 at Marshall; Nov. 9 at Louisiana Tech; Nov. 16 Florida Atlantic; Nov. 23 Middle Tennessee; Nov. 30 at UAB
Jackson State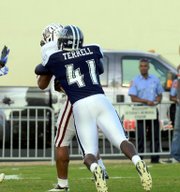 Jackson State University Tigers
Head coach: Rick Comegy (164-61 overall record; 48-31 JSU record entering 8th season)
2012-13 record: 7-5 overall record; 7-2 SWAC record (season ended with a 24-21 loss in the SWAC championship game to Arkansas-
Pine Bluff)
Stadium: Mississippi Veterans Memorial Stadium
Radio: Hallelujah 95.5 FM
Conference: SWAC
No team in the state finished the regular season on a bigger roll than Jackson State did last year. The Tigers finished with five straight wins to reach the Southwestern Athletic Conference championship game.
The Tigers' first win of their five-game winning streak came against Alabama State. That win helped JSU earn the head-to-head tiebreaker to win the Eastern Division and put JSU in the SWAC championship game.
JSU was two minutes away from a SWAC football championship when a 95-yard touchdown pass by Arkansas-Pine Bluff quarterback Benjamin Anderson to wide receiver Willie Young tied the game at 21-21. Arkansas-Pine Bluff defeated the Tigers 24-21 in overtime to win the title.
Outlook: Under Rick Comegy, the Tigers have averaged seven wins a season. Coaches and media picked JSU to finish second in the Eastern Division behind Alabama State at SWAC Media Days.
JSU returns senior quarterback Clayton Moore, who passed for 1,863 yards and rushed for 633 yards. Moore threw for 11 touchdowns and added 11 more rushing touchdowns as he hit his stride midway through the season to help the Tigers win the Eastern Division.
The biggest hole in the Jackson State offense is finding a replacement for SWAC Offensive Player of the Year, wide receiver Rico Richardson, who is now in the NFL with the Kansas City Chiefs. The Tigers hope Zachary Pendleton can step up and replace Richardson.
Last season, Pendleton had 33 catches for 457 yards. JSU also needs wide receivers DeSean McKenzie and Tobias Singleton to have big seasons in 2013-14.
On defense, Qua Cox leads the Tigers. Cox, the SWAC Preseason Defensive Player of the Year, has led the SWAC in interceptions the last two seasons. Joining Cox is JSU defensive stars safety Cameron Loeffler, who led the Tigers in tackling last season with 84 tackles and 4.5 sacks.
JSU's biggest hole on defense is replacing defensive end Joseph LeBeau. Jackson State is hoping defensive end Tedderick Terrell and linebackers Todd Wilcher and John McNabb fill the hole.
Prediction:
Jackson State has the talent to reach the SWAC championship game The Tigers return eight starters on offense and seven starters on defense.
If the JSU receivers can fill the hole Richardson left, and the Tigers can find a back to lead the rushing attack, a stop in Houston is not out of the question. Jackson State's schedule is not daunting—they face out-of-conference games against Tulane and Tennessee State.
2013-2014 Season Prediction: 8-3
Jackson State schedule: Aug. 29 at Tulane; Sept. 7 Alabama State; Sept 14 Tennessee State (neutral site); Sept. 19 Texas Southern (Thursday Night ESPN U Game); Sept. 28 at Southern; Oct. 5 Arkansas-Pine Bluff; Oct. 12 at Mississippi Valley State; Oct. 19 Grambling State; Oct. 26 Prairie View A&M (neutral site); Nov. 9 at Alabama A&M ; Nov. 16 Alcorn State.
Alcorn State Braves
Head coach: Jay Hopson (4-7 overall record all at Alcorn State, entering 2nd season)
2012-13 record: 4-7 overall, 4-5 SWAC (season ended with a 37-11 loss to Jackson State)
Conference: SWAC
Radio: 90.1 FM
Stadium: Jack Spinks Stadium, Lorman
Last season recap:
Alcorn State made history last season hiring the first white head coach in SWAC history. This season, Jay Hopson and the Braves hope to make news for their on-the-field play.
The year was up and down for the Braves after starting the season with a win over Grambling State. Alcorn State ended the season with seven losses and five wins.
2013-14 outlook:
Alcorn State needs to fix its offensive woes. Last season, ASU averaged just 16 points a game in an age of high-scoring offenses in college football. The Braves return several options at running back, including last season's leading rusher, Arnold Walker. ASU's offense might take off if Hopson can find a quarterback to get the ball to big-play receiver and Tavoris Doss.
Alcorn State had one of the best pass defenses in the SWAC and the Football Championship Subdivision. The Braves led the SWAC and were fourth overall in the FCS, allowing just 156 yards per game. Devon Francois, Jamison Knox, Anthony Williams and Hendricks Taylor all return to Alcorn State, but the Braves have to get their front seven fixed.
Prediction: 5-7 record
The Braves should be even more competitive in the SWAC this season, but they aren't going to surprise anyone. If Hopson can recruit, he might be a year or two away from challenging for a SWAC East title.
Alcorn State schedule:
Aug. 31 Edward Waters; Sept. 7 at Mississippi State; Sept. 14 Mississippi Valley State; Sept. 21 at Arkansas-Pine Bluff; Sept. 28 at Alabama State; Oct. 5 Warner University; Oct. 12 Grambling State (neutral site); Oct. 19 at Texas Southern; Oct. 26 at Southern University; Nov. 2 Alabama A&M ; Nov. 7 Prairie View A&M ; Nov. 16 at Jackson State
Mississippi College Choctaws
Head coach: Norman Joseph (59-64 overall record, 38-44 Mississippi College record entering 9th season)
2012-13 record: 2-8 overall, 1-7 ASC (season ended with a 59-0 loss to Mary-Hardin Baylor to end the regular season)
Conference: American Southwest Conference
Radio: Online at gochoctaws.com
Stadium: Robinson-Hale Stadium, Clinton
Last season recap:
It was a tough year for the Choctaws last season. After splitting the first two games of the year, things went sideways, and MC lost its next four games. Three of those losses weren't even close, as the Choctaws went down 41-3, 31-0 and 75-42 before another loss 27-14.
Mississippi College finally broke the losing streak against Texas Lutheran with a 24-21 win, but the Choctaws couldn't string together any more wins after that.
2013-14 outlook:
The Choctaws return starting quarterback Jonathon Redd from last season. Redd will try to get the ball to wide receiver Alex Archer, who was named to the 25th Annual USA College Football Preseason All-American First Team.
On defense, the Choctaws will look for Keith Villafranco to be the playmaker he was last season. The defensive back was named to the 25th Annual USA College Football Preseason All-American First Team and was named D3football.com Preseason All-America Team.
Prediction: 5-5 record
Mississippi College plays in one of the toughest D-III conferences. The Choctaws will have to be much better on offense and defense to compete in the ASC.
MC will have to play incredibly well if the team hopes to make noise this season in the ASC. The Choctaws should have more than enough talent to improve on last year's two wins, but maybe not enough talent to make the leap to the top of the conference.
Mississippi College schedule:
Sept 7 Millsaps College; Sept. 14 Huntington; Sept. 28 at Webber International; Oct. 5 Hardin-Simmons; Oct. 12 at Sul Ross State; Oct. 19 Howard Payne; Oct. 26 Texas Lutheran; Nov. 2 at East Texas Baptist; Nov. 9 at Louisiana College; Nov. 16 Mary Hardin-Baylor
Millsaps Majors
Head coach: Aaron Pelch (18-12 overall record all at Millsaps, entering 4th season)
2012-13 record: 7-3
Conference: Southern Athletic Association
Radio: Online at gomajors.com
Stadium: Harper Davis Field, Jackson
Last season recap:
Millsaps jumped out to a quick 4-0 start, highlighted by a win over archrival Mississippi College. The Majors' first loss came at home in a 45-24 defeat to Huntington. Two more wins later, the Majors were 6-1 more than halfway through the season, but then stumbled, finishing the final three games with two losses and a win. A 35-21 loss to Birmingham Southern meant the Majors and the Panthers split the first football title in the inaugual season of the SAA.
2013-14 season outlook:
Millsaps will have to replace quarterback Garrett Pinciotti, who was the Offensive Player of the Year in the SAA conference. Pinciotti was a senior last season and put up big numbers in his final year under center for the Majors.
Back this season for the Majors is star defensive lineman Zach Bell, named last season's SAA conference Defensive Player of the Year and named to the Division3Football.com's All-South Region Team. Bell terrorized opposing offenses with a conference-leading eight sacks to go along with 68 total tackles and 31 solo tackles.
Prediction: 7-4 record
Millsaps' season could depend on how well the Majors replace Pinciotti at quarterback. It helps the squad that a dominate defensive force like Bell is returning.
One area the Majors could get better at this season is playing at home. Last season, Millsaps was 3-2 at home, which is not a great example of protecting your home field. Millsaps should still be in the mix for a conference championship this year. The Majors have a great leader in Pelch--he's kept Millsaps competitive each season he has been at the helm.
Millsaps College schedule:
Sept. 7 at Mississippi College; Sept. 14 LaGrange; Sept. 21 Point University (GA); Oct. 5 Hendrix; Oct. 12 at Trinity (TX); Oct. 19 at Birmingham Southern; Oct. 26 at Sewanee; Nov. 2 Berry; Nov. 9 Centre; Nov. 16 at Rhodes
Mississippi Valley State Delta Devils
Head coach: Karl Morgan (6-26 record all at MVSU, entering 4th season)
2012-13 record: 5-6 overall, 5-4 SWAC (season ended with a 34-3 win over Texas Southern to end the regular season)
Conference: SWAC
Radio: online radio (streema.com/radios/play/25093)
Stadium: Rice-Totten Stadium, Itta Bena
Last season recap:
The Delta Devils were the best defensive unit in the SWAC last season and the fourth-best defense in the FCS overall. Offense was another story. MVSU averaged 17 points a game last season and was shut out twice in losses to Alabama A&M and Arkansas-Pine Bluff.
The high point came in the form of a three-game winning streak to end the regular season for the Delta Devils. Mississippi Valley State also had three close losses.
2013-14 outlook:
Mississippi Valley State will rely on its defense once again this season even though they must replace seven starters from last season's stellar unit. The Delta Devils still return All-SWAC defensive lineman Robert Simpson to lead the unit. Simpson led the nation in tackles for a loss last season with 22.5 and added seven sacks to go along with his 59 tackles. MVSU also boasts preseason All-SWAC safety Kevin Eugene.
Prediction: 6-5 record
MVSU still doesn't have the talent to compete with the top teams in the SWAC, but that doesn't mean the Delta Devils haven't come a long way in a short amount of time.
It might be hard to keep Karl Morgan in Itta Bena if he keeps working his turn-around magic at a university not known for having a ton of financial resources. Expect the Delta Devils to be in the mix for their first winning season in seven years.
Mississippi Valley State schedule:
Sept. 1 Florida A&M (neutral site); Sept. 7 Delta State; Sept. 14 at Alcorn State; Sept. 21 Southern University; Oct. 5 at Alabama A&M ; Oct. 12 Jackson State; Oct. 19 at Prairie View A&M ; Oct. 26 Arkansas-Pine Bluff; Nov. 2 at Grambling State; Nov. 9 Texas Southern; 
Nov. 16 Alabama State
Belhaven Blazers
Head coach: Joseph Thrasher (34-42 overall record, 21-23 Belhaven record entering 5th season)
2012-13 record: 6-5 overall record, 4-2 MSC (season ended with a 21-17 loss to Bethel University to end the regular season)
Conference: Mid-South Conference
Radio: Online at blazers.belhaven.edu
Stadium: H.T. Newell Field, Jackson
Last season recap:
Belhaven couldn't have started rougher last season, opening the 2012-'13 campaign with three losses. The Blazers got back on track with two wins to keep their season meaningful. A loss against Kentucky Christian University interrupted the winning streak, but Belhaven came back with three wins to set up a chance to win the MSC West title with a win over Bethel University in the season finale. The Blazers fell 21-17 to Bethel, but still ended up with a 6-5 winning record. Belhaven's five losses were only by a combined 35 points.
2013-14 outlook:
Belhaven and Bethel University are co-favorites to win the MSC Western Division. The Blazers return last season's MSC Defensive Player of the Year in linebacker Calvin Lewis to highlight some nice returning defensive starters.
The Blazers turn the offense over to Raymond Cotton this season after Cotton split time with Alex Williams, who graduated, last year. Belhaven also returns first team All-MSC running back Kadero Edley and Patrick Wilson, an honorable-mention conference selection.
Prediction: 8-3 record
Last season's strong finish has paved the way for the Blazers to make a run at the MSC Western Division title and the NAIA Playoffs. Belhaven returns several players on both sides of the ball with plenty of experience from last year.
A Western division crown and playoff hopes could come down to the final game of the regular season, when the Blazers meet co-favorite Bethel University on the road after playing the University of Pikeville on the road the week before this big conference showdown.
Belhaven schedule:
Aug. 31 Texas College; Sept. 7 at Louisiana College; Sept. 14 University of Cumberlands (KY); Sept. 21 Cumberland University (TN); Sept. 28 at Campbellsville University (KY); Oct. 12 at Bluefield College (VA); Oct. 19 at Reinhardt University (GA); Oct. 26 Lindsey Wilson College; Nov. 2 Faulkner University (AL); Nov. 9 at University Pikeville; Nov. 16 at Bethel University (TN)
Delta State Statesmen
Head coach: Todd Cooley (first season at Delta State and first season as a head coach)
2012-13 record: 3-7 overall, 1-4 GSC (season ended with a 32-21 loss to Shorter University to end the regular season)
Conference: Gulf South Conference
Radio: 930 AM
Stadium: Parkerfield-McCool Stadium, Cleveland
Last season recap:
Delta State went from playing for a national championship three years ago, to losing in the semifinals of the Division II playoffs two seasons ago, to bottoming out. The Statesmen finished last season with a miserable 3-7 record, ending on a four-game losing streak. It was a season to forget after DSU was once one of the best D-II football programs in the country.
2013-14 outlook:
Under Ron Roberts, DSU went to the D-II playoffs in four of the five years he coached the team. Last season, Jamey Chadwell took over the program after Roberts left for Southeastern Louisiana. Chadwell resigned in early January after just one season in Cleveland. He left after the 3-7 season to take over Charleston Southern University. DSU is now on its third coach in three years with Cooley taking over the program. Before he took over at Delta State, Cooley was known as one of the top offensive coordinators in the country.
While Cooley's background is in offense, it might be defense that leads the Statesmen. Three members of the DSU defensive unit made the Preseason NCAA Division II All-America Team: linebacker Diego Lubin, defensive back Kenny Barnes and linebacker Rory Island.
Prediction: 5-5 records
Cooley might not make the Division II Playoffs, or be one of the top teams in the Gulf South Conference this year, but talent still thrives in Cleveland. A year or two from now, if all goes well, Cooley should have the Statesmen back near the top of D-II programs.
The main goal this season should be to try to get back to being a .500 football team. Next season, the Gulf South Conference should learn to "Fear the Okra" once more.
Delta State schedule:
Sept. 7 at Mississippi Valley State; Sept. 13 Texas A&M--Commerce (neutral site); Sept. 21 at University of North Alabama; Sept. 28 Florida Institute of Technology; Oct. 3 at University of West Alabama; Oct. 19 Tarleton State University; Oct. 24 at Shorter University; Nov. 2 Valdosta State University; Nov. 9 Concordia College; Nov. 14 at University of West Georgia
Hinds Community College Eagles
Head coach: Gene Murphy (152-59-5 overall record)
2012-13 season record: 4-5, 2-4 conference
Radio: 87.7 FM
Stadium: Joe Renfroe Stadium, Raymond
Last season recap:
Hinds started the season off with two wins before suffering three straight losses. The Eagles squeezed out another win, followed by two losses before ending the season on a winning note in the final game of the season against Pearl River.
2013-14 outlook and prediction: 6-3 record
Hinds has been one of the top community-college programs, and Gene Murphy has led the program back to the top after periods of less-than-stellar seasons. Murphy will have the Eagles ready--breaking through this season will depend on the talent at other schools.
Hinds Community College schedule:
Aug. 29 at Delta; Sept. 5 at Coahoma; Sept. 12 Gulf Coast; Sept. 19 at Co-Lin; Sept. 26 East Central; Oct. 5 at Southwest; Oct. 10 at Jones; Oct. 17 Holmes; Oct. 24 Pearl River
Holmes Community College Bulldogs
Head coach: Jeff Koonz (7-11 overall record)
2012-13 record: 5-4 overall, 4-2 conference
Radio: 103.9 FM
Stadium: Ras Branch Stadium, Goodman
Last season recap:
Last season was a season of streaks for the Bulldogs. Holmes dropped its first two games, then went on to win its next three games before losing another two. Holmes finished with two wins to clinch a winning record for the season. The Bulldogs were strong at home, winning three of four games, but struggled on the road, going just one and three.
2013-14 outlook and prediction: 6-3 record
The Bulldogs' biggest win came in a 35-34 upset of rival Hinds Community College last season. If the Bulldogs play better on the road and keep their strong home performances from last season, Holmes will be competitive all season.
Holmes Community College schedule:
Aug. 29 Jones; Sept. 5 at Mississippi Gulf Coast; Sept. 12 at Northeast Mississippi; Sept. 19 Itawamba; Sept. 26 at Mississippi Delta; Oct. 3 East Mississippi; Oct. 12 Northwest Mississippi; Oct. 19 at Hinds; Oct. 24 at Coahoma
CORRECTION A previous version of this story incorrectly identified the radio station that broadcasts Jackson State games. The correct station is Hallelujah 95.5 FM. We apologize for the error.
More stories by this author
Support our reporting -- Follow the MFP.