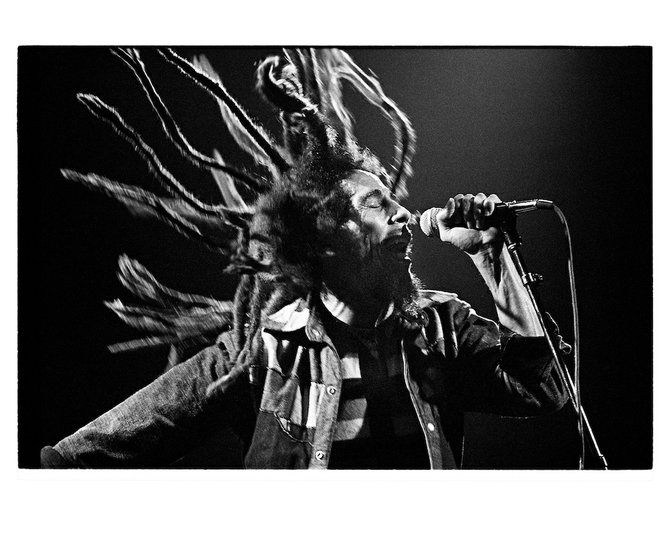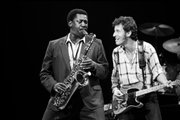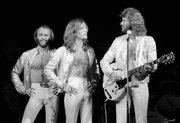 They say music is a universal language. Maybe that's why we so often idolize musicians, giving them icon status. Their songs become the soundtrack to a particular place and time. Two current photography exhibits explore some of those icons, showing viewers musical artists captured in moments ranging from exuberant performances to intimate personal spaces. Like the music of the artists they portray, the images in these exhibits offer something to which everyone can relate.
"While everyone doesn't (necessarily) paint or do sculpture, we all have a camera. So photography is a medium that's very accessible, even for people who may never have been to an art museum before," says Holly Green, director of marketing for the Lauren Rogers Museum of Art in Laurel. "Sound and Vision: Monumental Rock & Roll Photography" is on display at the Lauren Rogers, exhibiting in the upper galleries through Sept. 8 and including 40 photographs by 20 different artists.
Hung in three gallery rooms arranged by musical genre, the photographs are digitally printed on watercolor paper. The porous texture of the paper lends a particularly rich quality to the images, which are uniform in size, allowing viewers to better appreciate the different styles of the photographers and the differences in their subjects.
Chris Murray, owner of the Govinda Gallery in Washington, D.C., curated the exhibit, which spans a range of rock 'n' roll, starting with performers from the 1950s such as BB King and Elvis. Next, museum visitors move on through the British Invasion with The Beatles, Rolling Stones and The Who, and forward into glam rockers—Freddy Mercury, KISS, David Bowie and Little Richard. Reggae is included as well, before moving on to contemporary artists such Kurt Cobain and Jay-Z. One particularly iconic piece is a photograph of Jim Morrison, which the Doors used as the album cover for the "Best of the Doors" album.
In Jackson, lovers of art and music can enjoy an exhibit featuring Kirk West's photographs at the Arts Center of Mississippi through Aug. 25. West asserts that he is, first and foremost, a music lover, and that shines through in his photography. Since shooting his first concert at age 18, West amassed an oerve of images that capture musicians in the moment beautifully. The show highlights his ability to convey the intensity of performers beautifully.
Viewers enter the exhibit to photographs of the drag queen Lady Devine in all her glory. Next to Devine is a photo of the Bee Gees in high-waisted tight white pants, chests bare and hair flowing, caught onstage sharing a moment in which they seem to be communicating something to each other with just a look. With that somewhat intense introduction, you get the sense that this show will show you those moments—the big and small aspects of musical performance.
You move throughout several rooms full of (mostly) small-sized black-and-white images. Rather than their size making the images seem more precious, their scale has an opposite effect, rendering them more accessible. It's as if you're looking at photos that a friend took—if your friend hung out with the Allman Brothers, Phil Collins and David Bowie.
West is best when he captures musicians mid-performance in the throes of doing what they live to do: Mick Jagger airborne, hand aloft; Bob Marley, tossing his dreadlocks around; Iggy Pop, shirtless and sweat-soaked, writhing on the ground. The black-and-white photos emphasize the light and shadow, and details such as muscles tensing or veins popping as the musicians give the performances their all.
One diptych contrasts two images of The Police. In one, the band skates around a roller rink, with a mullet-sporting Sting in a Mickey Mouse sweatshirt. Looking at it, you get the sense West was just along for the ride with the guys on a day off. Roller skating with Sting—can you imagine? The companion image is the band mid-song onstage, with Sting as the Sting we all recognize, frozen in a high jump as he strikes a chord.
Taken together, the photos show both sides of the coin, as it were: the iconic musicians worshiped by crowds of screaming fans and the regular guys in jeans goofing off. West got to know both, and his images let us in on the fun of it all.
The Lauren Rogers Museum of Art (565 N. Fifth Ave., Laurel) is open 10 a.m.-4:45 p.m. Tuesday-Saturday, and 1-4 p.m. Sunday. Admission is free. The Arts Center of Mississippi (201 E. Pascagoula St.) is open 10 a.m.-6 p.m. Monday-Friday, 10 a.m. to 5 p.m. Saturday and noon-4 p.m. Sunday. All pieces are for sale, and admission is free.
More stories by this author
Support our reporting -- Follow the MFP.