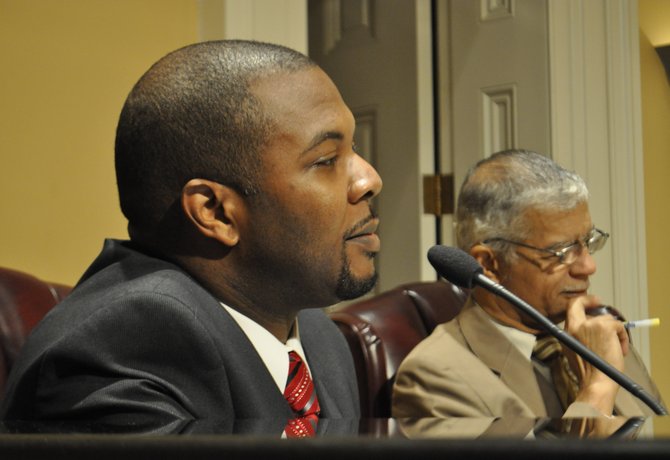 This morning, the Jackson City Council approved Synarus Green, former aide to U.S. Congressman Bennie Thompson, with a unanimous vote following an 80-minute public hearing at City Hall.
Green pledged to help the city gain ground in its relationship with the state Legislature, bring the council to the table for budget negotiations and revamp the city's Internet presence, among other things.
The Murrah High School Power APAC and Jackson State University W.E.B. Dubois Honors College graduate is the first Chief Administrative Officer the city has had since the Frank Melton administration. He is a graduate of the Federal COPS Program, and served as the communications officer for the Hattiesburg Police Department before going to work in Washington, D.C., for Thompson.
"I think his sense of organization and his insistence on looking at the planning in the long-term is going to help a lot," Jackson Mayor Chokwe Lumumba said. "Also, his sense of interconnectiveness —seeing the interrelationship of the departments and the interrelationship of work, not only from one department to the next, but from one period to the next—will be a big asset."
Green's work as an aide to Thompson, who supported Lumumba during the mayoral race, and even lent his voice to the mayor's campaign during Lumumba's runoff against Jonathan Lee, is how Green appeared on Lumumba's radar.
"We share some common background in Jackson and some professional connections," Green said about his relationship with the mayor after the hearing. "He's friends with my former employer, Rep. Thompson. I offered my name for consideration on the transition team, and that's how we re-met, so to speak."
Green said he enjoyed working on the transition team after Lumumba's inauguration. He jumped at the chance to work with the mayor's administration.
"We gave oversight to the executive committees that were assigned to work with the respective departments within the city to get the status and goals for the mayor so he could further establish his plan," Green said.
After meticulously answering each of the council member's questions, all seven city council members gave Green a unanimous vote of approval.
City Council President Charles Tillman, Ward 5, asked Green to point out his family and friends in the audience.
Green said, "I'm not sure who out there isn't a friend," to which Quentin Whitwell, Ward 1, laughed and replied, "Oh, you'll find out soon enough."
CORRECTION: A previous version of this story incorrectly stated that Green is a graduate of the Mississippi State University W.E.B. Dubois Honors College. That college is at Jackson State University. We apologize for the error.
More like this story
More stories by this author