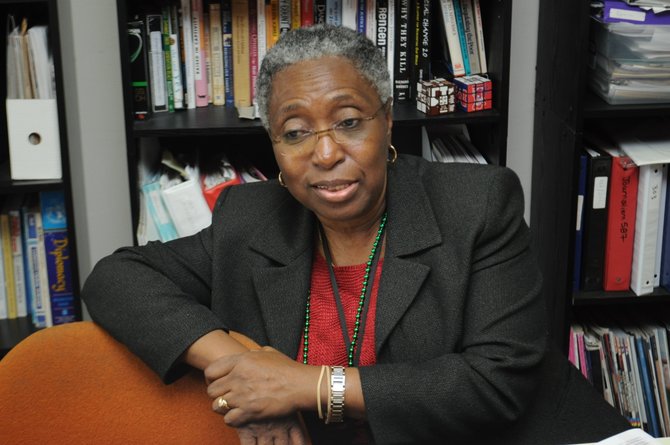 Document
May "Fran" Bridges like to describe herself as a servant leader, and that's a pretty accurate title.
One of Jackson's most outgoing volunteers, the Tylertown, Miss. native is a member of Pecan Park Neighborhood Association, West Central Jackson Improvement Association, the 1996 Leadership Jackson Class and a member of St. Luther Missionary Baptist Church.
She graduated from J.J. Gulledge High School - now Tylertown High School - in rural Walthall County, and headed to Jackson, where she's been ever since.
Bridges received her bachelor's, master's and PhD in administration from Jackson State University. The 61-year-old left the world of telecommunication 17 years ago to further the presence of people of color in the professional fields of science, technology, engineering and mathematics.
She has long been involved with both the Executive PhD and the Jake Ayers Institute for Research in Higher Education programs at Jackson State.
"In my world, we have a tendency to do a bunch of teaching and training." Bridges said. "We expect to encourage our students to do things, but the best thing that we can do for our students is to be a positive role model."
Now, Bridges is trying to unseat incumbent Charles Tillman so she can lead Ward 5.
Some have described Jackson's infrastructure as "crumbling," how can we come up with the money to reverse that trend and fix our city's streets and pipes?
I think working collaboratively with our mayor and the other city council persons, and even bringing in some outside sources from the community, business people who might have expertise, and seeing what we can collectively do to solve our problem.
What approach do you favor to corral the crime in Jackson?
When I think about crime, I guess one of the things that we have to do is hopefully have visibility of the police, but at the same time I think residents in the community can be more vigilant by being more neighborly. We have a tendency to go in our houses sometimes and not interact with our neighbors, but if we are building relationships with our neighbors and we know who is in our community, we'll have a better understanding of how to watch out for each other. The other things I think we can do is the number of buildings in our community - housing issues and things like that. I think we need get our youth involved. We have to start that dialogue and ask them what they think will reduce the crime, because the more people you have involved the better it is. The level of awareness is heightened, and we might make up some ground there.
Jackson has suffered some black eyes through education with high dropout rates and low test scores. How can we reverse the trend?
I think the first thing we must do is see our youth as a part of the solution, and not the problem. A key to a successful school is for there to be a strong, vibrant and safe community. I don't think we should look at it like our students are failing, or that our schools are failing us, we should look at it as we are all failing. With any intellectual ability skills knowledge that we have, we should be stepping forward trying to bridge the gap so we have successful schools. Churches can play a big role there. You learn a lot in school, but there are another 15, 16 or 17 hours in the day that can be used to teach lessons that will transfer back into the classroom."
Are crime and education linked?
Yes, because when children are out of school they look for something to do. And when people are unemployed and can't find a job, they don't know what to do except to take from others.
How can we create a business community where young professionals won't have to leave for better opportunities elsewhere?
I think it goes back to the education. I think we need to offer our young people a quality education. Then, I think we need to be more fervent when looking at creating job opportunities. Look at our housing. We used to have a program at Jackson State University called the Industrial Arts. Today, it's called Technology Education, but homes are still being built. Homes and businesses need to be renovated and rebuilt. There are some job opportunities that we can create right here in our own community.
Which of the current development projects would you most like to see come to fruition?
I guess I would have to be a little selfish and say I'd like to see the stadium that Jackson State is proposing, with the dome. I don't know that it would replace the arena, but certainly when you think about the capacity that we're looking at and the different kinds of things that it would do. The area that it is proposed to being built in would benefit greatly from it.
How would you sell the JSU dome project to people outside of West Jackson?
I would say what's good for West Jackson is good for the city of Jackson, because we are so closely connected. It would be walking distance for the students and we recruit students from across the country and some outside the United States. Just to revitalize a community that has seen a decline would be an asset. The sales tax and new business opportunities, not saying they couldn't happen downtown, but I think it would be a plus to have those things in West Jackson.
One stumbling block we've seen to getting some of these projects off the ground is a lack of cooperation between the city council and the mayor's office. How would you change that if elected?
I think a good team working together that looks for common ground. Sometimes you have to look at the pros and the cons... take them one by one and see if there can't be a consensus. We have so many people running for so many positions, I think it's a signal that we need some change, and no matter who gets elected, I think we're going to see people acting a little differently.
What changes would you like to see made in how Ward 5 is represented?
In the Pecan Park Neighborhood Association, we've been coming together and trying to strengthen our community. I'd like to see more neighborhoods do that. ... I think we need to listen to the individuals. I don't think we do enough of that. I think by listening to people you keep their interest high and keep them motivated to be involved in their communities.
More like this story
More stories by this author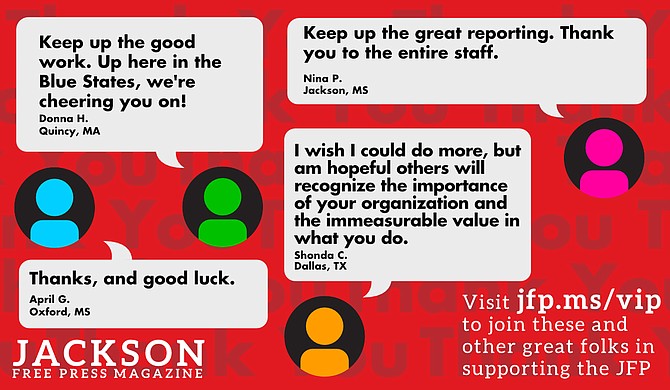 Thanks to all our new JFP VIPs!
COVID-19 has closed down the main sources of the JFP's revenue -- concerts, festivals, fundraisers, restaurants and bars. If everyone reading this article gives $5 or more, we should be able to continue publishing through the crisis. Please pay what you can to keep us reporting and publishing.