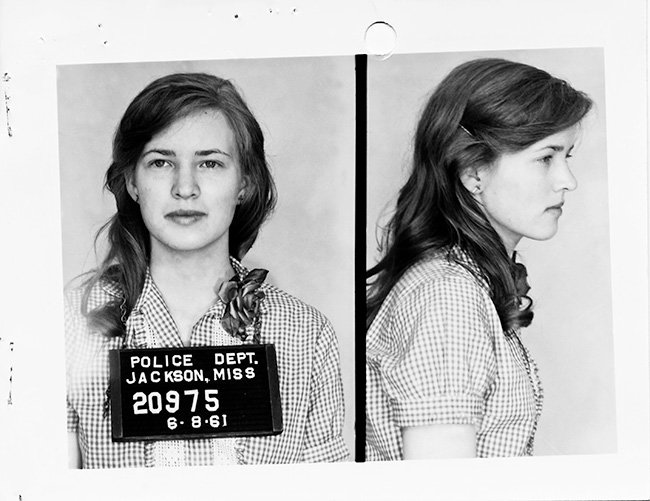 "Life has its hazards," Joan Trumpauer Mulholland says in telling the story of participating in the Freedom Rides of the early '60s. She's the subject of her son Loki Mulholland's documentary "An Ordinary Hero."
Joan Trumpauer Mulholland survived the Civil Rights Movement after participating (starting at age 19) in sit-ins, demonstrations and the Freedom Rides of 1961. She had salt poured on her, fingers pointed at her and words shouted at her, but she remained a peaceful person. She was there when Martin Luther King Jr. spoke in Washington, uttering that he had a dream to thousands of people. It was an unprepared remark, as she recalls.
Mississippi columnist Bill Minor, who reported for the Times-Picayune's Jackson bureau in the 1960s, spoke to the JFP about Mulholland's role in one of the most violent demonstrations of the era: the Woolworth sit-in in downtown Jackson. Minor says it's "the signature event of the protest movement in Jackson." Why? Because it was violent.
On May 28, 1963, a group of students from Tougaloo College (two were white, including Mulholland) arrived at the counter of the five-and-dime store to be served. "Joan went along to this sit-in more or less as a lookout on the sidewalk for any counter-protesters," Minor said.
But as the crowd got more and more verbal and hostile, Mulholland went inside and joined the others at the counter. "The students kept sitting there," Minor said. "The servers at Woolworth's were afraid to serve them. So they just sat there."
Minor recalled that many of the people in the crowd were students from nearby Central High School, then an all-white public school downtown. "It was their lunch hour." FBI agents wearing sunglasses observed the growing tension from the back of the crowd.
The students, including Mulholland and a white professor--John Salter--remained seated while people in the crowd poured ketchup and mustard on their heads. They poured salt on Mulholland's head while she remained calm. In the film, she says, it was at this time she felt closest to death. "I was having an out-of-body experience," she says.
And then violence intruded.
"It got so bad that one of the black students--his last name was Norman--they knocked him off of the stool, and these white thugs began kicking him in the face right there on the floor," Minor said. "Now, I was there covering it, you see, this isn't from anyone's second-hand story; I was there."
This episode is among the stories the documentary tells of Mulholland's life--a story told through Mulholland's words and memories--not to mention clarity--of a time that was violent and always filled with high tension. Some situations, such as when the Freedom Ride bus rode through Ku Klux Klan-infested towns (with roaming, predatory lynch mobs), were particularly striking.
Other voices are included in the telling of Trumpauer's story such as the contemporaries she sat with at the drugstore counters during desegregation, including George Raymond, Pearlena Lewis, Lois Chaffee, Annie Moody, Memphis Norman and Walter Williams.
Trumpauer says in the film that there's an "extra responsibility" to surviving the violent situations she witnessed. She, too, was someone that was in danger--people wanted to murder her. She visits the grave of Medgar Evers in Arlington National Cemetery. She speaks of the civil rights era while holding up pieces of glass that shattered when a bomb set off and killed four little girls in Alabama. She lived through those times while Medgar did not.
Because she lived though it, we are able to learn her story--ultimately, one that should resonate with us.
See "An Ordinary Hero" tonight at the Crossroads Film Festival at 6:45 p.m. at Malco Grandview Theatre (221 Grand View Blvd., Madison, 601-898-7819) on Screen B.
The 14th Annual Crossroads Film Festival runs through Sunday, April 14. The festival features more than 140 films, of which many are made in Mississippi, produced or directed by Mississippians, feature Mississippi actors or have some other Mississippi connection.
An all-events pass gets you into every film and event you want to go to. It's $49 for Crossroads Film Society members, $59 for everyone else. Individual film blocks (generally a related short and a feature, or a group of short films) and workshops are $6 for members, $8 for non-members. A one-day pass for films and workshops are $15 for members and $20 for non-members. For a complete schedule of events--films, music, workshops, kids' events, receptions and more--and to buy tickets, visit crossroadsfilmfestival.com.
More stories by this author
Support our reporting -- Become a JFP VIP.
The news business has changed dramatically in the past year, and we need your help more than ever to keep bringing you important stories about Jackson and the Metro. Become a JFP VIP with an annual membership or you can Sign up as a monthly supporter. Thanks for anything you can do to empower our journalism!