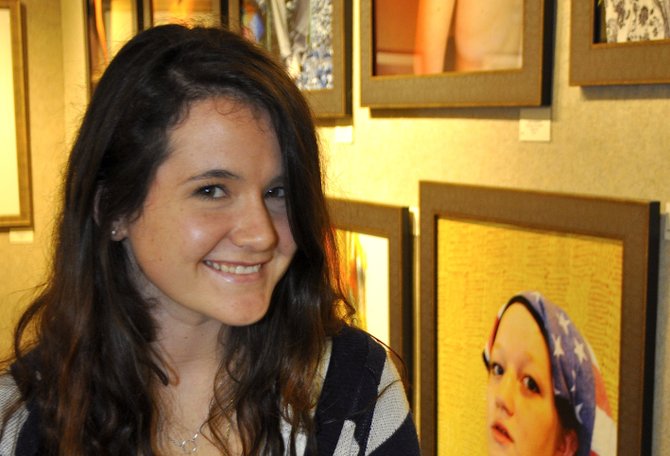 At 21 years old, Emily Simmons is making waves with her art. Simmons, a junior at Millsaps College, double-majors in studio art and art history with a concentration in museum studies.
As part of her junior seminar class, she had to approach a local business and convince the owners to sponsor their art for Fondren Unwrapped and a temporary exhibit. She and three other students found such a place in Brown's Fine Art and Framing, which Simmons' grandmother, Mary Grace Brown, owns—it has been in her family for 48 years.
Her favorite local artist is Andrew Bucci, whose piece "Figure in Green" inspired the USA International Ballet Competition's 2014 commemorative poster. Simmons also credits the paintings of Matisse as a source of inspiration, though she drew from a wide range of other artists for her gallery showing at Brown's. Her focus in school, though, is a broad range of art, "from ancient times to contemporary times" Simmons says.
Simmons' project consists of several photographs that were styled or recreated from older works. In her collection, she drew primarily from the painter Jean-Auguste-Dominique Ingres because of his overly idealized depictions of women. "The elongated bodies, making them seem perfect—when in reality, this is what you get," she says, gesturing to her body and the models' bodies.
Her friends helped her by volunteering to pose for the photographs. She showed the models pictures of the artwork they would be recreating, explaining that aspects of the composition would change, such as lighting, location and style, but the position of the body would remain the same.
In one photograph, a model wears an American stars-and-bars bandana and tilts her head toward the camera, her eyes fixed on us. It's in this image we recognize, perhaps unconsciously, Vermeer's famous "Girl with the Pearl Earring."
The nude form of a woman is a feature of many of the pictures, an aspect that even surprised Simmons herself. "I never thought I'd see myself producing something like this," she says. "Or getting so many of my friends and family involved."
At Fondren Unwrapped, "a couple of people poked their head in, saw flesh, and turned and walked away." However, there were others that Simmons said, "grasped the concept of real-life people." People who looked at the titles were interested in the originals, and were looking up the paintings on their phones.
Simmons is currently interning at Josh Hailey's heARTalot non-profit and getting ready to do more projects in the spring. She likes working in photography with some preparation, but leaving room for creativity. "It's spur-of-the-moment, but I do enjoy that snapshot quality," she says.
More stories by this author
Support our reporting -- Follow the MFP.