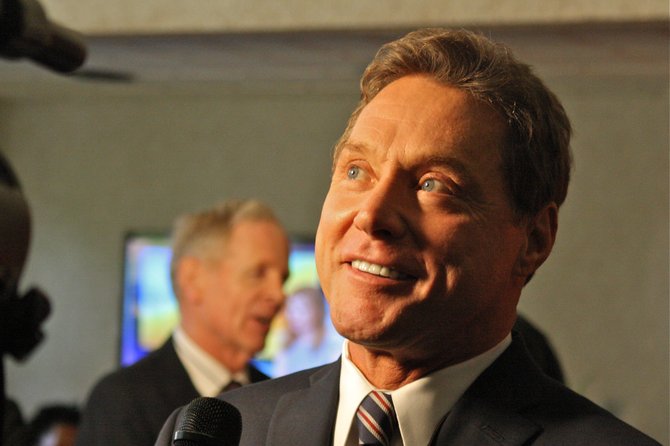 WeatherVision has been bringing local weather forecasts to communities across the country for more than two decades. Now it will help teach students to do the same. The localized, outsourced weather-forecast service celebrated its move to the Jackson State University Digital Media Center at the Mississippi e-Center Sept. 13. There, WeatherVision will not only provide the weather forecasts to more than 100 markets daily, it will also help teach JSU students the broadcast side of meteorology.
"JSU will tie our meteorology program, the only one of its kind for historically black universities in America, with WeatherVision activities," David Hoard, JSU vice president for institutional advancement, said at the opening celebration. "There will be internships, class work, and there'll be a media lab right here in the facility for our students."
Edward St. Pe', president, founder and CEO of WeatherVision, said joining JSU gives his company new meaning. It is a commercial broadcast world he operates in, but getting to teach students to do what he does gives WeatherVision a deeper purpose.
"(We're) sort of like almost sleep-walking through it at this point, we've been doing it so long," St. Pe' said. "This gives us a bit of new inspiration, to teach a new generation of kids how to do TV weather. It's rewarding."
JSU President Carolyn Meyers said Hoard brought her the idea to bring WeatherVision to JSU. "I knew who (St. Pe') was," she said. "I was very impressed with him." She added: "It's a wonderful learning opportunity for our students and all the students after them. It changes and enhances our program. We are about building deep quality in all our programs. This enables that in meteorology.
Jessica Foxworth, a senior meteorology student at JSU, spoke at the opening celebration. She said JSU has produced one in every four African Americans who hold a bachelor's degree in meteorology.
"However, since (JSU's) creation, they have typically only had one track. That is research," Foxworth said. "Students that were interested in broadcast typically went to other institutions that had broadcast programs. "
St. Pe' created WeatherVision, originally named National Weather Network, in 1985 as a radio service. WeatherVision became the nation's first provider of outsourced, localized television weather forecasts in 1990. It now offers weather forecasts to more than 100 TV and radio stations and websites.
St. Pe' said teaming up with JSU takes the company to another level. "I want to do more," St. Pe' said. "I want to do things that we haven't accomplished yet. I do think that it's a natural transition for us to be somehow now involved with education in the university."
St. Pe' will soon move his radio station, WLEZ 100.1, to the e-Center as well. He said the station will offer students the opportunity to get hands-on experience in radio production and even on-air broadcasting.
Tiger Sports Network
JSU has created a network that will allow fans to keep up with Tigers' home sporting events on the radio, TV and online.
The Tiger Sports network will expand JSU's radio network for all home and away games from six stations to 12, including WHLH 95.5 FM in Jackson. About 30 stations will carry three or four football games this year. In addition, Tiger Sports Network will broadcast video of home games live online. Comcast Sports South will air delayed broadcasts of the games immediately following the real-time games.
"It was a major undertaking," Wesley Peterson, athletics media relations manager for JSU, said in a press release. "We've been planning about a year for a 2013 launch, but we moved up the timetable and quickly tied everything together over the summer."
An outside agency previously provided JSU's radio coverage. By creating its own network, JSU now controls all aspects of its sports properties, Peterson said.
All JSU sports will be available for free online. Fans can go to jsutigers.com for broadcast schedules.
Email Jacob D. Fuller at [email protected]
More like this story
More stories by this author