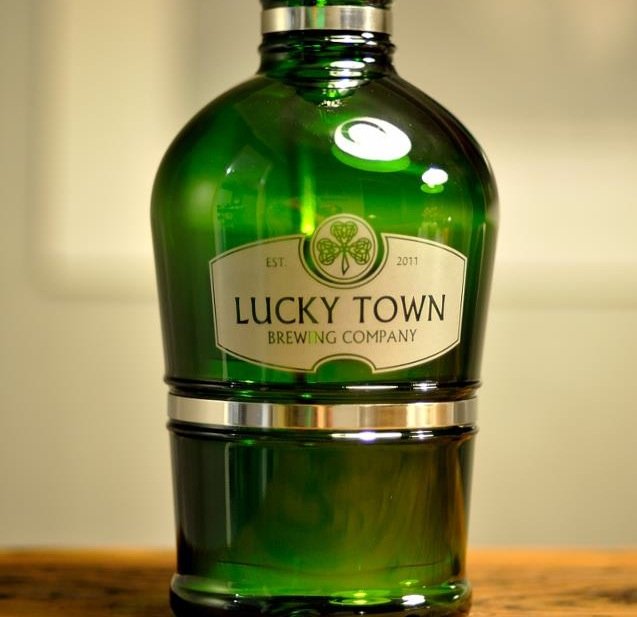 Lucky Town Expands
Madison-based Lucky Town Brewery has purchased its first fermenting tank and installed it at a brewery in Alabama.
Lucky Town Brewery does not have its own brewing facility, yet, so it will soon begin brewing beer in its new 30-barrel brewing tank at Back Forty Beer Company in Gadsden, Ala. Working with the contract brewer will allow Lucky Town to produce its own recipes and test them on the market while they work to build the company's own brewing facility.
Lucky Towns' first two beers to come from Back Forty Beer Company will be Ballistic Blonde, a Belgium-style blonde ale, and Shocktoberfest, their own take on the classic Octoberfest lager. Distribution and Sales Manager Chip Jones said Lucky Town is just waiting on the U.S. Alcohol and Tobacco Tax and Trade Bureau to approve its application to begin brewing.
"We're expecting to come out this fall," Jones said. "Shocktoberfest will be our first seasonal that we do. Ballistic Blonde will be our first year-round beer."
Lucky Town recently signed in-state distribution agreements with three distributors: Capital City Beverages, F.E.B. Distributing and Stokes Distributing. The agreements will get Lucky Town's brews in stores from Jackson to the Gulf Coast.
In a press release, Lucky Town said it will expand to statewide distribution in early 2013.
Lucky Town recently teamed up with Hattiesburg-based Southern Prohibition Brewing Company to create a beer for Hurricane Isaac victims. For the beer, the two brewers caught 60 gallons of rainwater from Isaac. They had the water treated and brewed a dark ale with cinnamon, honey and scotch bonnet peppers called Kiss My Landmass.
Only about 40 gallons of the beer will be available. The Keg and Barrel in Hattiesburg will release the entire small-batch brew Oct. 5. A portion of the proceeds from Kiss My Landmass will go to the Red Cross of Mississippi.
Halloween Headquarters Opens on County Line
Jackson will have a locally owned, one-stop shop for all things Halloween this year.
Owners Dana Jones and her husband, Bill, will celebrate the grand opening of Halloween Headquarters of Mississippi Sept. 15 in the former Old Navy building on County Line Road. Jones said Mayor Harvey Johnson Jr. will be there for the ribbon cutting.
Jones, a Jackson resident, has opened similar stores in smaller towns like Vicksburg and Gulfport for about 12 years, Bill Jones told the Jackson Free Press, and figured it was time to open her biggest store yet in the capital city.
"I'm from Jackson, raised in Jackson, and I wanted the store to be here in Jackson, not Rankin or Flowood or anything else," Bill Jones said.
Jones said the store will offer everything Halloween.
"We cater probably more towards the ladies," Bill Jones said. "(We cater) heavily, heavily, towards 18 to 30-year-olds. That's probably 60 to 70 percent of business."
From those looking to dress to impress, to the people looking for the scariest costume in town, Halloween Headquarters of Mississippi will have it all.
Starting Sept. 15, the store will be open from 10 a.m. to 9 p.m. Monday through Saturday and noon to 7 p.m. Sunday.
If the Halloween season is successful, the store will transition to Christmas and offer toys and other holiday must-haves, Jones said.
WeatherVision Moves to E-Center
WeatherVision, a localized, outsourced weather-forecast service, will celebrate its move to the Jackson State University Digital Media Center at the Mississippi e-Center Sept. 13.
Edward St. Pe', president and CEO of WeatherVision--originally named National Weather Network--in 1985 as a radio service. WeatherVision became the nation's first provider of outsourced, localized television weather forecasts in 1990. It now offers local weather forecasts to more than 100 television and radio stations and websites nationwide.
Formerly located at 916 Foley St., WeatherVision will celebrate its new location at the Mississippi e-Center at 1230 Raymond Road at 10 a.m. Sept. 13.
SouthGroup Insurance Awarded Best Practices
Ridgeland-based SouthGroup Insurance Services has retained its status as part of an elite group of independent insurance agencies around the country.
Independent Insurance Agents & Brokers of America (IIABA) and Reagan Consulting awarded the company its "Best Practices" designation in August.
Each year since 1993, IIABA and Reagan Consulting, an Atlanta-based management-consulting firm, join forces to study the country's leading agencies in six revenue categories. The agencies comprising the study groups are selected through a comprehensive nomination and qualifying process. The selected "Best Practices" agencies retain their status by submitting extensive financial and operational data for review each year.
"We are pleased to have earned the Best Practices designation again this year," Ronnie Tubertini, president and CEO of SouthGroup, said in a press release. "We work hard to provide valued services to our clients and it is recognition of the professionalism and care our staff instills in their work."
Only 224 agencies earned the designation out of more than 1,200 nominees. To earn the award, the agency had to be among the 35 to 40 top-performing agencies in one of six revenue categories.
IIABA initiated the Best Practices Study in 1993 as the foundation for efforts to improve agency performance. The annual survey and study of leading independent insurance agencies documents the business practices of the "best" agencies and urges others to adopt similar practices.
A merger of 12 independent agencies formed SouthGroup in 2002. The agency now has 21 branch locations across Mississippi.
"We are an 11-year-old company with a 115-year history," Tubertini said. "Some of the agencies that merged to become SouthGroup have been in business since before the turn of the 20th century."
More stories by this author
Support our reporting -- Follow the MFP.