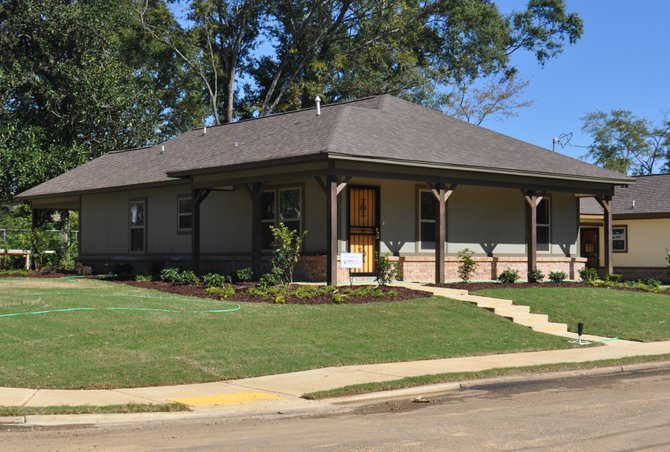 Habitat for Humanity unveiled 22 new homes in a celebration of teamwork that created a new and close-knit neighborhood from what was once an illegal dump.
It is a big change from just a couple of years ago, Englewood Gardens served as a dumping ground and the notorious home of illegal and nefarious activities.
Located off Woodrow Wilson near Hawkins Field, Englewood Gardens originally served as military barracks for the Hawkins Military Airfield beginning in the late 1940s. Once the military moved out, though, the neighborhood began to decay as absent landowners neglected the site.
"This is truly an extraordinary day," Habitat for Humanity/Metro Jackson Cindy Griffin said to the crowd at the opening celebration of the new neighborhood.
"When I think about what was here before, and what we're surrounded with now, it's apparent that Englewood Gardens truly is a neighborhood that is rising out of the ashes of a dump heap."
About three years ago, Habitat for Humanity/Metro Jackson began working on cleaning up the property. In January 2012, they began building brand new homes in the neighborhood, with a one-of-a-kind construction project in Jackson. The unique factor was one that Griffin said helps create a community before anyone moves into their homes.
"(The new home owners) worked on their homes," Griffin told the Jackson Free Press. "That's what is a really nice component of doing a neighborhood like this, because they meet each other (and) they become friends before they even become neighbors because they've been working on each others' homes."
Along with helping build each other's homes, homeowners in Englewood Gardens also attended a six-week financial counseling class called Financial Peace University.
Now, 22 of the 27 homes in the neighborhood are complete. HFH/MJ held an unveiling celebration in the neighborhood Oct. 24 with the help of Mayor Harvey Johnson Jr., State Sen. Hillman Frazier and the Adult Gospel Choir of Nissan.
"It amounts to a subdivision, quite frankly--a Habitat subdivision," Mayor Harvey Johnson Jr. told the Jackson Free Press. "It's a new concept; it's a great concept. Habitat does a great job in revitalizing areas throughout the city. This is one they've obviously put a great deal of resources into.
Griffin told the crowd at the celebration that it was wonderful to look around Englewood Gardens and not see abandoned homes and piles of trash. Now, she envisions a thriving neighborhood with children playing, parents working and neighbors watching out for one another.
The U.S. Department of Housing and Urban Development provided a Neighborhood Stabilization Program grant though the Mississippi Development Authority that funded 18 of the homes. HOME funds through the city of Jackson financed five more homes, and the Junior League of Jackson, Entergy, the Mississippi College School of Law, Women Build with Lowe's, Nissan and hundred of volunteers also pitched in to help complete the homes.
HUD provided funding through its Self-Help Homeownership Opportunity Program through Habitat for Humanity International to put in new water and sewer lines in Englewood Gardens.
Altogether, the neighborhood is a $3.4 million investment into the city, that Griffin said will generate $5.7 million in local economic impact. Where there was once a tax vacuum, soon, 27 homeowners will contribute $15,000 annually in property taxes, as well as utility income for the city.
More like this story
More stories by this author