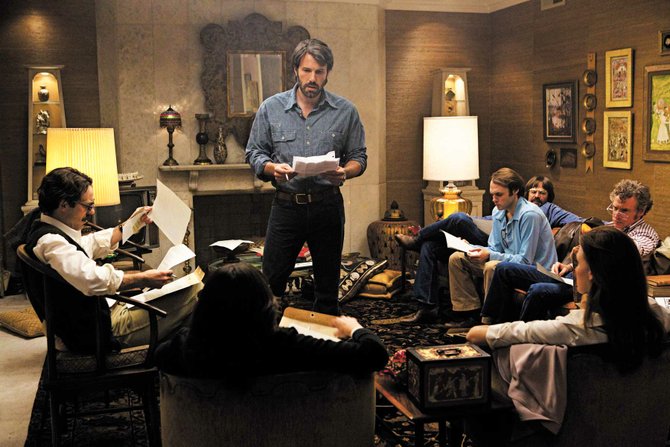 Ben Affleck's "Argo" is a deeply satisfying picture with an emotional current that sizzles your senses into shock and awe. For some, it may be "aw shucks, did that really happen?" Admittedly, the Canadian government probably did have a bigger role in the return of the six U.S. diplomats from Tehran than this American-centric film lets on. But this is a movie, not a history lesson. As a piece of entertainment loosely based on fact, Affleck deftly weaves '70s culture, an international incident, an espionage thriller, character introspection and Hollywood mystique into an eclectic cinematic masterpiece.
On Nov. 4, 1979, an angry mob of young Islamic revolutionaries stormed the U.S. Embassy in Tehran, taking more than 60 Americans hostages. Six diplomats evaded capture and hid at the home of the Canadian ambassador. What the public did not know until the information was declassified in 1997 was that CIA agent Tony Mendez (Affleck) rescued the six Americans under cover of a fake movie production. It was the best bad idea in a bunch of bad ideas and only a hair better then getting the escapees bikes to ride 300 miles through treacherous mountains to get to the border. This fake movie cover required the escapees to go through three levels of security at the airport, where a blown cover meant torture and most likely a public execution.
Hollywood makeup artist John Chambers (John Goodman), who created Spock's pointy ears and won an Oscar for the makeup in "Planet of the Apes," helps Mendez in creating a faux film project. Chambers brings in movie producer Lester Siegel (Alan Arkin). Arkin and Goodman play off of each other like ping-pong pros. Arkin is older, crustier and gets the final slams. His character tells Chambers: "If I'm going to make a fake movie, I'm going to make a fake hit."
Chambers and Siegel advise Mendez that they need a script to legitimize the cover story. Mendez finds the script buried in a large heap of dead scripts. It's called "Argo," a "Star Wars" rip off requiring sandy terrains and action heroes and space creatures with Middle Eastern features.
Chris Terrio wrote the screenplay for this movie based on an article written by Joshuah Bearman called "How the CIA Used a Fake Sci-Fi Flick to Rescue Americans from Tehran." The dialogue is fast-paced, witty and pointed. The story moves briskly, but takes time to breathe and to reflect on Mendez's torn life and how confinement affects the six escapees.
Affleck portrays Mendez with somber intelligence. He's an honest, hard working guy. He's scared, but man enough to admit it. I found Affleck's bushy beard a character in and of itself. It appears he took notes from producer George Clooney, who had a similarly shaggy visage in "Syriana." Canadian Ambassador Ken Taylor (Victor Garber) tells Mendez that he was expecting someone a bit more "G-man." (I was thinking someone more Hispanic.)
Affleck's directorial accomplishment in "Argo" is somewhat reminiscent of what Orson Welles did in "Citizen Kane." Welles told the back story of the rise of Charles Foster Kane through news reels, newspaper headline and montages. Likewise, in "Argo," Affleck effectively sets up the prologue through news reels. A narrator recounts the development of Iran from the Persian Empire, the U.S. role in the 1953 Iranian coup that led to our buddy, the Shah, heading the country, the human-rights abuses that ensued, and the Shiite revolution that led to the rise of Ayatollah Khomeini. The anti-American sentiment in Tehran dramatically escalates after the Shah takes refuge in the United States. The CIA analysts miss the revolution in the making, so it comes as a complete surprise when a loud mob infiltrates the embassy.
"Argo" is great pop art, kind of like Campbell soup cans on a canvas, but with more gravitas. You feel good when you leave the movie theater, and when's the last time you went to a non-kiddy film where real people endangered their own life to save others? ("The Avengers" doesn't count.)
More stories by this author
Support our reporting -- Become a JFP VIP.
The news business has changed dramatically in the past year, and we need your help more than ever to keep bringing you important stories about Jackson and the Metro. Become a JFP VIP with an annual membership or you can Sign up as a monthly supporter. Thanks for anything you can do to empower our journalism!