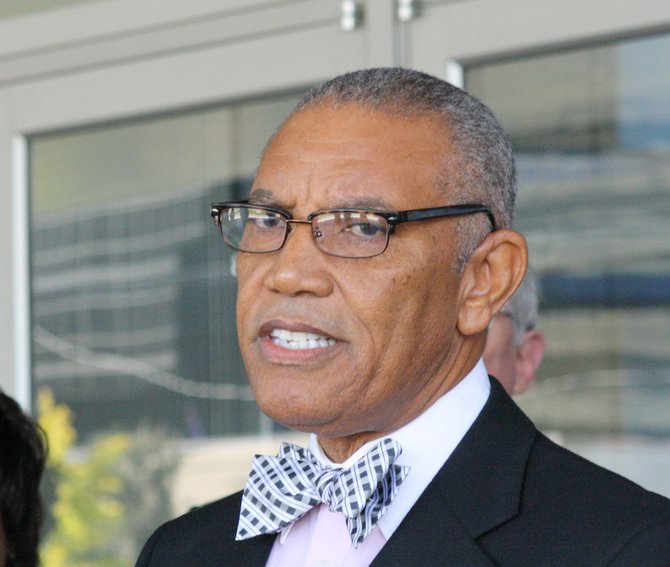 Several Jackson restaurants are taking part in an initiative to encourage better understanding and unity among different races and ethnicities in the city today and Thursday.
Mission Mississippi and Gov. Phil Bryant have teamed up to make October Racial Reconciliation Celebration Month in the state. The Two and Two Together Restaurant Days is part of that celebration. At participating restaurants, any group of two or more people of different races eating together will get 22 percent off their meal.
Jeff Good, co-owner of BRAVO!, Sal and Mookie's, and Broad Street Bakery, and Lee Harper, co-owner of Koinonia Coffee House, joined with members of the Mission Mississippi and the governor's office at the Jackson Convention Complex Tuesday morning to announce the initiative.
"Our hope is that people understand that anytime that we can sit down and try to know each other is a good thing," Harper said. "We want our city to be a lot more unified, and we want our people to be able to do things beyond what we're doing today."
Good said that throughout history sharing a meal is one of the most meaningful things people can do together.
"All the major religions treat eating together as a sacrament. It's a very important, very spiritual moment when you share your meal," Good said. "In the ancient days, sharing your meal was also sharing the ability to get to tomorrow. When you carried your meal in your clothes, if you actually shared your bread or shared your water with somebody, you were giving away tomorrow's meal. That's a very, very intimate thing."
Mission Mississippi President Neddie Winters said Racial Reconciliation Celebration month came about from the group trying to do just one more thing to make race relations in the state better.
"We take out the month of October just to celebrate the many things that we've accomplished in race relations across the state," Winters said. "We encourage people to do things together."
Along with the Two and Two Together initiative, Winters said Mission Mississippi encourages churches to hold worship service together. They are also asking people to simply come together with people of different races to have dialogue about each other's differences.
Participating restaurants in the Two and Two Together days include BRAVO!, Broad Street Bakery, Sal and Mookie's, Grant's Kitchen, Two Sisters' Kitchen, Koinonia Coffee House, High Noon Cafe and Bully's Restaurant.
More stories by this author
Support our reporting -- Follow the MFP.