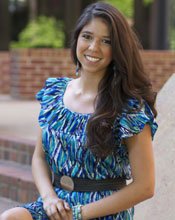 Sara Del Castillo is a bubbly 20-year-old with a passion for social justice, service, cultural awareness and immigrant-rights issues.
"I really feel that if we can all get organized, this can be a safe space for immigrants in Mississippi," she says. She hopes Mississippi will become a haven for immigrants and that education will be attainable for everyone, including undocumented immigrants.
Del Castillo was born in Memphis and grew up in Jackson, but moved to Ocean Springs after Hurricane Katrina, while her mother, Sally Bevill, worked there with the United Methodist Church. Del Castillo says her mother, who has been a paralegal on Violence Against Women Act cases and is an ordained United Methodist minister, instilled in her a desire to fight for social justice. She credits her father Julio Del Castillo's Peruvian background and family as an influence that has allowed her to connect with other cultures.
Seeing the hardships people experienced after Katrina also shaped her world view. "The community after Katrina was torn," she says.
Del Castillo also says she experienced different racial dynamics on the Gulf Coast. "People would say, 'Did you see those Mexicans in Walmart? They always stare at me.' I remember challenging others that not all Latinos are Mexican," she says.
Now, Del Castillo works with United We Dream, a national immigrant youth-led network of affiliate organizations that empowers young people to fight for their rights and the Development Relief and Education for Alien Minors, or DREAM Act. Last November, she took Mississippi's first delegation of students to United We Dream's congress in Texas.
"I've always felt connected to the immigrant community as daughter of an immigrant parent and grandmother," she says. Her mother opened one of the first immigration mission centers in Forest, where Del Castillo spent a lot of time growing up. "I still remember how giving and wonderful they were (and) how much fear they lived in. Because I grew up in this environment, I recognized immigrants not just as illegal, but as human beings--not objects that can be dehumanized as they are so often in the media."
In addition to her work with United We Dream, Del Castillo canvassed for political campaigns and worked a phone bank last fall. She has also spoken about human rights at Tougaloo College and organized a Zumba-thon to raise money for a social-justice organization. Over spring break, she participated in the Walk Against Fear, an immigrant-rights awareness walk.
When she is not doing social-justice work, Del Castillo is busy with her sorority, Kappa Delta; her friends; and the Zumba class she teaches. She will graduate from Millsaps College in 2014.
More stories by this author
Support our reporting -- Follow the MFP.