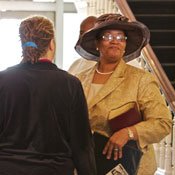 Councilwoman LaRita Cooper-Stokes of Ward 3 opposed the talk about possibly rescinding D.L. Johnson Consultants' redistricting contract with the city from the start of a Rules Committee meeting Thursday. When Whitwell called another consultant to the podium to speak, Cooper-Stokes walked out of the meeting.
The Ward 3 councilwoman stressed that the committee should discuss setting dates for public hearings and giving D.L. Johnson Consultants deadlines to complete maps. She said by talking about rescinding the contract, Whitwell was "holding redistricting in the city of Jackson hostage."
Ward 6 Councilman Tony Yarber and Ward 4 Councilman Frank Bluntson were both adamant at the meeting about wanting to rescind the contract with the consultant, headed by state NAACP president Derrick Johnson. Yarber and Bluntson wanted to award the contract to Central Mississippi Planning and Development District, the consultancy that worked with Johnson on the city's ward redistricting after the 2000 Census and that also bid for the project last December.
At Bluntson's request, Whitwell called two representative of CMPDD to speak.
"May I speak?" Cooper-Stokes asked Whitwell, who is chairman of the committee.
"You are not recognized at this time," Whitwell said.
"Nothing is on the agenda today about (CMPDD). What is the relevance of it?" Cooper-Stokes said.
"Well, we're about to find out," Whitwell said. "Someone from CMPDD ... " Whitwell trailed off as Cooper-Stokes stood up, gathered the notes from her desk and walked toward the exit.
"You're about to lose your vote, Mrs. Stokes, if you walk out," Whitwell said. "You may regret that because it may affect the decision here today. Your ward is losing its voice; Ward 3 is losing its voice."
The walkout didn't appear to affect the decision. After the committee failed to reach a consensus, Whitwell announced the decision to move forward with D.L. Johnson Consultants on the condition that representatives from the company meet with council members individually and assure them there will be no more delays.
Bluntson said Cooper-Stokes' walkout got to Whitwell, though.
"I think fellow Council(wo)man Stokes kind of shook you up; that's what happened," Bluntson said. "You tried too hard, that's what happened."
"Well, you know, I don't think anyone has shaken me up, except maybe Elvis Presley," Whitwell said.
A New President?
Cooper-Stokes introduced an order on this week's agenda to vote for a new council president.
She was not present at the Monday work session, as usual, so whom she plans to vote for and why she wants council President Frank Bluntson removed from his position was unclear at the time this newspaper went to print.
The council members present at the May 14 work session discussed with the city attorney's office how to handle such a vote. They determined that a vote could be held at the will of the council. The next vote for council president is scheduled for July 10.
Council to Vote on NAPA Deal
The city council was scheduled to vote Tuesday evening, as the JFP went to press, on a deal with NAPA Auto Parts to supply the city's vehicle repair shops with parts for city-owned automobiles. The vote was tabled for further review after a lengthy discussion May 1.
Some council members expressed concern that current city employees would lose their jobs or that local vendors would lose business. Mayor Harvey Johnson Jr. said no city employees would be laid off. Representatives from NAPA said they will work from a store on West Highland Drive that has been open since 1978 and can provide auto parts at prices far lower than most local vendors can buy them for, much less sell them.
After much discussion, the council will likely approve the deal with NAPA.
Previous Comments
ID

167738

Comment

seriously who voted for this woman?????

Author

Laurie Bertram Roberts

Date

2012-05-16T20:10:16-06:00
ID

167739

Comment

Two questions: 1.What is Stokes' problem with Bluntson now since the vote for a new Council President is scheduled for July? 2. Will Bluntson ask for the title of "Vice-Mayor" if he is not the person holding the position of Council President? Just asking.

Author

justjess

Date

2012-05-16T20:15:26-06:00
ID

167743

Comment

Cooper-Stokes is playing a meaningless political game. She is basically operating as an extension of her husband...Although she is educated I don't think she has any desire to accomplish anything meaningful for society...it's all about building the Stokes' brand. at some point she and her husband will publicly ally themselves with Aumumba....The hat lady will be a henchmen whose role is to make both the Mayor and Council President look bad till election. Look at it..you know she is not pushing Whitwell or Barrett Simon. It is unlikely although not impossible that she is pushing Tillman who has a good relationship with Bluntson. Maybe Yarber but he did not drink Kenny's Kool- Aid enough. This leaves either herself or Lumumba (that she is pushing)

Author

Powerman

Date

2012-05-17T06:41:08-06:00
ID

167745

Comment

I'm embarrassed that Mrs. Stokes is my councilwoman. She's just a female version of her husband.

Author

golden eagle

Date

2012-05-17T08:56:34-06:00
More stories by this author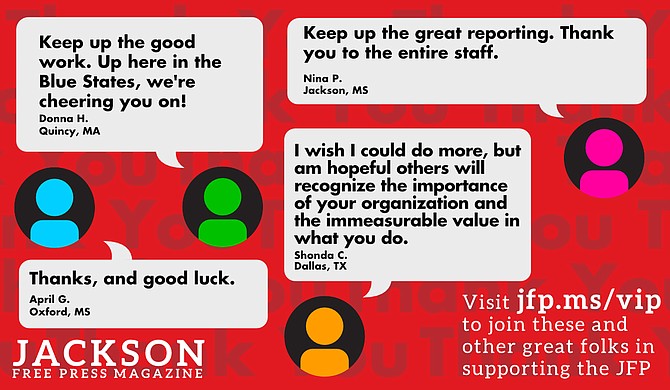 Thanks to all our new JFP VIPs!
COVID-19 has closed down the main sources of the JFP's revenue -- concerts, festivals, fundraisers, restaurants and bars. If everyone reading this article gives $5 or more, we should be able to continue publishing through the crisis. Please pay what you can to keep us reporting and publishing.