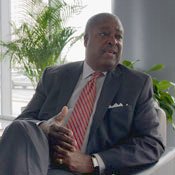 The ongoing saga for a lake to control flooding in Jackson and provide economic-development opportunities on the Pearl River will reach a milestone this week.
After months of planning, the Rankin-Hinds Pearl River Flood and Drainage Control District, or Levee Board, has finally reached an agreement with the U.S. Corps of Engineers to move forward with a feasibility study for a flood-control and development plan, which includes an environmental impact assessment.
At the Monday, May 14, meeting, board attorney Keith Turner said corps officials in Washington, D.C., signed an agreement under Section 211 of the federal Water Resources Development Act of 1996 that lets the Levee Board do much of the legwork that the Corps would otherwise do on a flood-control project to speed things up.
"Now that we've got this (memorandum of understanding) in place, they're getting ready to run pretty rapid with this project," said board Chairman and Flowood Mayor Gary Rhoads, referring to the Pearl River Vision Foundation.
The brainchild of longtime oilman John McGowan, PRVF is paying for an initial study of a one-lake flood-control development along the Pearl River. One Lake, the project's unofficial name, would be a 1,500-acre, six-mile-long lake reaching from Lakeland Drive south to the town of Richland. It is scaled down from McGowan's earlier vision for a Two Lakes concept that would have connected a top lake to the Ross Barnett reservoir.
The board voted to authorize Rhoads to sign the Section 211 on the board's behalf when it arrives from Washington, D.C., sometime this week. In a separate vote, board members gave lawyers the go-ahead to explore options for expanding the district and acquiring the land needed for the project.
Those legal options might include purchasing or acquiring land through eminent domain or negotiating agreements with landowners so Levee Board officials can access parts of the shore, Turner said after the meeting.
Jackson Mayor Harvey Johnson Jr. took the news with cautious optimism, saying although it would "be wise to get as far ahead of the game as possible," he was concerned that people might get the false impression that the Levee Board is about to start gobbling up land.
In response, Rhoads said that the agreement with the Corps, which he called "monumental," represents an opportunity for a public-education campaign for citizens and other stakeholders, such as state elected officials.
Rhoads suggested that he and Johnson lobby the state Legislature for payment in lieu of taxes on state-owned property because the Pearl River's levees protect the state fairgrounds and other state property from flooding. Private property owners along the levee pay a millage tax to the flood-control district; the state pays nothing.
Dave Nichols, mayor of Monticello, was a vocal critic of the original Two Lakes plan because of the potential impacts on downstream communities. He says he hasn't developed a stance on the one-lake plan because he hasn't seen enough information on the proposal.
"Nobody looks out for Monticello," Nichols told the Jackson Free Press Monday. "Everything is about Jackson and the metro area."
Rhoads said the feasibility study could take between 18 months and two years to complete.
For an archive of award-winning JFP coverage of Pearl River flooding option and the Two Lakes/One Lake, see our Pearl River archive.
Previous Comments
ID

167727

Comment

As someone who has been on this flood-control beat for a while now, I'd be a whole lot more comfortable if this group of folks would stop using phrases like "public education," and start talking about making themselves available to address people's concerns and answer questions without defensiveness. We've seen a lot of hubris, and delays, over the years due to an attempt to sell a problematic plan. If the plan is as much better as they say than Two Lakes was, then let's see openness to answering the public's questions (such as, specifically, how eminent domain would work), and not just all-smiles public relations. That did not work last time, and it won't this time. Let's try something different. And let's hope this time that the tactic isn't to bash everyone who dares criticize or question the plan. That won't work, either. Just sayin'.

Author

DonnaLadd

Date

2012-05-15T13:15:02-06:00
ID

167728

Comment

We definitely need as much transparency as possible. Just because there could be huge economic gain for the area (as well as for Mr. McGowan) doesn't mean that we should sacrifice the environment, as well as making future flooding situations worse. And Monticello's mayor is right: we should consider the people downstream too.

Author

golden eagle

Date

2012-05-15T16:52:05-06:00
ID

167729

Comment

Golden, Mr. McGowan says there will be no economic gain for him, that he put his land in a trust (will have to find exact quotes on it). However, he made it clear to me last year that the people who work for McGowan Working Partners who own land in there should be entitled to profit from their land. The Levee Board does not seem to be concerned about that.

Author

DonnaLadd

Date

2012-05-16T09:49:43-06:00
ID

167736

Comment

I'll take his word on it then. In no way was I trying to accuse him of doing or attempting to do anything wrong. I just want to make sure that everything is above board. I'd like for this to something very good for our area. You gotta give it to Mr. McGowan, though. He's not giving up on this and that says a lot.

Author

golden eagle

Date

2012-05-16T16:35:30-06:00
ID

167748

Comment

I hope we can have a win-win-win with economic benefit, flood control and minimal environmental impact that isn't destructive. Private business involvement in public goods and resources is always touchy and I hope the city can come out ahead on all fronts. I hope they make a ton of money in a clean and honest fashion, then reinvest it into the city.

Author

Jacksonlibertarian

Date

2012-05-17T09:52:33-06:00
Support our reporting -- Follow the MFP.