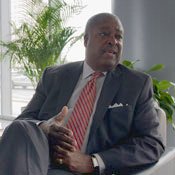 Jackson Mayor Harvey Johnson Jr. is the man to beat in the new city election in 2013. He is in his third term, having served two consecutively, then suffering a defeat to Frank Melton. He was re-elected four years later.
Stories this photo appears in:
Cover
Jackson mayoral candidate Jonathan Lee believes in opportunity: "I think it's fair to point out, too, that I'm not a corporate guy. I run a business on the corner of ...
Pearl River
The ongoing saga for a lake to control flooding in Jackson and provide economic-development opportunities on the Pearl River will reach a milestone this week.