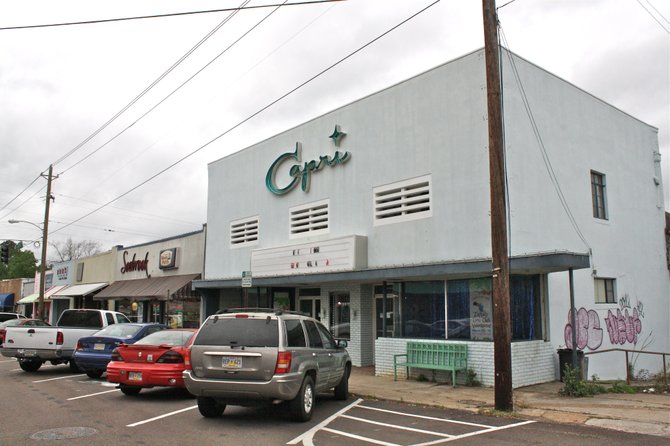 Jackson may once again have a movie theater if Pix/Capri owner Logan Young and developer Jason Watkins finalize a deal for Watkins to purchase the historic theater.
Watkins said he has a contract to purchase the Pix/Capri theater, built in 1939, and that he expects to close soon. Once purchased, Watkins plans to renovate and reopen the Pix/Capri as a movie theater.
Sam Peters, sales and leasing broker for Peters Real Estate, said he represents both Young and Watkins in the deal and that a contract doesn't mean the deal is final.
"I'm assuming that it's going to close, but I can't guarantee you that the sale will happen at all," Peters told the Jackson Free Press this morning. "Not every single thing that goes under contract sells."
Peters said the contract is set to close in the "near future," but that Watkins has asked him to negotiate a short extension.
The grassroots organization Save Our Strip started a petition in early 2011 to stop Watkins and his father, David Watkins, from tearing down the collection of shops adjoining the Pix Capri along North State Street in Fondren. Known as "the strip," the Watkins planned to build a mixed-used development called Whitney Place on the site.
After receiving the petition, Watkins Development announced they were rethinking their plans for Whitney Place. Jason Watkins told the Jackson Free Press Thursday that they no longer plan to demolish the strip, but plan to build Whitney Place behind and around it.
Arin Clark Adkins, a spokeswoman for Save Our Strip, said the group has not been in contact with Watkins in a few months, but that they support the purchase and renovation of the Pix Capri.
"We know the Pix Capri is listed as a Mississippi landmark, which carries a restrictive and protective designation. This gives the Mississippi Department of Archives and History some review authority over what happens with the building," Adkins said this morning. "We hope that the focus on the Capri is a sign that Watkins Development wants to preserve the historic fabric of Fondren."
The Department of Archives and History's website defines the landmark review guidelines as follows:
"Any proposed work that could affect the historical and architectural character of a Mississippi Landmark is subject to review by the Permit Committee. Property owners are required to notify the Permit Committee in the early planning stage, and always prior to the letting of bids, of proposed projects that may affect designated or potential Mississippi Landmarks."
Watkins said further plans for Whitney Place will be put on hold until the Pix Capri renovation and reopening is finished. He said Watkins Development will continue to be in close communication with the Fondren community about the development.
David Waugh, president of the Fondren Association of Businesses, said he has not been in contact with Watkins, but that the Capri reopening would be positive for the whole neighborhood.
"There's not a theater in this area, and there's not a performance space," Watkins said via phone this morning. "A bunch of us have been hoping to have a place for live performances as well as movie performances."
Legacy Comments
Be sure and read our story about the history of the Pix-Capri Theatre from this week's JFP: http://www.jacksonfreepress.com/index.php/site/comments/et_tu_pix_032112/
2012-03-22T15:34:11-06:00
More stories by this author
Support our reporting -- Follow the MFP.