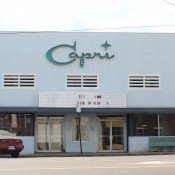 Developer Jason Watkins has signed a contract to purchase the Pix-Capri Theatre in Fondren, a deal he said will be finalized "in the near future."
Once the purchase is complete, Watkins and his father, David, will own the portion of the historic Fondren strip on North State Street from the Pix-Capri to The Antique Market, which includes Campbell's Bakery, Bob's Custom Hair Designs, the James Patterson and Blaylock Fine Arts Photography Studio, and Seabrook Decorating Center. They also own the building that houses Butterfly Yoga, located immediately north of the Pix-Capri, and the land behind the strip.
Jason and David are partners in Whitney Place, a mixed-used development in the planning stages to be located in Fondren. In 2010, the plan for Whitney Place included tearing down the strip, including the Capri, and building new development along North State Street. But Jason and David rethought their plans in early 2011, after more than 300 Fondren residents signed a petition to keep the strip, built in 1938.
"We're working with people in the community to look at some alternate designs," Jason Watkins said during a phone interview with the Jackson Free Press this morning. "That strip area, we've just decided that we want to hold off on any kind of redevelopment there until I've focused more on the Pix area for redevelopment. I think that the Pix area will serve as a good anchor for the rest of the development that will take place in the strip area."
"The plan is redevelop (the Pix-Capri Theatre) and relaunch it as a theater at this time."
It is too early to speculate on when remodeling the movie theater will begin, Watkins said, but he hopes it will be sometime in 2012.
Also see: Whitney Place to Rebuild Fondren
Whitney Place In the Works
Group Forms to Save Fondren Strip
More stories by this author
Support our reporting -- Follow the MFP.