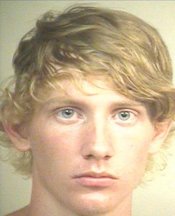 Deryl Dedmon stood by silently, his face expressionless as Hinds County Assistant District Attorney Scott Rogillio read aloud an account of the murder prosecutors say Dedmon committed last year when he was 18 years old.
Early on the morning of June 26, Dedmon, who had been drinking with friends the previous night, caravanned from Brandon to Jackson to start trouble with any black people they could find.
"Words to the effect of 'Let's go f**k with some n*ggers' were used," Rogillio said in court this afternoon.
They found a suitable enough target in James Craig Anderson, 47, who appeared drunk in a hotel parking lot. Rogillio said Dedmon's friends stalled Anderson under the pretense of helping him long enough for Dedmon, who was trailing in his Ford F-250, to arrive.
When he did, one of the group members cold-cocked Anderson, knocking him to the ground. Dedmon straddled the victim, punching him in the face and head for a few seconds. After the assault concluded Dedmon and another member of the clan shouted, "White power!"
As he sat in his truck, Dedmon spotted Anderson again just in front of him and, according to Rogillio, "deliberately used his vehicle to run over the victim." A witness dialed 911 and gave a description of the truck. Jackson police officers caught up to Dedmon on Interstate 20, and placed him under arrest.
At his arraignment in September, Dedmon pleaded not guilty to capital murder and committing a hate crime. By pleading to murder, Dedmon avoided the death penalty (which Anderson's family asked Hinds County DA Robert Shuler Smith not to pursue). And despite Dedmon's expression of remorse for doing "a very vicious thing for no reason," Hinds County Circuit Court Judge Jeff Weill showed no leniency and sentenced Dedmon to the maximum of two life sentences, which will run concurrently.
"Your prejudice has brought a great stain on the state of Mississippi," Weill said.
Members of the Dedmon and Anderson families left the courthouse swiftly, both sides in tears, and declined to be interviewed by the throng of news reporters.
Smith read a brief statement after the hearing concluded in which he praised the cooperation of various law enforcement agencies.
Also see:
Prosecutor Recounts James Anderson's Murder
Divided We Fall
Dedmon Pleads Not Guilty
Dedmon Indicted by Grand Jury
The Cycle of Hate
Support our reporting -- Follow the MFP.