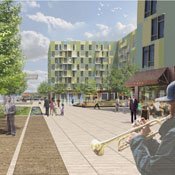 The fate of a major mixed-used development in downtown Jackson rests in the hands of city leaders.
If the mayor and Jackson City Council approve the funding and execution of needed infrastructure improvements, Full Spectrum NY is ready to break ground on 1822 Square at Old Capitol Green by the end of June this year.
Once completed, the project will feature about 88,000 square feet of office space, 130 residential units, 57,500 square feet of retail shops and a 480-space, state-of-the-art automated parking garage.
Mayor Harvey Johnson Jr. Said the city is working with Full Spectrum and contractors on a plan for infrastructure improvements needed for the development's first phase. Phase one will include extending Court Street from Commerce Street to Jefferson Street, as well as reconstructing sections of Commerce, Tombigbee and Pascagoula streets. Plans include new sidewalks, bike lanes and a jogger's path along Commerce Street.
"Typically, infrastructure like that would be dealt with with the tax-increment financing mechanism," Johnson said.
"So we'll certainly look at that, but we have not had any definitive discussions about either the cost of the improvements or financing."
The City Council will have to approve any tax-increment financing.
Full Spectrum NY has received funding from several government agencies in planning 1822 Square. In 2009, the state Legislature passed Senate Bill 3281, which approved an up-to-$20-million loan through Hinds County to go toward the development's parking garage. In December 2011, the county approved a $13-million loan out of the state-approved $20 million.
In August 2010, the Mississippi Business Finance Corp. approved a resolution for Full Spectrum NY to receive industrial revenue bonds and Gulf Opportunity Zone bonds, which were designed to stimulate investment in areas affected by Hurricane Katrina. Combined, the bonds were worth $45 million, which Full Spectrum plans to use to build the development's Legacy Office Building.
In January of this year, the Jackson Redevelopment Authority approved an urban renewal bond worth up to $4 million to cover the final funding needed to construct the parking garage, the developers say.
To fund the residential building, Full Spectrum is working with the Federal Housing Administration's 221(d) loan program, which helps fund new construction and substantial rehabilitation of apartment properties.
Carlton Brown, chief operating officer of Full Spectrum NY, said tenants have signed letters of intent to fill about 80 percent of the Legacy Office Building and about 70 percent of the retail space.
"GSA (U.S. General Services Administration), the Metro Chamber, an architectural firm and the Islamic Museum have given us letters of interest for this (office) space," Brown told the Jackson Free Press. Brown is a Jackson native who graduated from the Princeton University School of Architecture and Urban Planning and has studied real estate at New York University. He now lives in New York City.
A dozen retailers are already on board for the development, he said, including Petropolis Pet Grooming and Boarding, Spice Island Indian Restaurant, Campbell's Bakery, E&L Barbeque, Yogurt Tree and a cooperative art gallery.
The automated parking garage is also in the plans for phase one. It will feature wire-guided robots that will pick up a patron's car and take it to a secure spot in the garage. Drivers will be able to drop off their car in the lobby, and the robots will bring it back to them when they are ready to pick it up.
Chris Mulvihill, president of automated parking manufacturer Boomerang Systems, said that the automated system will reduce the garage's carbon usage almost to zero, because no lights are needed inside and solar energy will help power the garage.
"Parking garages are the number-one place where rapes occur where the victim did not know the assailant," Mulvihill said. "So whether it happens or not, there's a discomfort people have when they go into a parking garage."
Boomerang's automated system eliminates the threat of rape, robbery and other crime in the garage, Mulvihill said, because no people will actually enter the garage.
The entire 1822 Square development has been designed to reduce its carbon footprint and provide green spaces in Jackson, Brown said.
Developers have designed under-street cisterns, permeable paving and a black-water/rainwater cooling system for the parking garage to further reduce water and energy consumption.
Pedestrians will reign supreme at 1822 Square. Large sidewalks, ample seating and shade will provide an atmosphere that promotes walking or riding a bike over driving an automobile.
And 1822 Square's residential building, Terre Verte, is designed for city dwellers with a green thumb. "There is a roof garden that goes over the retail from the second floor (of residential space)," Brown said. "That's a real garden that you can really plant real food on."
The name of the development, 1822 Square, combines the year of Jackson's incorporation and the original town-square layout of the city.
"The original plan for Jackson was a plan that was sort of like the Savannah (Ga.) Plan. There were supposed to be all these communities built around these public squares," Brown said.
Most of the squares never came to fruition, though, and even fewer remain today. Brown said the goal with 1822 Square is to create the public realm the squares were meant to build in Jackson.
Brown said the parking garage will take six to nine months to build. Once developers break ground this summer, the entire project is expected to take about 24 months to complete.
More stories by this author
Support our reporting -- Follow the MFP.