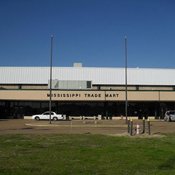 Today, the Jackson Garden and Patio Show kicks off at 9 a.m. at the Mississippi Trade Mart (1200 Mississippi St.) and runs through March 18. Admission is $5 per day, children 12 and under free; call 601-919-8111. CS's hosts the St. Paddy's Parade Party and Pub Crawl at 3:30 p.m. The O'Tuxers with Mark Roemer perform. The Marching MALfunction and Second Line Stomp and Street Dance starts at CS's at 6:30 p.m. (trolley service from Hal & Mal's starting at 4:30 p.m.) and ends at Hal & Mal's. The Southern Komfort Brass Band, the Lucky Hand Blues Band and the Rumprollers perform. WOOD performs in the Red Room ($5). Costumes welcome; call 601-948-0888. The Gulf Coast Conference Wheelchair Basketball Championship opens with a banquet at 7 p.m. at Jackson Medical Mall, Center Stage (350 W. Woodrow Wilson Ave.). Games are March 17-18 from 9 a.m.-5 p.m. at the Walter Payton Center (32 Walter Payton Drive). $20 banquet, free games; call 601-918-5830. Tyrese performs at 8 p.m. at the Jackson Convention Complex. Tickets are $49.50-$54.50; call 800-745-3000. Guilt Ridden Troubadour plays at Ole Tavern. The Andy Hardwick Trio performs from 8-11 p.m. at Yellow Scarf Listening Room (741 Harris St., Suite E). Admission is $20, $35 for couples. Suite 106 hosts Free Your Mind with DJ Spre. Admission is $5. Need more options? See our Best Bets.
On Saturday, St. Paddy's events kick off at the Mississippi Museum of Art (380 S. Lamar St.) with the Trustmark Children's Festival at 10 a.m. (free) and the Pet Parade at 11 a.m. ($5 entry fee per pet benefits the Mississippi Animal Rescue League). The Mal's St. Paddy's Parade is at 1 p.m. at the corner of State and Court streets, and street dance is after the parade at Hal & Mal's. Call 601-948-0888; visit http://www.malsstpaddysparade.com. Other St. Paddy's events include music from South Bound Traffic after the parade at Jaco's Tacos, the St. Paddy's Blowout at Martin's with Electric Mudd and Friends, Fenian's annual block party with Legacy, Otis Lotus and Gary Burnside ($5 cover), Ole Tavern's Downtown Throwdown with US, Crossin Dixon, Swamp Babies and more, the St. Paddy's party at Sportsman's Lodge with DoubleShotz, the St. Paddy's party at Burgers and Blues, the crawfish boil at Pop's, music from Brian Sivils, Akami Graham and Reginald McEachin at the King Edward Hotel, and the St. Paddy party at Slick's Bar and Grille (ladies get in free until 11 p.m.; wear green for a free drink). More options on page 18. Party with the Jackson Nuggets youth basketball team at 5:30 p.m. at Dreamz JXN. Admission is $5. Shadein Mars, AKA London, is the featured poet during Nameless Open-mic at 9 p.m. at Suite 106. $5 cover, $3 to perform. For more events, check out the JFP Events Calendar.
On Sunday, Disney's Phineas and Ferb: The Best Live Tour Ever is at 1 p.m., 4 p.m. and 7 p.m. at the Mississippi Coliseum. Tickets are $14-$40; call 800-745-3000. Art House Cinema Downtown at Russell C. Davis Planetarium (201 E. Pascagoula St.) features the ballet film "Le Corsaire" at 2 p.m. Tickets are $16, visit http://www.msfilm.org. Aya Korem performs at 7:30 p.m. at Duling Hall. Tickets are $10 in advance, $15 at the door; call 601-292-7121 or 800-745-3000. Also, be sure to take some time to support a local restaurant such as Bon Ami, Two Sisters Kitchen, Julep, Cool Al's, or Cerami's. If you want more dining options, see
JFP Restaurant Listings and the Menu Guide.
Is something missing? To make sure your event is listed on the JFP calendars, send the information to [e-mail missing] or [e-mail missing], or add your event yourself. It's easy!
More like this story
More stories by this author