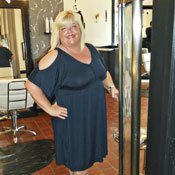 Those of you who are regular readers of this column may recall that some months ago, I acquired my Fantasy Hair—I got long hair thanks to extensions from Paul Prine at S'Moak Salon (622 Duling Ave., 601-982-5313). The extensions he gave me were weft extensions, which are intended to add length and consist of basically a whole row of hair that is attached to your own hair with beads. They did the job of giving me long hair, but required a lot of maintenance by way of blowouts, going to have the beads moved up every few weeks and such. Nobody ever said a good thing (or good hair) comes easily, and these definitely proved that point.
But as it turns out, that endeavor was only my first step down the path toward long, luscious and low-maintenance locks. And so, dear readers, I invite you to continue with me on my journey. Around the time those first extensions were ready to come out, two things happened. First, Sarah Thomas, my stylist at S'Moak, told me that my own hair was now long enough to use the kind of extensions she uses. She promised that while they are a larger initial investment (of both the time it takes to put them in and money) than the weft type, they require much less maintenance, look great when you let them dry naturally, and are easy to play with and style, ultimately making them worth it.
Second, I watched the Chris Rock-produced documentary "Good Hair." That film focuses on African American women's hair and the industries and intense treatments surrounding it. It also involves a great deal of discussion about weaves. That, combined with my continued enjoyment of the "Real Housewives" franchise, which features more extensions than you can fathom, egged me on to tell Sarah: "OK. Let's do it."
Armed with a book and a stack of magazines, I set off one afternoon to spend five hours at S'Moak getting the good hair. The process involved bundles of hair from which Sarah pulled small sections, an instrument resembling a hot glue gun and lots of patience. The reward is well worth the hours, though frankly, I'm still struggling to explain that fact to some—most notably my incredulous mother, who remains at a loss over the entire concept.
"So why are you getting more?" She asked. "Because I want long hair. And this is good hair. Better than the first ones."
Then she turned all Barbara Walters on me, asking follow-up questions: "So, you'll just get them until your own hair is that length?" Perhaps. But they can also add volume, not just length. I'm afraid that much like my beloved Housewives, I am a victim of the good hair siren song.
But, really, rather than a victim, I feel empowered by the wisdom of a good stylist. Sarah has been mine for several years, and she's yet to steer me wrong. Everything she said about this hair is true: it's easy to maintain, and it looks great when I just let it air dry, which is not true of my natural hair. The ultimate validation are the people who simply remark that my hair has gotten long and looks good—they can't even tell! (I suppose I could have not written this column and kept it a secret, but y'all get to know all my dirt.)
OK, that's almost true. The ultimate validation was really when I met my friend Eddie Outlaw (co-owner of William Wallace Salon) at Pi(e) Lounge (565 Taylor St., 601-368-1919, salandmookies.com) for happy hour one night to talk about Jackson things and catch up, and he complimented my long mane.
In a further effort to try something seemingly high-maintenance that ultimately results in less, I made an appointment with Becky Mayoros, the new nail technician at S'Moak. I'd heard about the new shellac nail polish that is only available at salons. Since like many women, I chip my fingernail polish immediately, I was eager to test the claim that the shellac polish lasts up to three weeks. Though the color choices are limited, I found a good one, and I'm happy to report that two weeks in, it still looks good!
Becky says she recommends giving your nails a two-week break from it every so often, but I think I may have finally found a way to believe a manicure is worth it.
The moral in my story is, I think, twofold: first, like good clothes and shoes, a good salon treatment can be a solid investment that is worth it in the long run; and second, you should always listen to a good stylist.
Follow Julie on Twitter @jcskipp.
More stories by this author
Support our reporting -- Follow the MFP.