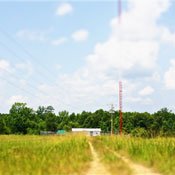 Jacksonians have been talking about the radio station with no DJs, no commercials and a music lineup like none they've ever heard.
If you have scanned radio waves in the last few months, there's a good chance you've run across tunes you haven't heard in years, and mostly likely, plenty you've never heard at all.
It's no surprise to hear Bob Dylan's "All Along the Watchtower" on the radio. When it's Dylan's vocal cords squawking through the verses at an MTV "Unplugged" session in 1994 coming through the speakers, though, and not the classic 1968 Jimi Hendrix recording, it's reason enough to stop and listen to what else will play on that radio station.
If Tracy Chapman "Talkin' 'Bout a Revolution," a 20-minute Grateful Dead jam or an obscure track from an album you bought a couple of decades ago stopped your radio dial lately, it was probably on 100.9 FM.
The only thing listeners have heard on the station in months is an eclectic variety of popular music and, occasionally, this identifier: "WJXN, Utica, Jackson. Jackson's widest variety of music." Listeners haven't heard a commercial or a disc jockey on the station since it stopped broadcasting K-Love this spring. The Christian-pop station broadcasts out of Omaha, Neb., through hundreds of stations in 46 states, including seven in Mississippi.
Many people around Jackson have said they love the station. How someone can 
afford to run a station without advertising is perplexing, though, and the mystery proved harder to solve than this reporter expected.
The station broadcasts from a tower that stands far above the churches, farms and woods that surround it on Midway Road in Terry. A padlocked gate guards the overgrown gravel road that leads to the small, empty white building next to the tower.
The phone number listed for WJXN in the phone book goes to a digital voice recording. "Welcome to the WJXN electric (unintelligible). Please enter voltage," the voice says.
Another number listed online goes to a different voicemail recording for the station. The voice on the recording said, "If this is 
regarding an off-air emergency or other emergency, you can call our engineer at," and then gives a phone number. No one has responded to multiple messages the JFP left on the voicemail since June 6.
The place was empty when the JFP visited the address listed for the station, 1985 Lakeland Drive, Suite 212, mid-afternoon June 8. At the end of the back hallway on the first floor of the office building, someone had posted a sign on a door. The door was locked this past Friday afternoon. The sign read: "WJXN-FM/WWJX-DT. 1985 Lakeland Drive, Suite 212 Jackson, MS 39216. For Public File Inspection during business hours go to Suite 106. After hours/emergency contact Stan Carter," followed by Carter's number.
Bob Buchanan, manager of the Lakeland Drive office building, said Flinn Broadcasting, of Memphis, Tenn., has rented office space in the building for eight to 10 years and indicated that if anything has changed about the station, he is unaware of it.
Carter is an independent contractor who takes care of engineering emergencies for the station. He said that Flinn Broadcasting owns the station, and anyone with questions about the station should call the office in Memphis.
At Flinn Broadcasting, the employee who answered the phone declined to give her name or position with the company. She confirmed that the company owns the radio station and the FCC license for the frequency, but that an independent lessee determines its broadcast content. She said she did not know who was leasing the station; she only had a phone number--the same phone number that leads to the voicemail providing Carter's number.
During a follow-up call, Carter said he could not give anyone the name of the station's new lessee, either, because there isn't one. He said that the station playing the rare tracks, live recordings, b-sides and hits, uninterrupted by DJs or advertisements isn't here to stay.
"The format that you're hearing on there right now is a temporary format that Flinn Broadcasting has put on until the lease has gone through," Carter said.
Flinn Broadcasting and the anonymous phone answerer confirmed Monday that, in fact, there is no current lessee of the station. The company is playing the music-only format until they find a new lessee to take over.
So the answer to how someone can afford to keep a radio station on without commercials is: they can't. While Flinn Broadcasting, which owns 32 radio stations in 13 states, is searching for a new lessee, they are broadcasting the current format simply to keep the station on air.
When something seems to good to be true, it usually is. In the case of the advertising-free radio station, that old piece of advice holds true--unless, of course, you pay for a subscription to satellite radio.
Previous Comments
ID

167906

Comment

They would not have a hard time selling ads for this format, though. It is family-friendly, as far as I can tell, and a refreshing change from the Clear Channel crap on other stations. I think it appeals to a wide audience, particularly people who weren't listening to radio much at all until they heard a cool station was in town. I think it is primed to be a good medium for advertisers.

Author

andi

Date

2012-06-13T12:07:25-06:00
ID

167908

Comment

The format is basically just an automated classic "Triple A"--nothing all that mysterious: http://en.wikipedia.org/wiki/Adult_album_alternative Maybe JFP should lease it out--call it Radio Free Jackson.

Author

ed inman

Date

2012-06-13T17:43:20-06:00
More stories by this author
Support our reporting -- Follow the MFP.