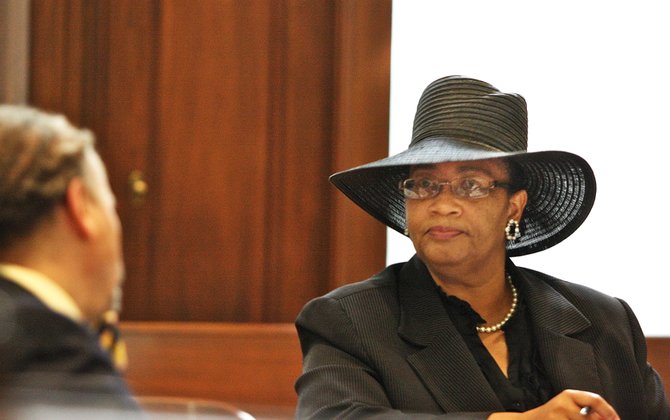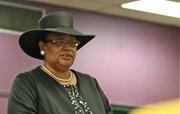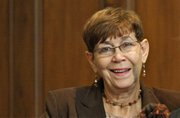 JACKSON — After a special election, a runoff election and a court hearing that invalidated the runoff election, LaRita Cooper-Stokes and Joyce Jackson will square off for their fourth bout for the Ward 3 Jackson City Council seat July 24.
A jury unanimously found in favor of Jackson and set aside the runoff election, held Feb. 28, in which Cooper-Stokes defeated Jackson by 156 votes. The city held the election after no candidates earned a majority in the Feb. 14 special election. The jury heard allegations of Cooper-Stokes' supporters campaigning within 150 feet of polling locations, unsolicited voter coaching and assistance, and one instance of a poll manager using a racial slur to refer to Jackson, who is of mixed heritage.
"I already feel like I'm victorious (given) the mere fact that I have exposed all of the fraud and discriminatory practices that were done (on) both Feb. 14 and Feb. 28," Jackson said Tuesday. "I burned the haystack down, and I found the needles when we went to court."
The city is ask now asking Ward 3 voters to go to the polls again to select their city council representative.
Jackson said federal poll workers and Hinds County Sheriff's deputies will be at every polling precinct to make sure poll workers do not violate the law July 24.
Cooper-Stokes, who took office after the original runoff election, has held the seat while awaiting the new election. Special appointed Judge Richard McKenzie, who overheard the hearing, refused Cooper-Stokes' appeal for a new hearing earlier this month. Cooper-Stokes' attorney, Imhotep Alkebu-lan, confirmed that he is looking into the possibility of appealing the ruling to the state Supreme Court, but Cooper-Stokes said after a community meeting July 12 that she is focusing on winning at the polls, once again.
"I believe the will of the people is that we go ahead and run this race, and go ahead and get it over with," Cooper-Stokes said. "So I'm going with the people."
A resurgence of Jackson's "Jackson 4 Jackson" campaign signs have sprung up in yards and on street corners around the ward in recent weeks. Jackson said that she has found many of her signs, especially those along Northside Drive, vandalized in the past week.
"There's only two of us running, so I don't know if it is workers from the other side who's doing (the vandalism)," Jackson said.
Cooper-Stokes' "Vote Stokes" signs can be seen on telephone polls, in car windows and on boarded-up houses throughout the ward. Many of them have been there since the February elections, but this reporter spotted a Stokes campaign worker posting fresh signs on poles July 13.
Under city ordinance, all political signs are to be removed within 15 days of an election. If no one removes the signs, the city will give a candidate an additional 72 hours notice to remove the signs. After that, the city may charge a candidate a $100 fine, plus an additional $5 for every sign the city has to remove.
Cooper-Stokes has not received any fines for signs her workers posted in February that no one has taken down.
While she awaited the result of Jackson's suit, Cooper-Stokes took her seat on the council. Since March, she has put a resolution on every regular meeting agenda, except one, to honor a city citizen or to rename a street in someone's honor. On the one exception, Cooper-Stokes honored The Jackson Advocate "for outstanding service and commitment to the people of the City of Jackson."
At least three of Cooper-Stokes' honorees are pastors or church leaders. She scoffed when this reporter brought up criticism that honoring pastors was a political move to get votes from the pastors' congregations.
"That's silly. I actually attend most of the churches that I'm honoring the pastors in. So I know them personally. It's not a political thing," Cooper-Stokes said. "I try to attend as many churches as I possibly can."
Jackson, a former schoolteacher and part-time employee at Collins Funeral Home on Northside Drive, has never held public office. She said if anyone wants to know about her record and background, they can contact her.
"I would like for them to call me at 601-981-7089 and ask for an appointment, or just come to see me. Come to my headquarters (3732 Albermarle Road)," Jackson said.
Polls in Ward 3 will be open from 7 a.m. to 7 p.m. July 24. Voters can find a list of polling locations at jfp.ms/ward3_voting.
More stories by this author
Support our reporting -- Follow the MFP.