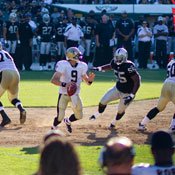 The 2011-2012 season for the New Orleans Saints might be remembered as "the season that might have been." New Orleans would have won its first road playoff game and hosted the NFC Championship game, but the Saints were unable to hold a lead late against the San Francisco 49ers Jan. 14.
Now that the NFL season is over and the New York Giants are world champions again, football teams' attentions will shift to the draft and free agency. Every team has needs, but my focus here is on the Saints.
First order of business will be re-signing free-agent quarterback Drew Brees. Saints fans should not worry about Brees leaving, to paraphrase head coach Sean Payton. At age 33, Brees has few places to go that have a chance to win a title. New Orleans is the best place for him to win another championship. Brees might play for a maximum of seven more years. That would make him 40 years old. Brees needs to take less money and help the team keep key free agents.
Peyton Manning will also be on the market, and several teams will line up to get him. It would be interesting if Manning came to New Orleans and led his hometown team to the Super Bowl next year when New Orleans hosts it, but that will never happen. The Saints will re-sign Brees—no need for them to get into the Manning race—but Manning's availability will have a negative effect on Brees' potential free-agency moves.
The biggest free-agent opportunity for the Saints is guard Carl Nicks. Since free agency started in 1992, some of biggest jumps in salaries have gone to offensive linemen. Nicks is a Pro Bowl guard, and teams will be salivating to add him to their roster.
Brees is able to break records and put up incredible numbers because he has one of the best offensive lines in the NFL. Getting Nicks should be the Saints' main goal right now. If the Saints can't sign Nicks, the team might use the franchise tag on him. Salary cap restrictions will be the only reason New Orleans lets Nicks walk out the door.
New Orleans also will have to think long and hard about keeping free agent wide receiver Marques Colston, who can sign anywhere. But Colston would be wise to remember that, historically, wide receivers do not do well after leaving their original team.
Randy Moss disappeared in Oakland after leaving Minnesota before New England revived his career. The list of wide receivers who underperform with new teams includes Chad Ochocinco, Deion Branch, Santonio Holmes and more.
New Orleans might have to choose between keeping Colston and Robert Meachem. Both are free agents, and it might be hard for the Saints to keep both players.
The free-agent market includes a ton of wide receivers including several big names like Vincent Jackson, DeSean Jackson and Reggie Wayne. It may be that a player or two would take less money for a chance to win a title.
Defensively, New Orleans has several tough decisions to make with six players entering free agency. The biggest names here are cornerback Tracy Porter and linebacker Jonathan Casillas.
The Saints need to rework their defensive line because first-round draft pick Cam Jordan underperformed with just 31 tackles and one sack his rookie season. Jordan was supposed to be a pass-rushing defensive end, but one sack is not getting the job done. Even as a rookie, Jordan should have done more to make his first-round selection worthwhile.
The New Orleans defense is also aging at linebacker and needs to find a replacement for Jonathan Vilma. It is no secret that Vilma is the heart and soul of the Saints' defense, but he can't play forever. The Saints also need to retool their secondary.
New Orleans will be in good hands on defense with Steve Spagnuolo taking over for the departing Greg Williams. In fact, I believe the Saints will be better on defense with Spagnuolo. The Saints will be just as aggressive but also will play sound defense.
In the draft, New Orleans won't have a first-round pick this year, having traded their first-round pick to the New England Patriots for running back Mark Ingram. I said after the draft last season that if teams trade in the draft, their pick or picks need to hit.
Prime examples are the Atlanta Falcons and the Saints. The Saints hit with Ingram until he was hurt (that is, if he can come back healthy) but whiffed on Jordan.
Atlanta traded its whole draft to get Julio Jones and failed to score a point against the New York Giants on offense. Jones was supposed to be a big-play wide receiver, but he didn't make big plays when it counted most—in the playoffs.
New Orleans will not make a draft selection until the 59th overall pick in the second round. The Saints have six picks overall and will need to use most of those picks on defense. Or, the Saints might find the next undrafted free-agent sensation like the Giants' Victor Cruz.
The offseason is where championships are won and lost. What do you think the Saints should do?
Follow Bryan Flynn at http://www.jfpsports.com, Facebook and @jfpsports.
More stories by this author
Support our reporting -- Follow the MFP.