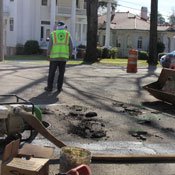 The city of Jackson has not been able to afford the maintenance on its roads for years. With government budgets facing cuts across the board, Mayor Harvey Johnson Jr., the City Council and state Sen. David Blount, D-Jackson, are trying an old approach to an old problem.
Blount has authored a bill that, if passed, will return control of state highways inside the corporate limits of Jackson to the Mississippi Department of Transportation. The bill, Senate Bill 2110, would free up a large portion of the city's budget now slated for road repair and allow the city to direct those funds toward other infrastructure projects.
A bond issue proposed by former Mayor Frank Melton and approved by the city council in 2008 has helped Jackson fund its infrastructure needs in recent years.
"We just spent $20 million on road repair and, obviously, that's not enough. That's a drop in the bucket. We need more money," Johnson said.
"That $20 million is costing taxpayers about two and half million dollars a year. In 10 years, we're not going to be through paying for that bond issue; but in 10 years, the roads are going to need to be repaired."
The bill specifically names two roads: Highway 49 from the northern corporate limits of Jackson to its intersection with Woodrow Wilson Avenue, and Lakeland Drive from Interstate 55 to Old Canton Road. It also includes roads in Hinds County designated as state highways in Section 65-3-3 of the Mississippi Code, which includes portions of highways 18, 25, 51 (known as State Street within Jackson city limits) and Highway 80.
State Street and Lakeland Drive are two of the city's busiest streets, and both border the University of Mississippi Medical Center. Highway 49 intersects Woodrow Wilson Avenue near the hospital.
"There is a compelling interest on the part of the state that those roads be well maintained," said Sen. John Horhn, D-Jackson. "And I can see that there is some justification for it."
The highways inside the city corporate limits were once under control of MDOT, but the city took them over in the mid-1980s.
"It was at a time when the sense of the city was the state was not doing a very good job of maintenance of those roads," Horhn said. "They thought that they could do a better job of maintaining these roads. So then-Mayor Dale Danks made the request to have those roads turned over to the city. The city was flush with cash at that time, and conventional wisdom was that the city of Jackson could do a better job of taking care of the roads."
Mayor Harvey Johnson Jr. Said the city has attempted to get MDOT to take back control of the roads in the past, but said the city cannot meet MDOT's requirements.
"Now, MDOT is saying, 'We'll take them back over if you get them back up to state A roads standards, which would cost millions and millions and millions of dollars," Johnson said.
MDOT had no comment for this story, but agreed to do an interview after this issue goes to press.
At a special Legislative Committee meeting Feb. 16, City Council members did not sound optimistic that the state Legislature would successfully get maintenance costs turned over to MDOT.
"It looks like we're not getting really what we should get from the (state) Department of Transportation," Ward 4 Councilman Frank Bluntson said. "Is there some kind of process that we can appeal to the U.S. Department of Transportation to let them know that it looks like we're being discriminated against down here in Jackson, Mississippi? Because it's a shame what we get and what we don't get."
Johnson echoed Bluntson's skepticism that the Legislature will act.
"We've gone through this for a number of years, trying to get the state to take over Highway 49 and the old state highways—51 and State Street," Johnson said. "We expect that MDOT will come up with the same reasons they've come up with before, but we certainly want to be supportive of Senator Blount's efforts. At the same time, we may want to look at some other ways of trying to deal with this maintenance issue."
If the Legislature passes the bill, the Senate and MDOT will then have to determine what roads qualify for state maintenance and which ones will remain in the control of the city. Until then, Jackson residents and visitors should not expect to see in-city highways improving any time soon.
Legacy Comments
Imagine a homebuilder being asked to repurchase and fix up a house that they built and sold years ago to the current homeowner who can no longer afford to keep the place up. The City made a mistake in taking ownership and responsibility for these highways (they were clearly more optimistic about their future back then), but if MDOT wasn't taking good care of these roads in the 80s, why does City Hall expect their attitude to be any different now? I think MDOT is just as susceptible to economic downturns and resetting priorities, especially with so much uncertainty about federal funding for infrastructure.
2012-02-29T10:34:44-06:00
I fully understand the $$ issue that the city faces concerning paying for these roads to be repaved and maintained, but I would like to put one thing back on the city -- the job that the city does when they *repair* roads (as opposed to full-on repaving) around here is simply painful to watch. However long ago it was -- 18 months? -- we got nice new blacktop from "downtown" Fondren to Seneca on State Street, a route I end up on most every day. Water main and other problems have forced the city to tear up that road since then on multiple occasions. I get that. What I don't get is the quality of the repair that's done after the water crew is through. Each time the repair begins with a few weeks worth of red dirt filling the gap (which you generally want to avoid in anything less than an SUV as it settles in and becomes a full on cliff-jumping exercise) followed by some sort of quick-and-dirty tar session to fill in the street. The end result? Permanent bumps and bruises in a road that has gone back downhill quickly since it was "brand new" just months ago. The same is true for State Street in front of UMMC, Old Canton through Fondren, Old Canton up near McDade's Maywood, etc. -- and I'm just talking about my roads to and from work and the store; I'd be interested in hearing other people's stories. I'm not an engineer and I'm sure the challenges abound, but I would *love* to see the city take a little more care when they repair roads around here in the first place. Careful maintenance and repair of the roads might help us bridge those 5-10 year gaps between bond issues and full repaving.
2012-02-29T10:58:08-06:00
Todd - you have it in one. Why isn't the city doing a proper repair in the first place? Instead of waiting for settling and erosion, why not pack the soil first, then break out the actual asphalt? Inquiring minds want to know because that's what they've done to my neighborhood over here in Briarwood.
2012-02-29T12:54:22-06:00
More like this story
More stories by this author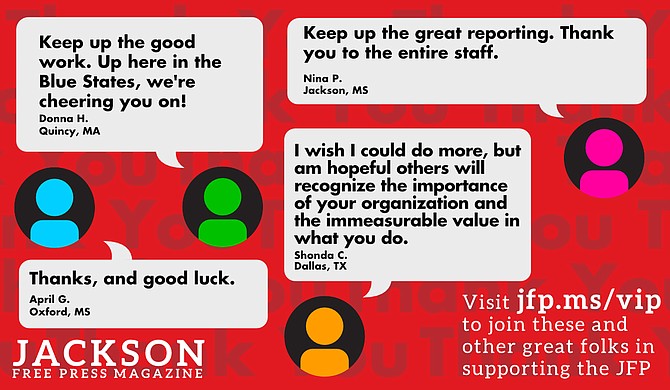 Thanks to all our new JFP VIPs!
COVID-19 has closed down the main sources of the JFP's revenue -- concerts, festivals, fundraisers, restaurants and bars. If everyone reading this article gives $5 or more, we should be able to continue publishing through the crisis. Please pay what you can to keep us reporting and publishing.