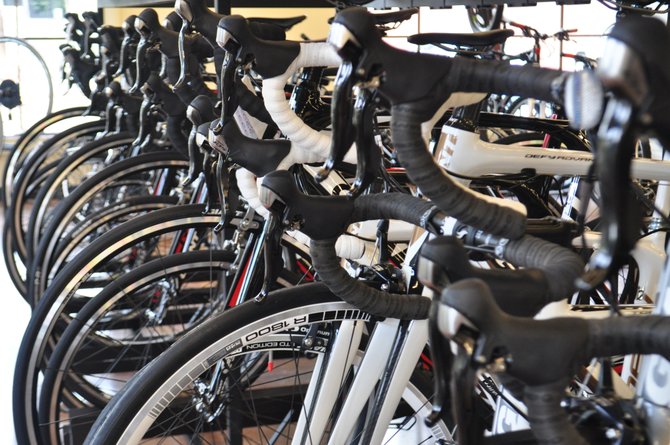 JACKSON — Biking in the city is about to get even better.
Jackson Bike Advocates and Bike Walk Mississippi are teaming up to start a volunteer-run Community Bike Shop in Midtown, at 121 Millsaps Avenue. The grass-roots effort will serve as a gathering place for Jacksonians of all ages to teach and learn about bike safety and repair.
An after-school pilot program will open for students in Midtown in September. After implementing that program, Bike Walk Mississippi and Jackson Bike Advocates will open the program to the public two Saturdays per month, says Bike Walk Mississippi executive director Melody Moody.
The after-school program will offer students access to the "Earn-a-Bike" initiative. Students who put in enough hours in the shop or complete all of the steps of the program will earn a bike of their own. If the student already owns a bike, they will be able use the tools and supplies in the shop to repair it.
Jackson Bike Advocates and Bike Walk Mississippi hope the bike shop will provide a safe learning environment for citizens where they can promote making Jackson a more bicycle-friendly city.
The program is looking for donations and volunteers. Organizers are asking for old or new bicycles, parts, tools, helmets, locks, bells, lights and other supplies. Anyone wanting to donate or volunteer can contact organizers at bi[email protected] or [email protected]
Belhaven Considered for National Historic Places
The Belhaven neighborhood could soon become a registered historic district.
The Mississippi Historic Preservation Professional Review Board will consider the district for nomination to the National Register of Historic Places at its meeting Sept. 20.
Staff members from the Mississippi Department of Archives and History will hold a public meeting at 5:30 p.m., Aug. 16 at the Barber Auditorium in the Hood Library on the campus of Belhaven University. At the meeting, they will provide an overview of the National Register and details of the Belhaven district. They will also be available for questions from the public.
The benefits of membership in the National Register of Historic Places include eligibility for federal tax provisions and incentives, and for state tax credits for rehabilitation of historic properties.
For more information, contact William Gatlin, architectural historian at the state Department of Archives and History, at 601-576-6951.
MDA Hosts Conference for Minority, Women-Owned Businesses
Access Mississippi, a day-long conference and networking event designed to connect minority- and women-owned businesses in the state to the many procurement opportunities available at state agencies, is coming to Jackson.
MDA will host the event at the Jackson Convention Complex, located at 105 Pascagoula St., from 8:30 a.m. to 3:30 p.m. Aug. 16. They will provide lunch for participants.
The goal of the event is to further the state's efforts to achieve greater diversity in contracting. The conference will include sessions focusing on specific types of contracting opportunities and guidelines for getting government contracts, such as construction of state facilities and contracts with the Department of Transportation.
Staff from dozens of state agencies, colleges and universities will have exhibits at the event, providing ample networking opportunities.
Attendance and state-department exhibiting at the conference is free. To register for the event, visit mississippi.cvent.com/accessmississippi2012
For more information or for assistance, contact MDA's Minority and Small Business Development Division at 601-359-6678.
Restaurant Roundup
University Place Sports Bar and Grill held a soft opening Friday at its location in University Place at 1100 John R. Lynch St. Aug. 10.
Majestic Burger has closed its location on Canton Mart Road in Jackson.
State Street BBQ will open its doors at 960 N. State St. Aug. 15.
State Development Professionals Headed to Japan
A delegation of state economic development officials and business leaders will travel to Tokyo, Japan for the 35th Annual Joint Meeting of the Southeast U.S/Japan and Japan-U.S. Southeast associations.
The associations will meet Sept. 13 through Sept. 15. Gov. Phil Bryant will lead the state delegation at the Imperial Hotel in Tokyo. The Mississippi Development Authority expects the meeting to attract more than 500 corporate leaders and executives.
State business leaders and development officials interested in trade and investment opportunities with Japanese businesses are encouraged to join the meeting.
"Japan is Mississippi's largest source of foreign direct investment, and our state's participation in SEUS-Japan allows us to strengthen our existing ties with Japanese business leaders and pursue new trade and investment relationships," Governor Phil Bryant wrote in a press release from MDA. "I encourage Mississippi economic development officials and business leaders to consider joining me at the SEUS-Japan annual meeting this year as we work to build a strong delegation at this year's conference in anticipation of hosting this important event in Mississippi in 2013."
SEUS-Japan started in 1976 to promote trade and business between Japan and its member states: Alabama, Florida, Georgia, North Carolina, South Carolina, Tennessee and Mississippi, which joined in 2007. Mississippi will host the 36th annual meeting in 2013.
"Mississippi's participation in the SEUS-Japan annual meeting reaffirms to the Japanese business community that Mississippians value our existing relationships and that our state wishes to partner with our Japanese counterparts on additional trade and investment opportunities," Brent Christensen, executive director of MDA, wrote in the press release.
Interested parties must register no later than Aug. 17. To register or learn more, visit http://mississippi.cvent.com/seusjapan2012 or contact Liz Cleveland at 601-359-3155 or via email at [email protected].
More stories by this author
Support our reporting -- Follow the MFP.