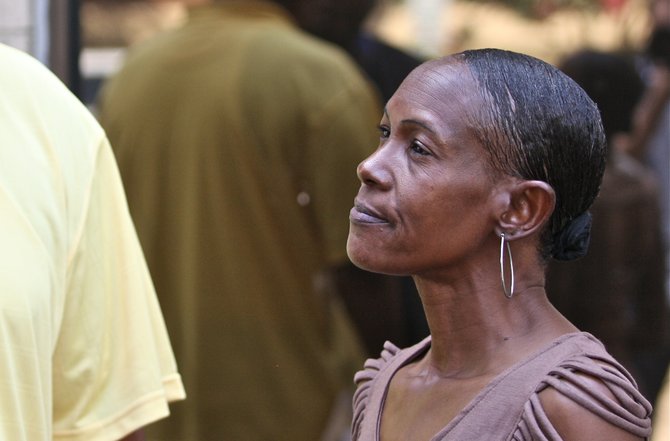 JACKSON — The families of two of the three Pod C inmates still in the Hinds County Correctional Facility say they want officials to move their relatives to a different facility immediately.
The Sheriff's Department has already moved several other inmates from Pod C, which inmates temporarily took over early Monday morning, to facilities in Madison and Rankin counties. Captain Joseph Daughtry said Pod C is inoperable due to water damage the inmates caused during the disturbance, and that officials moved several inmates from Pod C, including Arsenio Butler, Kendall Johnson and Anderson to other pods in the facility.
Family members of inmates Johnson and Butler, who is in the facility under alias Ronnie Tillman, gathered with community activist David Archie and their attorney Martin Perkins in front of the Hinds County Sheriff's Department Wednesday to demand that Sheriff Tyrone Lewis move Butler, Johnson and inmate Victor Anderson to another facility for their own safety.
Archie claims that the disturbance started when Butler and Anderson defended Johnson because jailers had beaten him. He alleges that three deputies gave Johnson "a good whooping."
Daughtry said the sheriffs department is investigating Johnson's claims. He said the housing units do not have video cameras, so the department must investigate through other means.
"Any accusations will be thoroughly investigated," Daughtry said. "And any abuse will not be tolerated."
Johnson's mother, Delores Walker, said she wants her son moved out of the Hinds County Correctional Facility for his own safety.
"My baby is afraid for his life. I am afraid for his life. They need to move him today," Walker said.
During the press conference, a man claiming to be Arsenio Butler called Archie's cell phone and spoke to the media. He said he was calling from a contraband cell phone, which jailers did not know he had.
The caller said he joined the disturbance when another inmate let him out of his cell early Monday morning, and that a deputy hit him in the face with a nightstick. Other inmates got out of their cells soon after, he said, and began spraying fire extinguishers and the fire hose at the deputies.
None of the deputies or the warden asked if the inmates were ready to surrender at any point after they ran deputies out of Pod C, he said.
"The only thing the warden said was, 'Since y'all inmates are ready to die, we're going to make sure y'all (are) dead when y'all come out of there," the caller claiming to be Butler said.
He said the deputies made him, Johnson and Anderson sleep on steel with no mattress Monday night. Though deputies gave them mattresses Tuesday, he said conditions have not gotten much better.
"They ain't been giving us no food," he said. "They told us before we leave this jail, they were going to kill us."
The sheriff's department is looking for funding to get cameras in the jail. The jail is currently under a direct supervision system, which means there must be a deputy in every housing unit at all times. The department plans to move to an indirect supervision system, which would allow deputies to monitor the housing units from an exterior surveillance pod. Daughtry said the system would allow for fewer deputies to keep order in the jail, while helping assure their safety.
"We working with the (Hinds County) Board of Supervisors to try to get funding," Daughtry said. "We're trying to be very creative and save taxpayers as much money as possible."
Johnson has been in the facility since September 2011 on possession of marijuana and contempt of court charges. His sister, Keyonna Johnson, said Johnson has not seen a public defender since his initial court hearing to set bond last year. She said another public defender was assigned to him after that hearing, but Johnson has never spoken with that attorney, despite writing several letters requesting to see him. He has not gone to court or been indicted on the charges, yet, she said.
More stories by this author
Support our reporting -- Follow the MFP.