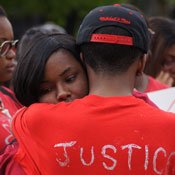 Damien Henderson scrawled the words "Rest in Paradise" on a vent outside his brother Ryan's dorm room at Jackson State University last week before leading approximately 200 college students dressed in red in a peaceful march to the Palisades Apartments, where Ryan was shot and killed March 25.
At the time, the Henderson family blamed Ryan's death on JSU football players who the 19-year-old freshman had, according to witnesses, taken a beating from in the hours before his death.
"This is nothing new. This has been going on for a long time," Ryan's father, Nolan Henderson, said on the day of the march. Nolan Henderson said that when he attended JSU in the early 1980s, university officials went out of their way to protect athletes.
But three days later, a messier picture emerged: Yes, Ryan Henderson had fought some football players but the bullet that killed him came from the gun of Jarrod Emerson, Henderson's cousin, according to a statement from City Hall officials.
Jackson police officials said Emerson, who is charged with murder in Henderson's death, turned himself in March 28 and helped investigators recover two handguns he possessed.
The night he died, Henderson had called Emerson after being assaulted at a party at the Palisades Apartments, near the campus of Jackson State University. Emerson then reportedly met up with Henderson at U.S. 80 and Lynch Street before heading back to the Palisades Apartments to confront the people Henderson said beat him up.
Emerson, armed with 9 mm and .40-caliber handguns, confronted "several individuals" at the complex, pulled his weapon and fired several shots with the .40-caliber gun, Assistant Police Chief Lee Vance told reporters March 29. The crowd scattered and Henderson was shot in the face. 
Vance also confirmed long-swirling rumors that Henderson had been involved in an altercation with "some of the football players" from JSU. The cookout and pool party that took place at the apartment complex was reportedly for graduating members of the football team.
Police sought murder charges against Emerson after consulting with Hinds County District Attorney Robert Shuler Smith's office, Vance said. Despite Henderson apparently having scars on his knuckles and a wound on his head, Vance said that because Henderson left the party under his own power, police couldn't make an arrest for his alleged assault unless an eyewitness comes forward.
D'Andra Orey, a political science professor at JSU, who focuses on issues of race and politics, said the incidents surrounding Henderson's death represent what he calls internalized racism (formerly known in sociology circles as self-hatred).
Black males, he said, often internalize racist stereotypes that they are supposed to be violent. JSU should take the lead in erasing internalized racism, which often manifests in the form of black-on-black violence, by introducing more positive images of African Americans in the curriculum, Orey said.
"We have not addressed black-on-back crime with same energy that we have nonblack-on-black crime—and that's problematic," he said.
Legacy Comments
Interesting... If there is a sub-conscience motivation here, what does it say that the shooter ended up shooting the instigator of the shooting? In the face no less. Maybe he was sub-consciously defending all of the innocent party goers that they had consciously put in mortal danger. Hmmmm...
2012-04-09T13:21:01-06:00
[quote]"We have not addressed black-on-back crime with same energy that we have non black-on-black crime—and that's problematic," he said. [/quote] Quoted for TRUTH.
2012-04-09T15:32:44-06:00
@ Jeff Lucas, How do you suggest we address internalized racism?
2012-04-10T08:19:57-06:00
Here are some links about "internalized racism" that might help provoke thought and discussion. Not endorsing any of them, just linking them (smile): http://racerelations.about.com/od/understandingrac1/a/internalizedracism.htm http://www.rc.org/publications/journals/black_reemergence/br2/br2_5_sl.html http://en.wikipedia.org/wiki/Oppression www.thewtc.org/Internalized_Racism.pdf http://theangryblackwoman.com/2009/07/28/internalized-racism-the-silent-face-of-bigotry/ http://academic.udayton.edu/race/01race/latinos01.htm
2012-04-10T09:16:35-06:00
Renaldo, the collective low self-esteem and self-hatred of AAs is at such a crisis level that it defies my ability to formulate a magic bullet or curative solution. I'm certain that you and ladd are much more versed in the subject and will articulate a response that will be thoughtful, insightful, and backed by the latest research and reflections of sociologists and cultural philosophers who have studied the issue. I will add that I'm interested in seeing the day when "we" don't think that our problems with each other can be solved with a 9 mm , when "we" don't look at Caucasians as the epitome of beauty and intelligence at the expense of our own beautiful brothers and sisters, and that all of our children embrace education as a tool and a gift that could solve many of our problems instead of belittling young people who love learning and are high achievers. However it requires such a dramatic paradigm shift on the part of both blacks and whites (and others) in terms of how we view ourselves and each other that I don't expect to see it in my lifetime.
2012-04-10T15:35:37-06:00
I'm way over my head, Jeff, but I would certainly volunteer to help any way I can, and I welcome suggestions. My chosen way has been to feature more positive images and stories about people of color than negative (which is also more accurate) because I believe the power of the media is very strong. And our paper goes to every neighborhood so those images are all over the city. Whites and people of color need to see these images and believe them. Meantime, I'm focused on the psychology of "whiteness," and privilege, which brings its own burden of not-so-fresh hell to bear. That is, we've all got work to do. Personally, I want us to do it together in whatever ways we can.
2012-04-10T17:37:49-06:00
"If you can't walk in my shoes to feel what I feel, at least look at where I'm standing" The best and most comprehensive explanation (based on scientific based social science research)of what this article calls internalized racism" is the work of Dr. Joy Leary and her book "Post Traumatic Slave Syndrone". I just got the book but the link below provides a two (2) hour presentation of the concepts. In my opinion it will be the most enjoyable, entertaining and enlightening 2 hours you will ever spend on the topic of race. "The people came out of slavery, now we have to get the slavery out of the people."
2012-04-11T11:35:13-06:00
Support our reporting -- Follow the MFP.