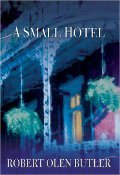 Any marriage, good or bad, looks easier from the outside than it ever does when you're inside it. They're like fragile statues, marriages. The slightest crack can cause shattering, even if it takes years for the crack to spread and multiply.
In Robert Olen Butler's short novel, "A Small Hotel" (Grove Press, 2011, $24), the author details how one marriage cracks open, falls apart, and maybe, just maybe, glues itself together again. We meet Michael and Kelly Hays, an affluent Pensacola couple, on the day their divorce is to be finalized.
Michael thinks he's already moved on to a younger lover (Laurie Pruitt), and is speeding an hour west of New Orleans to an antebellum-themed dress ball. Kelly, though, doesn't show up to the courthouse to sign papers. Instead, she heads to the Olivier House Hotel in the French Quarter—where she and Michael first made love. She's armed only with her best little black dress, a fifth of scotch and a bottle full of Percocet.
Over the course of a single day and night, Butler alternates between Michael and Kelly's memories of the marriage and how it lost its passion over 24 years. Butler gives vivid detail. Here he is, introducing us to Kelly: "She was moved to put on her favorite prêt-à-porter Chanel she'd had for years, put it on slowly in the muffled silence of her walk-in closet, listening to the Chanel's faint rustle going over her, letting the silk lick her down the thighs."
Butler's language tends to become flat when discussing things from Michael's perspective: "He should start dressing for Laurie, but he is putting on a tuxedo now for Kelly. He steps from the master bedroom cedar closet in their Craftsman house on the Bayou Texar. They've moved in at last. The muted pitch to its gabled roof, the exposed but rounded and polished rafters, the redwood shingles: all this feels like him, and he appreciates that Kelly has let the house be him in these things, without his having to persuade her."
The diction is just as detailed as in Michael's section but somehow less sensuous. This fits. Michael is so emotionally cut off that he's never told his wife, daughter or lover that he loves them. He shows the least emotion than he can get away with, and his distance poisons his marriage. Kelly, starved for attention and a show of emotion from her husband, has an affair. The marriage splits apart.
Butler writes the novel in the present tense, but constantly weaves in past history with the present day.
As it moves forward, Butler gives the reader fewer signposts indicating when this time switch has taken place. It's a disorienting effect but it pays off, making it plain that, for Michael and Kelly, past wounds feel just as fresh and raw as anything actually happening now. Their memories affect their present actions and feelings.
Butler's tricks with time can make the reader woozy. In one sense, "A Small Hotel" progresses briskly. It jumps around chronologically and geographically, with small gestures and objects serving as triggers for flashbacks. At the same time, though, Butler often concentrates so acutely on a single moment—with long paragraphs and run-on sentences—that it feels like he's holding the moment up to a light forever. He writes certain sequences—Kelly revealing her affair to Michael, a tense moment on the family boat, a pre-wedding meeting in the bridal chambers—from the points-of-view of both partners, offering different perspectives and tones on the events. Sometimes, Butler lingers on events; sometimes, big events get skipped on the way to something else.
The author's challenging technique and stylized imagery are so assured that I wish his characters were more engaging and the plot were richer. As it happens, both are fairly generic. I know that Kelly worked throughout the marriage, but it's unclear what her job was or how she felt about it. Butler tries to create a rationale for why Michael's such a cold fish, but the effect feels trite.
The final 40 pages, in which Kelly's potential use of Scotch and Percocet becomes apparent, and Michael tries to rush to her side, seems like forced suspense. Even the locale is cliché—the novel's vision of New Orleans is limited mostly to Bourbon Street, and the couple even meets cute during Mardi Gras.
Beyond their emotional conflicts, Michael and Kelly are oddly blank. It's not completely clear what drew them to each other in the first place. By the end of "A Small Hotel," their marriage's emotional fragility is clear but the participants within the marriage are not.
Robert Olen Butler signs and reads from "A Small Hotel" on Tuesday, Sept. 13, at Lemuria Books (202 Banner Hall, 4465 Interstate 55 N., 601-366-7619).
More like this story
More stories by this author