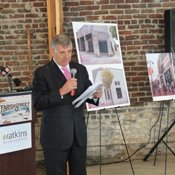 After more than two decades of planning, the Farish Street Entertainment District is close to fruition, but developers still need $13 million to complete the interiors of the historical buildings in the district's first block.
Yesterday's public presentation of the Farish Street Entertainment District's progress resembled a pep rally for Mississippi's cultural heritage and the promise of a development that could revitalize Jackson. Mississippi musicians--including Zac Harmon and members of the Williams Brothers Gospel Group--spoke about personal connections to Farish Street as well as plans to move into the district.
The presentation, held inside Zac Harmon's future blues club on the corner of Griffith and Farish streets, comes after the Jackson City Council voted last month for the Jackson Redevelopment Authority to conduct an audit of the district. Ward 3 Councilman Kenneth Stokes, who was not at yesterday's presentation, pressed for the audit, saying he was frustrated with the lack of progress. Watkins Partners and The Farish Street Group, a development group, is in charge of the $100-million development that has long stalled due to financial setbacks.
To assist with the development, JRA entered into an agreement with the developer a few years ago. The Farish Street Group leases the property from JRA (who owns it) but did not pay rent to JRA until last month.
Watkins said in September that B.B. King's Blues Club would be one of the first establishments to open in December, but yesterday he was more reluctant to give dates. A press release from the Farish Street Group states that they have secured a 15-year lease agreement with B.B. King's Blues Club, but the opening date has been pushed back to the summer of 2012.
Watkins Partners Vice President Jason Goree said B.B. King's Blues Club is currently focused on opening a Las Vegas location and has experienced setbacks. In February, the owner of B.B. King's Blues Club at the Las Vegas Mirage hotel filed for bankruptcy to restructure $3.7 million in debt and other liabilities, the Las Vegas Sun reported.
"It's not that they don't have the money," Goree said. "But now they are doing another building (in Las Vegas). They can raise their own money (to do the Farish Street build out) but if they do it, it's going to take longer. So what we have decided to do is try to help them come up with the money for this place so they can come here quicker."
Representatives from B.B. King's Blues Club declined a request for an interview.
The Farish Street Group has invested $9 million into the project and obtained a $4 million loan from the Mississippi Development Authority. The group is using and historic tax credits to renovate the buildings on Farish Street to preserve historical integrity. Originally, Watkins planned for the tenants to finance a portion of the build out--which includes amenities such as stage and sound equipment for performances, furnishings and restaurant equipment. Now, however, the Farish Street Group is seeking additional investors to complete the build out and will assume ownership of four clubs in the historic district.
Bill Bynum, CEO of Hope Enterprises Corp., a nonprofit financial institution, said his organization was committed to working with developers to obtain new market tax credits and up to $14 million in financing.
Watkins also announced long-term plans for the district yesterday, including some new projects. The second block will include a "business hub" for video and audio production, sound stages and a mixed-use residential building. The third block will include a gospel music museum, a boutique hotel and an eight-screen movie theater that will also serve dinner.
"We just have to have a long view and make sure that we don't let minor hiccups along the way turn us away from it," Watkins said today. "There is great enthusiasm and excitement and it's not just David Watkins and (Downtown Jackson Partners President) Ben Allen having a pep rally. We have people all over the world interested in his project.
"It was a risky project from the beginning, but we know that because of the high risk and leverage, it's going to have a high return."
Also see: Farish Street a Long Time Coming.
More stories by this author
Support our reporting -- Follow the MFP.