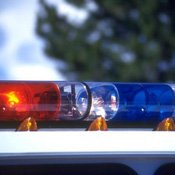 With more than 100,000 people expected to visit Jackson this weekend, Jackson Police Department Assistant Chief Lee Vance asked officers to be on the lookout for criminal activity. Crowds are expected this weekend for the Mississippi State Fair, Jackson State University's homecoming and a walk for breast cancer awareness.
"We plan on having a high-visibility operation this weekend, especially areas with big events," Vance told officers during the weekly COMSTAT meeting this morning.
The department is scheduled to meet this afternoon to develop a strategy for patrolling high-volume areas. Vance said JPD would be on the lookout for car theft and burglaries in addition to other crimes.
JPD celebrated a decrease in crime numbers today. Officers applauded precinct commanders and Jackson Police Department Chief Coleman offered praise.
The department reported 120 major crimes for the week of Sept. 26 to Oct. 2, a decrease from 219 the week before and 215 during the same week last year. JPD reported a total of 128 property crimes and 42 violent crimes. For the entire year, police reported a total of 9,114 major crimes, which is a slight decrease from 9,562 at this point last year.
Precinct 3 was the only precinct to report an increase in major crimes for the week, at 44, up from 37 the previous week. The precinct reported a total of 42 crimes during the same week last year. Precinct 4 reported the most significant decrease in crime with a total of 29 major crimes, down from 52 the week prior. All of the city's precincts report a decrease in crime for the year. Precinct 2 reported the most significant decrease for the year with 2,594 compared to 2,670 at this time last year.
Vance attributed the decrease to the department's efforts to engage the community in preventing crime. He added, however, that law enforcement is just one component of fighting crime.
"We don't mind being held accountable; that's our job. But the criminal justice system is made up of three parts: law enforcement, courts and corrections," he said. "The only thing we are constantly trying to point out is, why aren't the other two portions of the criminal justice system held as accountable as we are?"
More stories by this author