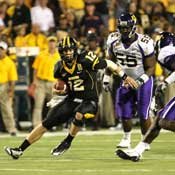 Southern Miss' Bowl Championship Series hopes died when they lost 34-31 to the University of Alabama at Birmingham Nov. 17. The Golden Eagles only had a chance to earn a BSC bid if they won the rest of their regular season games. Instead, USM ended its regular season Nov. 26 with 44-7 victory over Memphis, giving them the C-USA East division title and a berth in the C-USA title game.
On Nov. 25, the Houston Cougars ended their regular season with a 48-16 victory over Tulsa, wrapping up the C-USA West division. By virtue of having the better record, the Cougars get to host the title game.
This is not the first time these two teams have met for the C-USA championship. In 2006, Houston hosted USM for the league title, winning 34-20. The two teams did not meet this year in the regular season but did meet the previous two seasons. Houston won in 2009, 50-43 in Houston. USM won in 2010, 59-41 in Hattiesburg.
Record-setting quarterback Case Keenum leads the Cougars. After getting a sixth year of eligibility due to tearing ligaments in his knee last season, Keenum has assaulted the record books. This season alone he has thrown for 4,726 yards with 43 touchdowns and just three interceptions. In his career, Keenum has thrown for 18,312 yards with 150 touchdowns and 44 interceptions.
With Keenum at the helm, Houston has the number one passing and scoring offense in the Football Bowl Subdivision. The Cougars average 449.7 passing yard and 52.7 points per game, giving Houston one of the most potent offenses in college football.
USM has its own record-setting quarterback in Austin Davis. In his final season, Davis has broken all of NFL Hall of Famer Brett Favre's Southern Miss records. He passed for 3,052 yards with 24 touchdowns and 10 interceptions. In his career, Davis has thrown for 10,454 yards with 77 touchdowns and 26 interceptions.
Because USM is ranked once more in all the major national polls, this will be the first C-USA title game in which both teams are ranked. The Golden Eagles have been ranked on and off late this season.
Defense might be optional when these two teams meet Saturday. Turning the channel might mean your missing a highlight-making play. Both teams are going to throw the ball and throw it a lot. Both teams allow only 20 points per game on defense. USM allows 20.5 points, and Houston allows 20.9 points per game.
The biggest difference might be running the ball. USM averages 207.8 yards on the ground, and Houston averages 163.6 rush yards. Southern Miss might try to shorten the game and keep Keenum on the sideline by running the ball. It is a trick that might work and keep their defense fresh and rested all day.
It would be great to have USM win its conference title game. Southern Miss hasn't won a C-USA title since 2003, and that was before there was a championship game. But losing the championship game might turn out to be better for USM and the other C-USA members. A BCS bid for an undefeated Houston team would bring a nice payday for the conference.
Last season, the Mountain West Conference earned more than $12 million when TCU earned a Rose Bowl bid. That $12 million was split among the MWC teams.
In comparison, C-USA earned just a little more than $3 million from the BSC last season. That $3 million was split between the 12 members of C-USA, working out to be about $250,000 for each member. If a BSC bid for Houston nets at least the same amount as TCU's did last season, it would add another $750,000 for each school.
If USM defeats Houston, the Cougars should still end up in the Liberty Bowl, but the conference would miss out on a big payday. Southern Miss would end up in a bowl game, but there is no chance the Eagles would get a BCS game.
This is one of those strange situations where losing might be better than winning. Southern Miss would get more monetary benefit out of losing to Houston than by winning the C-USA title game. But Southern Miss will not just roll over. Larry Fedora will have his team ready for a conference championship.
If Houston wins against USM, it would become the first C-USA team to ever reach a BSC Bowl. In another strange twist, Houston could bring the conference a big payday before leaving for the Big East after the season.
The Conference USA title game starts at 11 a.m. and will be televised on ABC.
Prediction: Houston 70, USM 63
Follow Bryan Flynn at http://www.jfpsports.com, Facebook and @jfpsports.
Previous Comments
ID

165522

Comment

After the outcome of this game, all the more reason why I can't stand the BCS!!!! 1. New Orleans Bowl (lucky if you see 15,000 at that game). Ragin Cajuns vs. San Diego State. No way you see The Aztecs fan base travel that! 2. Iadaho Potato Bowl - Ohio Bobcats vs. Utah State Aggies - yes indeed! Athens, Ohio to Boise, Idaho - yipee - psych! 3. Beef O' Brady Bowl - Marshall vs. Florida Internation - NEXT! 4. San Diego County Credit Union Poinsetta Bowl - TCU vs. La Tech - another unsound logistic bowl game! Next! 5. MAACO Las Vegas Bowl - Boise State vs. Arizona State. 6. Sheaton Hawaii Bowl - Southern Miss vs. Nevada - great for the players, bad for the fans - very very very low turn out year after year 7. Advo Care V100 Indepedance Bowl - North Carolina vs. Missouri 8. Belk Bowl - Louisville Cardinals vs. N. Carolina State Wolfpack 9. Little Ceasers Pizza Bowl - Purdue vs. Western Michigan - now logistically this game should have an o.k. turn out. 10. Bridgepoint Education Holiday Bowl - Texas vs. California - after watching my quarterbacks little brother get demolished by Baylor, should they even be in a bowl!? 11. Military Bowl - Toledo vs. Air Force - I watched Maryland play in this last year, I think 6,000 people showed up last year and what makes it so bad - this game is played in D.C.! NEXT! 12. Alamo Bowl - Baylor vs. Washington - great for Baylor! lol!!! 13. Champs Sports Bowl - Florida State vs. Notre Dame - old school match up - plus my mothers side of the family are big FSU supporters, will watch that one! 14. Insight Bowl in Tempe Arizona - Oklahoma vs. Iowa 15. Franklin American Mortgage Music City Bowl - Wake Forest vs. Miss State - personal reasons, so I'm relegated to watch this 16. New Era Pinstripe Bowl @ Yankee Stadium - Rutgers vs Iowas State - great for Rutgers 17. Bell Helicopter Armed Forces Bowl - BYU vs. Tulsa 18. Chick Fil-A-Bowl - Virginia vs. Auburn 19. Kraft Fight Hunger Bowl - Illinois vs. UCLA - watched UCLA against Oregon (brutal), Illinois started the season 6-0 and finished 6-6 (brutal)! NEXT! 20. Autozone Liberty Bowl - Cincinnati vs. Vanderbilt 21. Hyundai Sun Bowl - Georgia Tech vs. Utah Flying Utes 22. Meineke Car Care Bowl of Texas - Northwestern vs. Texas A&M 23. Taxslayer.com Gator Bowl - Ohio State Buckeyes vs. Florida gators - to 6-6 teams - yippeeeeee!!!!! 24. Capital One Bowl - Nebraska vs. South Carolina 25. Outback Bowl - Michigan State vs. Georgia - this is watchable 26. TicketCity Bowl - Houston vs. Penn State - I won't watch this for obvious reasons! NEXT!!!! 27. AT&T Cotton Bowl - Kansas State vs. Arkansas - I hate Bobby Petrino! NEXT! 28. BBVA Compass Bowl - Pittsburgh vs. SMU (big June Jones fan, glad to see him trying to get SMU program back on track after the memorable death penalty!) 29. GoDaddy.com Bowl - Northern Illinois vs. Arkansas State - wow!? With the Orange, Sugar, Rose and Fiesta and NCG still to go. This is so sad.

Author

Duan C.

Date

2011-12-05T10:49:42-06:00
More stories by this author
Support our reporting -- Follow the MFP.