Hey, Mississippi Democratic Party: Can we talk? We've heard some pretty strong accusations that you aren't as powerful as you used to be. In fact, a few folks are whispering that you've become a shell of your former self.
You're reeling right now and on the verge of becoming irrelevant. Unless you guys are prepared to do some innovative, out-of-the-box renovating and planning, I fear your days ahead will be more difficult.
Let's start with your most recent underwhelming performances. In 2011, Democrats failed to field a candidate in all of the state races. Can we say that not having Democratic challengers in the lieutenant governor's, secretary of state's or auditor's races is a travesty? The lone Democrat in state office, Attorney General Jim Hood, faced formidable opposition that forced him to campaign much harder than he should have had to.
What you are witnessing is a well-oiled machine making clearly calculated moves. At work is an obvious grooming and mentoring process and a hierarchy put in place long before an election year comes around. I defy you to tell me that it wasn't a foregone conclusion that Lt. Gov Phil Bryant was primed to take Barbour's place. Convince me that Tate Reeves wasn't groomed to rise to Bryant's old job once Bryant became governor.
On your side of the aisle, Democrats appear to be getting their candidates by pure happenstance. Sure, Johnny DuPree, the first black Democratic nominee for governor, generated a lot of excitement. He ran a magnificent, history-making campaign, but methinks he excelled in spite of, and not because of, the state Democratic Party.
The party rolled out celebrity names like Morgan Freeman and Bill Cosby—icons indeed, but about as politically relevant to this new generation of voters as Howdy Doody. Then you bring Democratic National Committee Chairwoman Rep. Debbie Wasserman Schultz here to stump for DuPree. That went off with a whimper, didn't it?
In contrast, the Bryant campaign brought down the proverbial house by bringing in New Jersey Gov. Chris Christie, perhaps the hottest Republican in the country. Advantage: Republicans.
Over the past two years nearly 30 state Democrats have switched parties. You've callously taken the black vote for granted. You've watched the more liberal left run off the moderate Dems. Most importantly, you've done a poor job of mentoring and grooming new talent. The long-term viability of the state Democratic Party hinges on your ability to introduce fresh, capable faces to the political landscape.
I suggest you start looking to municipalities and counties for talent and begin developing a long-term strategy (if you haven't already) that will help you win this chess game that you're currently losing. Out-of-the-box thinking is in order. You may dismiss this as harsh, but it's criticism long overdue. I was once an ardent Democrat but am now Independent. I vote person not party. I've lost faith in the Dems' ability to woo voters in this state.
It's time for the old guard to go, from top to bottom. You've done a noble job, but it's time for someone else to take the helm. If this were a football team, the head coach and his staff would have been fired months ago.
So, state Democratic Party: good talk. I hope you were taking heed. I'm only saying what many have been secretly saying for the past year. As it stands, I see us inaugurating Tate Reeves as governor of Mississippi in 2020, or maybe sooner if you're not careful.
And that's the truth ... sho-nuff.
Previous Comments
ID

165355

Comment

No stuff, Shylock. None of this is news, none original. All has been discussed before and by more involved and capable people. The answer is more than the replacement of the old guard. Some of the young bucks you probably have in mind are not ready for mature, capable leadership - regardless of their age. They are more interested in dressing for success than investing sweat equity into making changes that affect more than them and their partners. As for the Party itself, the problem with the Mississippi Democratic Party is that blacks have been elected to positions of responsibility and did nothing more than serve as placeholders and roadblocks because they refused to work with whites. The racism in the Party cuts deep and across the color line. Mayor DuPree is a proud Democrat, but he knew years ago that the state party was not the vehicle for change in Mississippi. He was not wrong. The state party did little more than pay lip service at a few points to show support for his nomination. Party leaders supported the unqualified Luckett and never recovered from his loss in the primary. They were so disappointed that they did not even issue a congratulatory statement to DuPree from the party office. Individual Democratic activists supported the mayor, but there were few of them. Most of the others sold out to Luckett and were scared to make a commitment to DuPree, even after he won the nomination. Luckett showed up at the "Unity Rally" following the run-off, but was never seen or heard from again. Key party elected officials stayed away in droves. The problems with this Democratic Party are complex and legion, and as evil as Legion himself (i.e. the Devil) You are probably an Independent because you thought it would get you a better job. It had nothing to do with your dissatisfaction in the Party. You are the kind of person who likes to be out front. The Democrats probably ignored you, or wouldn't let you play. You want to talk among Democrats? Then come down off your high horse and do some real work for Mississippi.

Author

duBois03

Date

2011-11-09T17:14:14-06:00
ID

165358

Comment

Now THAT'S the kind of passion I hoped to invoke w/ this column duBois. KUDOS. There Is a pulse. There IS emotion! And you make some great points so I will concentrate on those and not your odd fixation w/ the messenger. Dont shoot me. Only verbalizing what many are saying. And you seem to be among that number yes? There seemed to be an immediate lull in the party the minute Bill Luckett didnt get the nomination. Dems statewide started putting their hands in their pockets, whistling, as they snuck off in the opposite direction. Almost like they were trying to take the steam out of the sails.It seemed as if the party rode Dupree's coattails and not the other way around. And the Blacks you sepak of that didnt want to "work" with whites are that old guard that you defended in your post. You know, the young guys are just "dressing for success"? There's PART of the problem right there. And since you clearly dont know me Dubois let me say this. Ive been independent for quite a while. Independent w/ Democratic leanings but indy nonetheless. Havent been happy with either party. so I choose to vote person and not affiliation. Perhaps that sounds foreign to you but there are many of us across the state. theres plenty of capable new blood if those who dont think so would stop for a moment and do due dilligence. Im In the trenches sir and prob in places where Ive NEVER seen you might I add. You dont know my capablilities or relevance. Wasnt my point. This isnt about me. This isnt condescension, its criticism. Get it much? You may want to channel that agression you have towards me and those who have these VALID critiques and work towards fixing the probs you identified with the MS Dem Party. Doesnt sound like we're on diff pages. But for starters IF those in the party now cant handle the criticism OR this column then they may not be ready to fix it.

Author

Kamikaze

Date

2011-11-09T19:47:48-06:00
ID

165368

Comment

Im talking moreso the state of the party now. Although I will say that they DID act like "Dixiecrats" the way folks disappeared once Dupree won the nomination. But at the base though, you can tell that Repubs are at least on the same page in the playbook. While Dems dont even have matching books.

Author

Kamikaze

Date

2011-11-10T10:31:23-06:00
ID

165373

Comment

Looking from the outside, I haven't been able to tell any difference between the Dems and GOP in Mississippi for a while. Saying "the liberals ran off the moderates" doesn't seem accurate to me. I've only been seeing Blue Republicans - including Dupree (whom I voted for). There was not much difference between the two that I saw. Dupree was a little better with an education plan. Lets see what the numbers say : Runoff election 173,329 out of 315,717 voting Democrat in the Primary runoff, which was less than the 395,236 voting in the first Primary. General election 318,439 (3000 more than voted in runoff primary, but far less than the first primary). In the Republican primary, 282,145 voted and 167,468 of those went for Bryant. In the general election, "Satan" Bryant got 499,460 (almost double the total primary voters). Roughly 100,000 more Democrats than Republicans in the primary translated to 170,000 more Republicans than Democrats in the general? Something doesn't calculate for me.... "Open" primaries are a just plain stupid idea as it opens up the parties to major electioneering interference. I still say we should have closed primaries and 'cascading vote' general elections. Want more choice? Start a Party!

Author

BobbyKearan

Date

2011-11-10T12:31:24-06:00
ID

165382

Comment

Another Democrat jumps ship today.

Author

Kamikaze

Date

2011-11-10T19:00:19-06:00
More stories by this author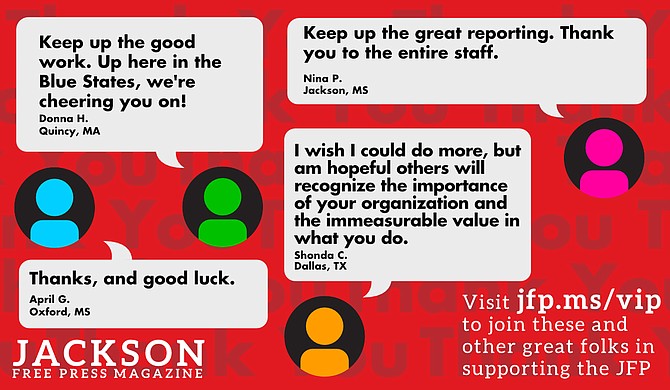 Thanks to all our new JFP VIPs!
COVID-19 has closed down the main sources of the JFP's revenue -- concerts, festivals, fundraisers, restaurants and bars. If everyone reading this article gives $5 or more, we should be able to continue publishing through the crisis. Please pay what you can to keep us reporting and publishing.