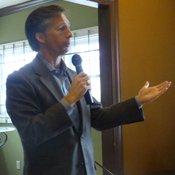 AT&T Mississippi President Mayo Flynt said this morning that his company's proposed acquisition of T-Mobile will not give AT&T an advantage over its competitors, but will allow the company to provide faster services and more data capacity to customers.
"I think it will allow us to remain competitive. I will tell you that if I was one of my main competitors, I wouldn't want this merger to go through because I would want AT&T to continue to have spectrum exhaust issues," he told an audience this morning at Koinonia Coffee House's Friday Forum.
Spectrum, Flynt said, is the radio airwaves that all wireless devices depend on, and each wireless carrier has a license to operate within a certain limit.
"We think of it as a lane in the spectrum to operate," he said. "Our lane is full, and what happens when you have congestion and traffic is that things slow down, and people get angry. We have issues. I'm not going to run away from that--slow download speeds and dropped calls. If more spectrum is not made available by 2013, we will have a crisis and will run out of capacity."
On Wednesday, a federal court judge ruled that Sprint Nextel Corp. and C-Spire can move ahead with a lawsuit against AT&T for its proposed acquisition of T-Mobile USA, after AT&T filed a motion to dismiss the case. AT&T's competitors argue that the merger will give AT&T control of 40 percent of the national market and hurt smaller competitors. In August, the U.S. Department of Justice filed an antitrust lawsuit against AT&T to block the merger, which would increase its customer base to 130 million subscribers.
This morning, however, Flynt said that the company's $39 billion merger with T-Mobile comes down to the simple law of supply and demand.
"I'm not going to tell you that we don't want T-Mobile's 30 million customers," Flynt said. "What I am going to tell you is that we need T-Mobile's spectrum."
Flynt said he expects Congress to pass legislation to allow the Federal Communications Commission to create more spectrum, but said AT&T can't wait that long.
"We have to be given authorization to operate in a certain area," he said. "The FCC knows it's a problem, and Congress knows it's a problem. They are trying to take more steps to make it available. But that is a multi-year process. ... It's going to take years, and we don't have years. We have a problem right now."
Mayo added that AT&T has more smartphones that any other wireless carrier. In 2007, AT&T signed a contract with Apple to exclusively provide iPhone services to customers until early this year. Flynt said that the company does not plan to layoff any employees through the merger, but will realign certain positions. The company has also promised to close its overseas call centers and bring 5,000 new jobs to the United States.
Previous Comments
ID

165320

Comment

AT&T=EVIL. The plans are rapacious. Their customer service is the worst. They suck as a company to work for. They colluded in illegal spying on innocent Americans. They have no redeeming qualities. I speak from-first hand experience on almost all of these fronts.

Author

dd39203

Date

2011-11-04T13:38:23-06:00
More stories by this author
Support our reporting -- Follow the MFP.