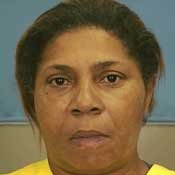 Edna Mae Sanders first met Sherman Sanders, who claimed he was a former Navy Seal, at a Baton Rouge party in March 2005. She gave him her phone number, and it wasn't long before he began surprising her with gifts and driving from New Orleans to see her on weekends.
By July 2005, the couple married and settled in Baton Rouge, where Sanders commuted to his job at the Stennis Space Center. Sanders and her two children, Caleb, then 6, and Kayla, then 13, moved to Pensacola, Fla., a few months after Hurricane Katrina hit in August.
The stress of the storm changed her husband, Edna Mae Sanders said during testimony at the April 2008 trial in which she was accused of killing him by dropping hot oil on him. Sanders maintained that she was acting in self-defense, claiming her husband was about to kill her.
Sherman Sanders' grandmother had gone missing during hurricane Katrina and a few months later, his mother died from cancer. Although he had never shown any previous signs of violence, he began to lose his temper and would often hit Caleb, who was autistic, Edna Mae said.
"He would be like (Dr.) Jekyll and (Mr.) Hyde," Sanders told the court.
According to her court testimony, during a trip home from Walmart, Caleb began to cry, and Sherman suddenly swung the car to the side of the road and opened Edna Mae's door, pushing her out of the car.
"Get back there and do something with that g*ddamn boy with that damn hollering in my ear," Sherman yelled.
The family soon moved again to Waveland, eventually ending up in Diamondhead. By that point, Sherman wouldn't let Edna Mae buy her own clothes or get a job.
Republican candidate for attorney general Steve Simpson, whom Gov. Haley Barbour appointed to serve as Department of Public Safety commissioner a month later, presided over the case. Simpson sentenced Edna Mae Sanders to life in prison without the possibility of parole after a jury found her guilty of manslaughter.
During her trial, Simpson would not let Edna Mae testify that on the night on July 2006, she heard noises in her daughter's bedroom. When she investigated, she said, she found Sherman raping her daughter. Simpson said in a JFP interview in September that there was no evidence to support the rape and that neither Kayla nor Edna Mae reported it to authorities prior to the trial.
According to Edna Mae, when she entered her daughter's bedroom, Sherman struck her and then proceeded to drag her across the floor. He continued the beating in the family's living room. "I was being tossed around like a rag doll, and I was thrown into a wall in the living room," she said to the court during her trial.
Simpson also prevented Edna Mae from telling the jury what her husband was saying while he was beating her, calling it hearsay. Edna Mae's attorney, Brian Alexander, says that Sherman was telling Edna Mae that he was going to kill her. Sherman Sanders was a hunter and kept his gun under the mattress, Alexander told the Jackson Free Press Oct. 27. "I thought he was going back there to get a gun and shoot me," Edna Mae told the jury.
That's when Edna Mae says she remembered a pot of cooking oil heating on the stove. She had started to make a late-night snack. She grabbed the pot, went back into the bedroom and dropped the pot of oil on him. She then said she ran out of the house, got her children and drove to Louisiana.
Simpson said during a September interview that when Sherman went back to the bedroom, Edna Mae could have used that as an opportunity to flee the home through the front door. But Simpson did not allow the jury to receive instructions that under the Castle Doctrine, Edna Mae was not required to retreat if she was defending herself in the home she lived in.
"You have to remember that they are in a house, where even by her own admission, he was in the back bedroom," Simpson said during a JFP interview. "All she had to do was walk out the front door. If she believed he was going to the back and get a gun, why didn't she just get her daughter and go out the front door? ... The problem was that it was inconsistent with the evidence."
In March, the Mississippi Court of Appeals overturned Sanders' conviction, saying Simpson's court should have told the jury that the law did not require Edna Mae to retreat from her home when she felt threatened, and for excluding evidence in support of her claim of self-defense.
The case is now with the Mississippi Supreme Court, which has until February to decide whether to grant Sanders a retrial or uphold the original conviction.
"The jury did not get to understand the full context of what was going on, and that is highly prejudicial to the defendant," Alexander said.
Simpson has defended his role in the case, stating that the police never found a gun in the Sanders' home. Alexander argues that because Sherman Sanders was coherent when paramedics showed up at 2 a.m., there is a good chance he hid his weapon. But even if there wasn't a gun, it should not matter if his client was acting in self-defense.
Center for Violence Prevention Executive Director Sandy Middleton said that while she could not comment specifically on the Sanders' case, it is not uncommon for domestic violence victims to react with violence when they feel threatened.
CORRECTION APPENDED 11/2/11: Sherman Sanders was not a former Navy Seal, despite him telling Edna Mae Sanders that he was. We apologize for the error.
"Victims can be pushed so far back in the corner that they react violently in return," she said. "They become conditioned to violence because it is their way of life."
More stories by this author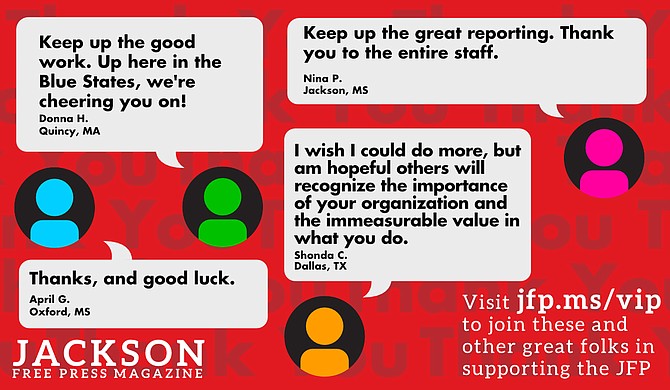 Thanks to all our new JFP VIPs!
COVID-19 has closed down the main sources of the JFP's revenue -- concerts, festivals, fundraisers, restaurants and bars. If everyone reading this article gives $5 or more, we should be able to continue publishing through the crisis. Please pay what you can to keep us reporting and publishing.