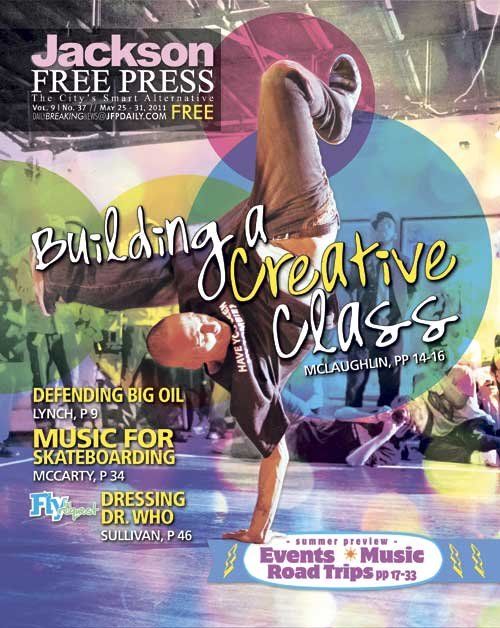 Tracie James-Wade was tired of corporate America. After working in sales and marketing for various corporations in Nashville, Tenn., for nine years, she decided it was time to pursue a career that meant more than a paycheck. She was passionate about dancing and decided to move back to Jackson in 2006 to try and make it as a choreographer.
Despite pleadings from families and friends to stay in her high-income field, James-Wade, who has a master's in business, was determined to pursue her dance passion—and not be a starving artist.
She found a niche in teaching dance classes in day-care centers, where she would drive to area day cares to work with small children for an hour two days a week. James-Wade admits that she did not calculate her gas costs, the time it would take to design a routine, or the amount of money she would actually make at the end of day.
At end of the summer, she was exhausted and had worked more hours than she would like to admit for free. When she decided to increase her price, she lost almost half her clients.
"I had gone in so low, just trying to get people to sign up, and to them, it was a huge increase," she says. "I had almost doubled my price, but I had finally started applying the rules of business."
Despite her background in business, James-Wade fell prey to the mistakes she now teaches artists to avoid: She devalued her work, overcommitted herself and kept going until she reached near exhaustion.
"I now want to give people the opportunities to learn from mistakes that I have made," says James-Wade, who now teaches "Don't Be a Starving Artist" through Millsaps College's enrichment program.
"I thought to myself, I have made money for corporate America, but I can't make money for me?"
While she needs to earn money, James-Wade isn't looking to get rich. "I could go right back to corporate America and make a good living, but being able to do what I am passionate about is more important to me than a payment itself," she says.
James-Wade, who is the executive director of La Morne Dance and an online instructor for the University of Phoenix, believes that Jackson's art community is going through a renaissance. The city's low cost of living, laid-back atmosphere and resurgence of urban dwellers make it a place where artist can thrive. As Jackson moves forward, its thriving art community relies on public support such as the city administration making arts a priority in addition to affordable living and studio space.
Making A Living
For the past two years, Fondren resident Jerrod Partridge has not only made enough to survive as an artist, but has been supporting his wife and three children. The 33-year-old moved to Jackson to start his family with his wife, Jessie, after attending the New York Academy of Arts where he earned his master's degree in fine art.
After working at Pearl River Glass Studio, Partridge decided to make a living from selling his graphite drawings and paintings. His recent show, "Southern Gothic" at Nunnery's Gallery, showcased life-size portraits of southern scenes and hints of domestic life.
Partridge has diversified his skills to increase his income. He teaches figure drawing classes, receives portrait commissions and sells his work through his exhibits. Partridge sees what he does as more than a business.
"The offerings that we are giving as an artist are different. We aren't just offering a business or a service or entertainment. It's more than that," he says. "People who buy your work are investing in you. There is a real uniqueness of being an artist, but it still has to be viewed as a business."
While Partridge has created a steady stream of income, there are times when commissions stall and his work doesn't sell as quickly as he would like.
After his wife, who teaches classes to new moms, gave birth to their third child, things got pretty tight.
Partridge said the family watches their grocery expenses, often skips eating out and lives as frugally as possible. But it's his faith in God, he says, that have gotten him through the tough times.
Ellen Langford, 43, emerged as an artist in the late 1990s and shared a studio on Taylor Street with other artists in Fondren before Fondren Corner existed, before the neighborhood was the funky artistic community it is today. Langford, who is a painter, has sold her work on the side since she graduated college. She worked as a paramedic for American Medical Response.
Langford admits that she is not a natural entrepreneur, and has been lucky to work with galleries that have helped promote and market her work. She has only been a full-time artist for the past two years, but says she continued to work as a paramedic not for income, but because she enjoyed it. Langford, who lives in Belhaven, has expanded selling her work at regional galleries but primarily works out of her studio at North Midtown Arts Center.
"I have an obsession," Langford says. "I have to create. You have to also be organized and work with a calendar, but the main thing is you have to work your tail off. I don't take vacations. I take great trips, but I am always working."
Jackson artist Ginger Williams-Cook, a painter who is recognized nationally for her nesting dolls, was among a core group of Jackson artists who branded Fondren as the art district it is today.
Williams-Cook, 30, works part-time as an art educator with the Mississippi Museum of Art and spends the majority of her time painting in her Belhaven home's studio. The artist says she has had a lot of success using social media and websites such as etsy.com to sell her work nationally. The low cost of living and creative atmosphere in Jackson are what keep her here, she says.
"I do have days where I want to get out and go somewhere else sometimes," Williams-Cook says. "What keeps me in Jackson are the people. There are a lot of great minds and a lot of great people."
James-Wade says artists are often asked to do work for free or donate for the numerous benefits and silent auctions. Determining what people will pay for art can be the hardest thing for artists to determine.
"Most artists don't consider what they do a business, and that's why they don't understand how to operate as a business," James-Wade says. "When you make the decision that you are going to utilize your talent as your livelihood, you have to look at it as a business, or you will constantly be working second and third jobs."
James-Wade's class teaches the four P's: Price, Production, Promotion and Place. She asks her students to start by calculating their monthly expenses and how many hours it takes to complete a project to discover their hourly rate. She suggests that artists diversify by adding additional products, services and skills. Artists should conduct their business as a profession, asking for letters from organizations verifying the time they have donated to take tax credits, for example, she recommends.
The community plays a vital role in supporting and nurturing its talented artists, musicians, filmmakers and playwrights. James-Wade, who is passionate about working with disadvantaged youth, says she is always trying to find the difficult balance between volunteering and profiting.
"Last year, I estimated that I gave away 300 hours of services for free," James-Wade says. "It's a constant balancing act. I'm always getting calls to help out. If it's an hour, I'll do it, but if it's an hour or two for several weeks, I have to decide if that's going to take away from business and take away from my son."
Making Art a Priority
Sitting in his 11th-floor office overlooking downtown Jackson, Mississippi Arts Commission Executive Director Malcolm White is like a proud father who gets to revel in his child's accomplishments.
White is the founder of the Mal's St. Paddy's Parade, which started as a small loosely organized pub crawl through downtown Jackson in 1983 and has turned into a parade that many residents compare to a News Orleans Mardi Gras celebration.
Twenty-five years ago, White purchased an empty warehouse on Commerce Street that did not have any water or electricity and transformed it into Hal & Mal's, which houses a restaurant, six artists, provides a venue for musicians and events, and attracts people of all ages to downtown.
"The building itself generated its own creative economy," White says, adding that other spaces such as Club Fire, Light and Glass Studio, and NunoErin studio eventually opened up shop on the same street.
Making the creative economy a priority is a prospect state leaders have started to take more seriously. The Mississippi Arts Commission and the Mississippi Development Authority recently partnered to commission a report that evaluates the state's creative economy and its potential.
The report, which is now on Gov. Haley Barbour's desk for his review, determined that the creative economy provides more than 60,000 jobs in the state. The report evaluated the state's creative industries such as Peavey Electronics and Viking Range Corp., as well as individual artists and creative communities such as Fondren, Oxford and Ocean Springs.
"We believe that the new economy is based in ideas, not just industry or agriculture," White said.
White hopes that when the report is released, it will make the arts more of a priority for leaders.
"Arts are rarely a priority," he says. "They are rarely a priority in education, economic development or work-force development, but they should be key players in all those areas. But people often think of arts as something extra that should function outside the core function of government."
Labor of Love
To thrive, artists need places to live and work at affordable prices. In January 2007, Austin Richardson had saved enough money from his job as welder to rent an old studio space at 121 Millsaps Ave., in the once-flourishing Millsaps Arts District. The space now serves Jackson's arts community by providing commission-free gallery and performance space. The space, first called One-to-One Studios, brought life into a community that had fallen into decline.
About two years ago, the 25-year-old realized that he could do more with the space if he owned the property, but he a problem: lack of capital. Richardson partnered with Millsaps Arts District veteran Richard Stowe who had built and lived in the adjacent building with other artists in the 1990s when the neighboring property contained several art galleries and restaurants. The two men put together a business plan to raise money and purchase the building. To signal the studio's transition, the partners changed its name to North Midtown Arts Center and adopted stricter procedures for organizations and artists to host events and rent studio space.
Nearly all the profits from events and studio-space rentals went toward the purchase of the building. Even though managing the space and keeping up with repairs was a full-time job, the partners decided to forgo paychecks in hopes of someday being able to purchase the building.
Stowe sold art he made from his printmaking studio, and Richardson found work in construction and carpentry.
"Any money that we would have paid ourselves, we put into building," Stowe said. "It was the right thing to do. It gave everyone a greater sense of belonging."
Stowe hopes more art enthusiasts and business will move into the area. The properties at 133 Millsaps Ave., and the building that formerly housed Cultural Expressions are also for sale by the same owners. A fence connects the arts center to 133 Millsaps Ave., which includes two residential units and a workshop, and all the buildings share a common courtyard. The residential units provide affordable living space to young artists such as local musician Johnny Bertram and his wife, Emily, who are leaving this month to return to Portland, Ore.
White predicts the district has the potential to be the next Fondren, especially if future developments increase rents in the area.
"Artists always go where the rent is cheap," he says. "They often go into blighted areas where the rent is low, and they will create an interesting space. Hipsters attract economics, and people who have money want to follow the artists into those communities."
Stowe also hopes to collaborate with Midtown Partners, a new nonprofit that is in the process of completing a comprehensive redevelopment in the neighborhood. The redevelopment, which borders the arts district, includes 16 affordable residential units and commercial space.
Mary Elizabeth Evans, Midtown Partners director of community and economic development, said the organization is transforming a 10,000-square-foot building located on Keener Avenue into a space that artists and businesses can rent at an affordable price. Midtown Partners is preparing the building now, and Evans expects it to be available by the end of the year.
Stowe sees potential for young, do-it-yourself entrepreneurs to roll up their sleeves and invest in affordable properties. "Artists usually end up taking over a building because it is cheap, and they can do a lot of the improvements themselves," he says.
"Artists can live without things like heating and cooling. But if you have to spend too much money (on renovations), it's going to be overpriced."
Where the Money Is
Over the past decade, mid-size cities have started using art to jump-start their economies, improve blighted areas and attract young, energetic residents. Jackson is following that trend. Earlier this spring, Michael Raff, Jackson's human and cultural services director, announced a public-arts initiative where the city will allocate 1 percent of all eligible capital-improvement funds for public arts projects.
Raff said the city is modeling its program after Seattle's. For the first project, the Greater Jackson Arts Council and Downtown Jackson Partners are working together to have artists transform 340 traffic signal boxes around the city into works of art.
The city provides rent-free space to arts organizations such as the Mississippi Symphony, Mississippi Ballet, the Greater Jackson Arts Council and Crossroads Film Society. Each year, the city allocates $140,000 total to the Greater Jackson Arts Council, which then uses about $100,000 of that money, in additional to other funds, to provide grants for artists.
Even though Gov. Haley Barbour proposed to cut 20 percent from the Mississippi Arts Commission's state allocation for fiscal year 2012, the commission only received a decrease of 8 percent in funding from the federal government. For fiscal year 2012, the commission is receiving $850,000 from the federal government, $1.4 million from the state and raising $250,000 from the private sector. The commission allocates approximately $1.76 million to grants for artists and organizations.
"We are so fortunate here," White says. "In Kansas and other states, they are proposing to cut their arts commissions and let another arm of government do grants. There is no conversation like that in Mississippi."
To grow the arts economy, White recommends that Jackson leaders spearhead an effort to encourage artists to move into empty warehouse spaces in potential and existing arts districts.
White points to an artist relocation program in Paducah, Ky., as a model for incentives Jackson could use to attract artists.
Mark Barone was an artist living in Paducah's blighted LowerTown neighborhood 10 years ago. He approached the city with an idea to attract more residents and boost the city's economy.
Paducah eventually hired Barone to spearhead the program, in which the city sells blighted property to artists for a little as a dollar, and helps acquire full-financing loans and grants for architecture and renovation services.
Artists must commit to renovate the buildings and bring them up to code, which can be quite an undertaking.
Barone says Paducah was successful because the city had to "hold the artists hands" through every step of the process. A lot of the first-time buyers needed assistance writing contracts, navigating architectural reviews and zoning boards, and establishing timelines for renovations. They also needed accountability.
"We held their feet to the fire because we didn't want people to take a piece of property and sit on it," he says.
Barone, who now travels around the county consulting cities on arts initiatives, says many cities are interested in the idea, but rarely commit to the hard work and resources it takes to transform a community through art.
"This isn't just about having an incentive or clever ads," Barone says. "A lot of communities outside Paducah try to replicate that, and I haven't seen one do it, yet—to the success that Paducah had—because what they do is cherry pick parts of the plan and try to implement it."
While James-Wade acknowledges that Jackson is still a work in process, she is energized by the future possibilities here.
"Artists can see potential in areas that other people don't see potential," she says. "... Jackson needs not to lose its artists. Because what it could be is what is going to take Jackson to that next level."
Enjoyed the read? Why not click over to the Arts & Culture blog to find out more about Jackson's art scene. Also, check the Events page to find exhibit openings, art meet-ups, and more.
More like this story
More stories by this author