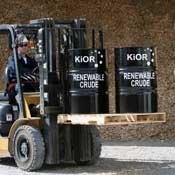 Biofuels company KiOR has yet to produce any of its vaunted crude oil substitute in Mississippi, but the startup is making big moves on financing.
With pledges from oil refining companies to use its product, plans to issue $100 million in public stock and a potential loan guarantee from the federal government, the company is assembling the resources necessary to begin its estimated $500 million expansion plans in Columbus.
On May 3, KiOR announced it had secured a second "offtake agreement" with a refining company to process the synthetic crude oil it makes from wood chips. The agreement with Catchlight Energy, along with a March agreement with Hunt Refining, means that KiOR is now eligible for the $75 million loan from the state that the Mississippi Legislature approved last year.
A spokesman for the company, Matt Hargarten, said that he was unable to comment on the company's pending loan from the state, however, while KiOR applies for an initial public offering.
Last month, the company submitted initial filings to the U.S. Securities and Exchange Commission for a proposed $100 million IPO. KiOR is unusual, however, in applying for an IPO without having reported any revenues.
The company is also seeking a $1 billion loan guarantee from the U.S. Department of Energy. Even with the loan guarantee and capital raised from a stock offering, though, KiOR may need more to support its initial expansion.
The company estimates its first proposed plant, in Columbus, will cost around $190 million. Its next four plants, two that will also be in Mississippi, will process three times as much wood as the Columbus plant and will likely cost more to construct, according to Jim Lane, publisher of the industry newsletter Biofuels Digest.
"It wouldn't be out of whack to suggest a cost in the $300 million range for those larger projects—no matter what, the company is going to have to find more than $1 billion to fund out even the first five plants," Lane wrote in an April 13 assessment of KiOR's IPO plans.
Previous Comments
ID

163527

Comment

I think this is an amazing opportunity for Mississippi to help lead the way in Sustainable Fuel. According to their website, KiOR's process can use many biomass products, including some Grasses. We have many acres of farmland that is not being used which could produce a lot of biomass, bringing jobs and money into the state through our farmers. I suspect that they can probably also use a lot of the left-over limbs and 'junk' trees from logging operations, helping our landowners and logging operations eek a bit more profit from their efforts. It would be awesome if we discovered that they could use Kudzu. :)

Author

BobbyKearan

Date

2011-05-13T12:27:50-06:00
More like this story
More stories by this author