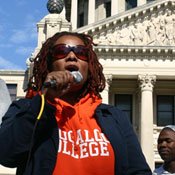 Reducing Mississippi's incarceration rate, which is the second-highest in the United States, depends on reforming many aspects of the state's criminal justice system, a report released this month says.
The report, titled "Numbers Game: The Vicious Cycle of Incarceration in Mississippi's Criminal Justice System," describes a system that rewards the pursuit of low-level offenders and then incarcerates them far longer than necessary. Report authors Judith Greene and Patricia Allard detail the unusual severity of Mississippi's sentencing laws and how they contribute to a disproportionately high incarceration rate.
Representatives of the Mississippi ACLU and other social justice organizations spoke today at the state Capitol to call for the reforms outlined in the report, including replacing mandatory minimum-sentencing laws, restricting the use of confidential informants by law enforcement and improving the state's evaluation of law-enforcement task forces that span multiple jurisdictions.
Beginning in the mid-1990s, a wave of "tough-on-crime" legislation swept the United States, increasing incarceration rates. "Truth-in-sentencing" laws, which required prisoners to serve 85 percent of their sentence before becoming eligible for parole, ensured that as the criminal justice system shunted more people into jail, and that prisons held inmates for longer terms, further swelling the prison population.
Even in that environment, Mississippi's incarceration rate outpaced national and regional averages. From 1994 to 2007, the state's rate grew 105 percent. Meanwhile, the national rate grew 46 percent, and the rate for the southern region rose 51 percent.
Mississippi has relaxed its "truth-in-sentencing" laws since their initial passage. In 2001, state legislators approved a law making first-time, nonviolent offenders eligible for parole after serving 25 percent of their prison term. Then, in 2008, lawmakers expanded parole eligibility for illegal drug sales or possession under certain weight limits.
Still, the state's justice system punishes drug offenders more harshly than the nation as a whole. Nationwide, the average prison sentence for drug sales is 5.7 years; in Mississippi, the average is 10.4 years. Likewise, Mississippi's average sentence for drug possession is 7.2 years, compared to 4.5 years nationwide.
Greene and Allard argue that state lawmakers should replace the mandatory minimum sentences that currently govern drug possession and the broad range of terms for drug sales with a more flexible set of standards. Sentences for drug-related offenses should take into account a defendant's role in the crime, previous crimes and the quantity of drugs involved, they recommend.
Mississippi ACLU Executive Director Nsombi Lambright said that her organization would push for the report's recommendations at the state Legislature this year and in the coming years. State lawmakers have responded to efforts to reduce the state's prison population, especially when considering the benefits of a lower incarceration rate to the state's budget, she said.
"We feel confident that we're on the right track," Lambright said.
Previous Comments
ID

162858

Comment

What's wrong with Mississippi having stiffer sentences for drugs? Maybe the other 49 states need to stiffen theirs..hmmm Anyway even if they reduce sentences, most of the time the offenders are going to commit another crime and be back in prison within a couple of years.

Author

BubbaT

Date

2011-03-28T21:16:43-06:00
ID

162920

Comment

Bubba, Shirley, you are joking. You committed close to 32 logical fallacies in less than 5 lines. If you can support your last statement with actual data or facts, I'll back away, but until then, I'm dying to launch into personal attacks but I'd be chastised. Also, on a side-note. Donna: I notice the paper has been relatively silent on the Obama administration these past several months. Is it because the paper is moving towards a more Jackson-centric format, or ____________ (fill in the blank)? I only ask because there seemed to be a little more coverage of the previous administration. I keep hoping an article will be published so that I'll have a forum to post my 2.5 cents. (inflation)

Author

jbreland

Date

2011-03-30T09:17:10-06:00
ID

162921

Comment

Re Obama coverage: It hasn't been purposeful. We've just been so damn busy since BOOM went quarterly and to keep up with the JFP's growth (and we've spend much of the last year really trying to "professionalize" the organization into being more "proactive"; that hasn't left a lot of time for following national politics that closely, much less analyzing it). By default, when we do post, it's usually about local or state issues. But the forums are still active, and we welcome anyone to post a thread about national politics to get people talking.

Author

DonnaLadd

Date

2011-03-30T09:21:56-06:00
ID

162924

Comment

jbreland- Why are you wanting to launch into a personal attack? The truth offend you? http://bjs.ojp.usdoj.gov/index.cfm?ty=tp&tid=17 During 2007, a total of 1,180,469 persons on parole were at-risk of reincarceration. This includes persons under parole supervision on January 1 or those entering parole during the year. Of these parolees, about 16% were returned to incarceration in 2007. Among nearly 300,000 prisoners released in 15 states in 1994, 67.5% were rearrested within 3 years. A study of prisoners released in 1983 estimated 62.5%. Of the 272,111 persons released from prisons in 15 states in 1994, an estimated 67.5% were rearrested for a felony or serious misdemeanor within 3 years, 46.9% were reconvicted, and 25.4% resentenced to prison for a new crime. These offenders had accumulated 4.1 million arrest charges before their most recent imprisonment and another 744,000 charges within 3 years of release. Released prisoners with the highest rearrest rates were robbers (70.2%), burglars (74.0%), larcenists (74.6%), motor vehicle thieves (78.8%), those in prison for possessing or selling stolen property (77.4%), and those in prison for possessing, using, or selling illegal weapons (70.2%). Within 3 years, 2.5% of released rapists were arrested for another rape, and 1.2% of those who had served time for homicide were arrested for homicide.

Author

BubbaT

Date

2011-03-30T12:11:40-06:00
ID

162925

Comment

jbreland- More info for you. Over 60% of drug offenders are arrested again within 3 yrs. http://bjs.ojp.usdoj.gov/content/pub/pdf/rpr94.pdf

Author

BubbaT

Date

2011-03-30T12:16:41-06:00
ID

162927

Comment

Bubba, Unable to open too many links at once due to my computer being slow. Does the data indicate what percentage of drug offenders would later commit unrelated crimes? Does it indicate what percentage of offenders would otherwise commit crimes if drug laws were not in place?

Author

jbreland

Date

2011-03-30T13:27:35-06:00
ID

162931

Comment

Wait a second now, Bubba, ARE YOU SAYING OUR PRISONS AREN'T REHABILITATING PEOPLE?

Author

Lori G

Date

2011-03-30T14:43:01-06:00
ID

162932

Comment

Lori- LOL,LOL does anybody really believe that BS? No prisons are what they are, for punishing people for crimes, always have been, always will be.

Author

BubbaT

Date

2011-03-30T15:40:34-06:00
ID

162933

Comment

Bubba, I'm not sure why I bother, but the problem with locking people up for long periods for nonviolent drug offenses is that you wind up with a huge prison population. That is at least part of why the United States has far more prisoners than any other country on Earth. The United States comes in first, too, on a more meaningful list from the prison studies center, the one ranked in order of the incarceration rates. It has 751 people in prison or jail for every 100,000 in population. (If you count only adults, one in 100 Americans is locked up.) The only other major industrialized nation that even comes close is Russia, with 627 prisoners for every 100,000 people. That's right. We have more of our people locked up than Russia. Hurray! But it wasn't always this way. The spike in American incarceration rates is quite recent. From 1925 to 1975, the rate remained stable, around 110 people in prison per 100,000 people. In other words, we now imprison 10 times as many of our citizens as we did in most of the 20th century. Why? Efforts to combat illegal drugs play a major role in explaining long prison sentences in the United States as well. In 1980, there were about 40,000 people in American jails and prisons for drug crimes. These days, there are almost 500,000. Those figures have drawn contempt from European critics. "The U.S. pursues the war on drugs with an ignorant fanaticism," said Stern of King's College. I am not saying that you are an ignorant fanatic. But I would think that you would be concerned about the enormous waste of taxpayer dollars, if nothing else.

Author

Brian C Johnson

Date

2011-03-30T16:02:35-06:00
ID

162934

Comment

Brian- I don't consider locking people who been convicted of violent or non violent crimes a waste of taxpayer dollars. It's a waste of money letting off with light sentences and have to try them again and put back in prison.

Author

BubbaT

Date

2011-03-30T17:12:50-06:00
More like this story
More stories by this author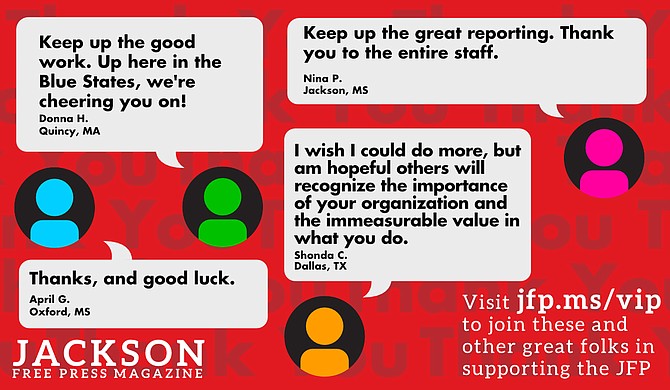 Thanks to all our new JFP VIPs!
COVID-19 has closed down the main sources of the JFP's revenue -- concerts, festivals, fundraisers, restaurants and bars. If everyone reading this article gives $5 or more, we should be able to continue publishing through the crisis. Please pay what you can to keep us reporting and publishing.