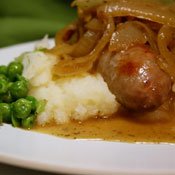 Ordering "bangers and mash" is cooler than asking a waiter for sausage and mashed potatoes. Way cooler. Kind of like it's cooler to get fish and chips instead of fried fish and French fries, but that's another story, and we don't want to hurt anyone's feelings over at Cock of the Walk.
I get a cool, slow-burn factor going on with a dish as simple as bangers and mash. But as good as it can be, it can turn on you in a heartbeat and unleash gastro-fury if done in a cheapo style. I guess that can hold true for most simple dishes; they're like that girl in the nursery rhyme by Henry Wads­worth Longfellow:
There was a little girl who had a little curl
Right in the middle of her forehead;
When she was good, she was very, very good,
And when she was bad she was horrid.
When Brian Cartenuto cooked at Char, I tried one of his signature dishes. It was elegant in its simplicity: fresh tagliatelle pasta tossed with crème fraiche, lemon zest and black pepper, topped with scallions and a warm egg yolk—few ingredients, balanced perfectly and executed with care. That is fine food. The same goes with bangers and mash. If you start with fresh, well-made ingredients, and prepare them with restraint and love, you end up with a masterpiece. But take a short cut or an alternate route, and you can end up with a kitchen disaster. If Cartenuto had skimped on using fresh pasta, globbed in some heavy cream, and slammed the dish with from-concentrate lemon juice, the whole thing would have been a bloody nightmare of clashing tastes.
Our dish of discussion today can take the same ugly turn, hitting you like an IRA car bomb if you buy cheap sausage and slap them atop some re-constituted potato flakes.
So I caution you, dear readers: Take care when ordering the simple pleasures. Make sure your chef gives a damn, and ask if everything on the plate is fresh and handmade. If the answer you get from your server is anything other than a resounding and proud "Yes!" opt for the burger instead. Even if it's bad, it won't hurt you like terrible tube meat and a glop of sloppy paste.
For guaranteed results, just do it at home. It really is that simple.
Bangers and Mash
1 large yellow onion
4 medium Yukon gold potatoes
1 stick butter
6 sausages (any fresh link sausage or Country Pleasin' smoked sausage, both available at McDade's)
Salt
Black pepper
1 cup whole milk
Splash of dark beer (Guinness recommended)
1/2 cup chicken stock
Coarse brown mustard
Thinly slice onion. Cut potatoes into 1-inch cubes and rinse with cold water. Cut butter into 6 pats. Season sausages liberally with salt and pepper. Pre-heat oven to 400 degrees.
Place potatoes in a large saucepan and cover with 2 inches of cold water. Bring water to a boil, and reduce heat to a simmer. Continue cooking for 20 minutes.
Drain potatoes and return them to the pan with all but one pat of the butter. Mash with a potato masher, and add milk slowly while continuing to mash and mix. Once the potatoes have reached a creamy consistency, stop adding milk, even if there is still some left over. Taste and season accordingly with salt and pepper. Keep warm over low heat until ready to serve.
Heat a large iron skillet over medium heat. Brown sausages on all sides and transfer skillet to the oven and cook for 15 minutes.
Remove pan from the oven and transfer sausages to a plate to rest. Place skillet back on a medium burner and add butter. When the butter melts and begins to foam, add sliced onions and cook until soft. Add a small splash of beer and chicken stock, and cook until reduced by one half of its original volume.
Serve sausages on a mound of potatoes and top with onion sauce. Garnish with a dollop of mustard on the side for dipping.
Serves six.
More like this story
More stories by this author