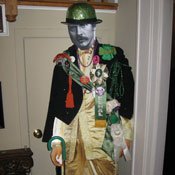 I hate to admit it, but I've been marching with a krewe for about 15 years, and I've never taken the time to learn its origin story. So when my editor shot me a note to ask if I would do a short piece on the O'Tux Society, I took it as an excuse to bother our Fearless Leader Malcolm White with questions I've always been too embarrassed to ask. I mean, if I'm a member, I should know this stuff already, right?
With my deadline already a day past, I didn't have the luxury of sitting down with Malcolm, notepad in hand, and doing a proper interview. Instead, I lobbed in a call and talked to him as he was headed to a meeting, and I was on the road delivering my new catering menu to doctors all over town. So my details might be a bit fuzzy, but I'm pretty sure Malcolm was guessing at some stuff, too.
When Malcolm lived in New Orleans, he loved watching the St. Patrick's Day and St. Joseph's Day parades wind their way through the streets. The sights of revelers decked out in tuxedos handing out flowers for kisses and the sounds of the marching bands blaring their beautiful noise stuck with him like a bent quarter that you just can't get rid of and one day becomes your lucky charm. During the first couple of St. Paddy's Day parades he put on in Jackson, Malcolm simply wore a spontaneous get-up and carried a shillelagh (a wooden walking stick with a large knot on the top that can double as a weapon). The third year, he decided to reach back to his New Orleans experience and bring some NOLA to Jackson.
The group started small, with Raad Cawthon and a couple of other guys following Malcolm's lead and donning tuxedos, elaborate sashes and non-matching hats. Like their New Orleans predecessors, the three (it could have been two, but probably not four) founders carried flower-covered canes and gave the blooms out along the route while marching behind a jazz brass band.
In following years, the founders added more and more marchers each year. Despite the new blood of a rapidly expanding membership, they pretty much kept to the same unwritten credo of "no meetings, no rehearsals, no dues." But like any good credo, there are always exceptions. One year, the gang did rehearse and performed a skit in front of the judges. As Malcolm describes it: "I think it had something to do with Elvis or something and ended with Wayne falling down dead and Raad drawing a chalk line around him before we marched on. It was great, but once was enough."
Some rules have gone by the wayside, like the "all boys" thing, but other traditions have held firm, like the fact that pretty much everyone gets dressed together the morning before the parade, gathers to make toasts to friends not present, and to listen to words of encouragement and wisdom before hitting the streets.
Over the years, the bands have changed a few times, and some years even featured big names like the Dirty Dozen Brass Band and Rebirth Brass Band. Pinstripe has served the longest, and the band and the marchers now share a real bond between them.
One of Malcolm's personal favorite parts of the parade is when the O'Tuxers lead the band back into the bar, signaling the end of the parade.
Having participated for many years, I can attest to the overwhelming rush you get when all of that noise and green-beer-fueled bravado comes surging and throbbing in rhythm to the music through the crowd in Hal & Mal's.
I'll be back there this year marching alongside my son, Stuart, who is one of many second-generation marchers. I just learned that this year we have a third-generation marcher (or toddler, as the case may be).
I guess I'll stop when the guy pushing my wheelchair just can't keep me upright past the second block, if then even.
Words really don't do it justice when describing the experience, but I think Malcolm said it best in our "interview" when he opined: "There's really nothing like it, and I'm glad for it. That's pretty darn special."
More like this story
More stories by this author
Support our reporting -- Become a JFP VIP.
The news business has changed dramatically in the past year, and we need your help more than ever to keep bringing you important stories about Jackson and the Metro. Become a JFP VIP with an annual membership or you can Sign up as a monthly supporter. Thanks for anything you can do to empower our journalism!