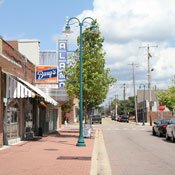 Watkins Eyes August Opening for Farish
Developer David Watkins said yesterday that he is "a hundred percent convinced" that the B.B. King Blues Club will sign a lease to anchor the Farish Street Entertainment District. The club is planning for an Aug. 1 opening date, he said.
Addressing City Council members at a work session yesterday, Watkins said that negotiations with the entertainment chain have been more "dynamic" than other potential Farish Street tenants.
"As his requirements and requests have changed, we've had to be flexible," Watkins said.
Watkins Development Vice President Jason Goree echoed Watkins' confidence. Both parties were able to reach agreements on "upfront fees" at a recent meeting, Goree said.
Two or three additional tenants have signaled their desire to commit to leases once the Farish Street Group secured the B.B. King Blues Club's participation, Goree said. Those tenants are also aiming for an Aug. 1 opening.
"It sounds like you're telling me that things are getting ready to happen," Ward 7 Councilwoman Margaret Barrett-Simon told Goree.
"Things are getting ready to be seen," Goree said. "We've been working in the background for at least the last 18 months, but now you're about to be able to see the actual fruits of what we've done."
"Some of us go back about 18 years," Barrett-Simon replied. "I put it up there with the Fortification Street (redesign) project."
Watkins said that poor economic conditions have slowed the project's progress.
"A lot of the tenants that we've talked to have wanted to slow down the process just because the hospitality sector of the economy is down 35 percent," Watkins said. "They've intentionally slowed things down."
Watkins Development Director of Construction Warren Bowen said that workers need another 90 days before Farish Street can be opened to normal traffic.
Dollar General In Northeast Jackson
Construction is set to begin on a new Dollar General store at the corner of Old Canton and County Line roads. Developer Mike Rozier appeared at yesterday's work session to address concerns from citizens and Ward 1 Councilman Quentin Whitwell about the discount store's location near high-income neighborhoods.
Rozier assured council members that the new store will have less obtrusive signage, a brick facade and lighting that turns off after 9:30 p.m.
Housing Forum Today
The Jackson Chamber of Commerce hosts a community forum today on housing in west Jackson. The event features a panel discussion including state Sen. Alice Harden, D-Jackson; JSU Center for University-Based Development Director Kimberly Hilliard; Washington Addition Neighborhood Association President Blonda Mack; and city Deputy Director of Housing Patricia Williams.
Today's event is a spin-off of the chamber's popular Friday Forum at Koinonia Coffee House and the first in a series of events that the chamber will sponsor across the city. The forum starts at 6 p.m. in the Elnora D. McGowen Dining Hall of the Masonic Temple at 1072 Lynch St.
Previous Comments
ID

162455

Comment

Gee, because a Dollar General is a horrible, bad thing to have so close to rich folk, especially if the lights are on after 9:30 PM! /sarcasm

Author

LambdaRisen

Date

2011-03-08T13:20:59-06:00
ID

162458

Comment

Thrifty shoppers?!?! Not in my neighborhood!!! Well, unless the sign is down low and the building is made of bricks... then it's ok.

Author

Tre

Date

2011-03-08T14:23:34-06:00
ID

162461

Comment

Worrying about property values? Nahhhh, lets just let everything go to crap. /Sarcasm_off Lambda, having foresight and taking an interest in your neighborhood is not a bad thing. They're building the store aren't they?

Author

RobbieR

Date

2011-03-08T14:35:54-06:00
ID

162466

Comment

Somebody better check with the B B King people because I heard last week they told people close to them here in Jackson that they were not coming and had no plans to come to Jackson.

Author

wellington

Date

2011-03-08T17:21:48-06:00
ID

162467

Comment

Wellington, If people are talking to B.B. King or people from his organization, what are they giving as reasons for not coming to Jackson.

Author

justjess

Date

2011-03-08T18:06:20-06:00
ID

162477

Comment

As to the Dollar General, if the neighborhood association and its wealthy members were that concerned, you'd think they'd do the following: Buy the land the church had up for sale. Buy the apartments and/or shopping centers near by and encourage the sort of stores and renters they want. Otherwise, money talks, BS walks.

Author

Pilgrim

Date

2011-03-09T08:51:57-06:00
ID

162478

Comment

So, are the same people not concerned about *Walmarts* -- just curious.

Author

DonnaLadd

Date

2011-03-09T08:54:17-06:00
ID

162480

Comment

Is there a Walmart across the street from CCJ and Montrose? I must've missed that.

Author

RobbieR

Date

2011-03-09T09:09:47-06:00
ID

162484

Comment

This is just capitalism at work. I thought rich people LOVED capitalism? Free Markets, baby!!!

Author

eyerah

Date

2011-03-09T11:57:07-06:00
ID

162487

Comment

Property values? I'd use the Dollar General as a selling point! "Run out of contact cleaner, toilet paper, or cat food??? There's a Dollar General right across the street!" I think we all know the real reason they don't want a dollar store near their high-income neighborhood...

Author

Tre

Date

2011-03-09T13:59:01-06:00
ID

162488

Comment

Tre, it's said that you like to make blanket statements of racism based on income levels of people you seem never to have met. It really is. When the option for a liquor store downtown was being mulled around, I believe Matt Eichelberg was quoted as saying he wanted to make sure it fit with it's surroundings, and fit well in the downtown area. Is he a racist too? In my opinion I believe more neighborhood associations should 1) be active and 2) be involved in the commercial developments in their immediate surrounding areas. It's possible that if that occurred, Jackson may not have as many dilapidated neighborhoods and urban decay as we do. (I'm 99% sure it was Matt who was quoted, but if not, I'll be glad to correct my story. Either way you get the point I was trying to make).

Author

RobbieR

Date

2011-03-09T14:29:55-06:00
ID

162500

Comment

Oh, I've met these people. I will make blanket statements of racism as long as these people continue to do racist things.

Author

Tre

Date

2011-03-10T09:35:38-06:00
ID

162504

Comment

I think the main point to see here is that there is nothing wrong with a neighborhood trying to prevent an unwanted business from entering. Is the area appropriate for a Dollar General? Probably not. I'll be the first to say that I heartily dislike chains such as WalMart and McDonalds and their bullying ways of entering places where they are clearly unwanted. I see little difference in this case.

Author

tombarnes

Date

2011-03-10T12:57:58-06:00
ID

162506

Comment

Is the fear that this high end neighborhood will attract low end shoppers? LOL! This "Class System" in Jackson and its surrounding areas is getting to be real crazy. I'm with the blogger who says (simply put) if you don't want the eggs, buy up all of the chickens.

Author

justjess

Date

2011-03-10T13:48:55-06:00
More stories by this author
Support our reporting -- Follow the MFP.