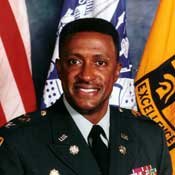 Last year, approximately 86 percent of students who gradated from Jackson Public Schools Junior Reserve Officers' Training Corps went on to receive higher education. As the JPS Director of Army Instruction, Col. Paul Willis hopes to increase that number by next year.
"Junior ROTC is a leadership and character development program," says Willis, who retired from the Army in 2004 after 25 years of service." We focus on instilling values, helping students improve their overall fitness, and, overall, we want to help prepare them for successful living after high school."
For the past seven years, Willis has overseen the district's JROTC program, which is the largest program in the state with 2,260 students enrolled this year. The program, open to any high-school student, combines strength training with community service and leadership development. Students who complete the four-year program are eligible for academic scholarships.
During his Army service, Willis, an Edwards, Miss. native, was the commander of the eastern region of the ROTC. In 2004, he moved to Utica to oversee the Jackson Public Schools' program.
"When the opportunity came to do this in my hometown area, I thought this was God sending me in this direction, and creating this opportunity to give back and help our young people move forward," he says.
Willis, 53, earned his bachelor's degree in sociology from Alcorn State University in 1979 and his master's in education from Chicago State University in 1989. At Alcorn State, Willis graduated from the school's ROTC program.
The Jackson Public Schools' 24th Annual Cadet Review Ceremony is March 30, 6 p.m., at Hughes Field on Ellis Avenue. The ceremony will honor Murrah High School Cadet Jamie Bush, who is the district's JROTC Cadet of the Year and features a student-led parade.
More like this story
More stories by this author