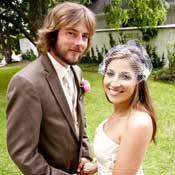 When asked how a dietitian from Biloxi met and married an electrician from Brandon, Brittany Hammons Simmons, 26, and Geoffrey Simmons, 24, answer, "Club Fire." The reactions they receive from their answer still make them giggle and share a secret smile about that night in 2008.
The twosome kept in touch through text messaging while living in two different regions of Mississippi, After Brittany moved to Jackson in May 2008 for an internship with Mississippi Baptist Health Systems, the couple had their first date at the Natchez Trace Park. They like to spend their time supporting local bands, hiking, canoeing and hosting cookouts.
"We're the house everyone goes to on the weekends," Brittany said.
Brittany and Geoff married May 14, 2011, which is was Brittany's birthday as well. May 14 is also the day they got engaged a year prior while attending the Hangout Music Festival in Gulf Shores, Ala. He suggested a walk on the beach, and then he pulled the ring out of his pocket.
"No speech, nothing fancy," Geoff said. "It's not me. I'm not big on the traditional stuff."
In fact, making sure the groom didn't see the bride's gown before the wedding was one of few traditional elements of their wedding along with Brittany being escorted down the aisle by her father. Both of them, that is. She was arm-in-arm with her biological father and her stepfather. Beyond that, the couple wasn't interested in sticking with the conventional. They wanted every facet of their important day to be wholly their own, even down to their bridal registry. Instead of dishware and linens, they registered for a camping tent. Along the same vein, for their bachelor and bachelorette parties, Geoff kayaked at Buffalo River in Arkansas and Brittany played bongos in a reggae band.
The couple was married underneath the large cedar, oak and magnolia trees at The Cedars in Jackson. At the entrance of the hollowed-magnolia tree, the couple made a handmade sign that said "Roots of Eutopia."
"Geoff and I came up with that name. It was a cute lounge area with chairs and the tree had light strung throughout the center of it. ... We are extremely free-spirited, relaxed people who love hanging out with friends."
Geoff's cousin Kevin Shoumaker performed the ceremony. As the bridal party marched from the altar, musicians Cody Bruce and Shane Heath played "One Love" by Bob Marley.
Tables with an assortment of flowers, including pink peonies, peeking out of old glass bottles sitting atop tree slices and strings of lights added to the quaint and woodsy atmosphere of the event.
"We raided Rainbow's collection of recyclables every so often to take clear wine bottles home. We cleaned them and painted them different shades of blues and greens," Brittany said.
They also decorated with vintage hard suitcases borrowed from a friend's parents.
"We wanted something whimsical, down to earth," Brittany said.
The couple booked The Cedars for the weekend, so it was a good use of money and time to hold the rehearsal dinner, wedding and reception in one venue. They also saved money by foregoing abundant floral displays. The bridesmaids wore fuchsia dresses and carried parasols instead of bouquets.
"The bridesmaids were my flowers," Brittany said.
For their first dance, Brittany asked Jackson band the Bailey Bros. to play "Anyone Else But You" by The Moldy Peaches as a surprise for Geoff. The song was one of the couple's favorites. Jason Bailey sang the song as a duet with his girlfriend Hannah Gross.
For their honeymoon, the couple originally thought of camping and hiking in Oregon or Washington, but St. Lucia became their final choice.
"It was the perfect mixture of mountains and tropics," Brittany said.
They stayed in a treehouse, mingled with locals, ate at the Boucan Restaurant and Bar where cocoa was an ingredient in everything and went to the La Soufriere, St. Lucia's drive-in volcano.
The couple lives in Jackson. Brittany is a dietitian with Mississippi Baptist Health Systems and a graduate of the University of Southern Mississippi and Geoff is an industrial electrician and received his journeymen certification from the International Brotherhood of Electrical Workers. The couple dated for two years before getting engaged.
Vendors
Wedding Planner: Deborah Simmons of Signature Occasions (290 Commerce Park Drive, Suite A, Ridgeland, 601-952-1960)
Cake: That Special Touch Cakes and Flowers (2769 Old Brandon Road, Pearl, 601-932-5223)
Rehearsal dinner, wedding and reception venue: The Cedars (4145 Old Canton Road, Jackson, 601-366-5552 or 601-981-9606)
Invitations: Divine Dezynes (888-359-0417, http://www.divinedezynes.com)
Bridesmaid gowns by Lula Kate: Bella Bridesmaid (118 W. Jackson St., Suite B, Ridgeland, 601-898-0303, http://www.bellabridesmaid.com.)
Tuxedos: Tuxedo Junction (Northpark Mall, Suite 237, 601-957-1233, http://www.tuxedojunction.com.)
Reception Music: The Bailey Bros (http://www.myspace.com/thebaileybros.)
Photographer: Brian Sacrisca (a friend of the couple), http://www.dwsphotos.com
Hairdresser: Oasis Hair Nails and Massage (5230 U.S. 80 E, Suite B, Pearl, 601-939-5006.)
Special Touches
• The bridesmaids had matching earrings and parasols. The parasols are from http://www.lunabazaar.com. The earrings were gifts from Brittany who bought them on Etsy.com. Many of the items used at the wedding were handmade and purchased from Etsy.com, including the two handmade birds on top of the cake, a burlap ring bearer pillow, the flower girl's basket and halo and the maid of honor's hair band.
• Brittany bought her gown from Forrest Paper and Bridal (6555 U.S. 98 W, Suite 4, Hattiesburg, 601-545-7422 or 601-450-3737) because they offered organic dresses. The gown, designed by Adele Wechsler, was made of hemp and vegetable-dyed silk.
• Joshua Beckmeyer from Memphis, the couple's videographer friend set up a vintage photo booth with props for everyone to use.
• Kid-friendly vintage games were at each reception table to entertain any kids that attended and the wedding programs also had mazes on the back. "There were friends saying they wouldn't be able to come because they couldn't get a babysitter," Brittany said. "I just told them to go ahead and bring (the kids) along."
• A wishing tree adorned with birds and crystals allowed guests to write notes of congratulations and encouragement and hang them from the branches. The Simmons' will display the tree in their home.
•The couple replaced the traditional guest book with a guest bench they had made at Star Discount Furniture (4701 Highway 49 S., Star, 601-845-3517). Guests signed the bench, which the Simmons' will glaze and keep in their yard.
• "Magic Carpet Ride" is the couple's signature drink made with pineapple juice, rum, ginger ale and mint leaves. Although not named after the song, they just loved the name and wanted people to get a sense of a free spirit life when they drank it.
More stories by this author
Support our reporting -- Follow the MFP.