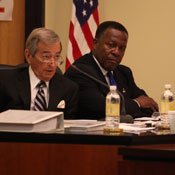 With less than 30 days left before Jackson Public Schools Superintendent Lonnie Edwards' contract expires, school board members must decide this month who will serve as the district's superintendent as of July 1.
Edwards gave his final testimony during the last day of his appeal hearing May 26. He requested the appeal when
the board announced in January that it would not renew his contract for the next school year. The hearing, which started in March, has included testimony from school-board members and district employees about Edwards' job performance since he started his position in 2009. Testimony has included a mixed bag of praise and criticism, with several school-district employees vouching for him.
JPS attorney Dorian Turner said she expects the hearing's court reporter to turn in completed transcripts by June 13. Hearing officer Nathaniel Armistead will then have 30 days to review the transcripts and put together a summary for school-board members. After Armistead presents his summary to the board, they will have another 30 days to vote on renewing Edwards' contract.
Because it is unlikely that the school board will vote before June 30, Turner said the board will likely select an interim superintendent July 1. The board has the option of naming Edwards as interim superintendent or selecting a new superintendent altogether.
"It could be an employee within the district, or it could be someone completely outside the district," Turner said. "... I can't tell you when they are going to do it. But they are aware that they need a new superintendent by July 1."
School-board members did not give any indication on what their next course of action would be.
"I wouldn't want to second-guess the board," JPS Board President Kisiah Nolan said. "That's nothing we have been in discussions about at this point. We are just following the process."
School-board members Ivory Phillips and Tim Collins also said that they have not been in any discussions about the board's next course of action.
Ann Jones, former JPS board president who finished her second term on the board in 2009 and did not vote on Edwards' tenure, said the hearing has taken away time and resources that the district could have spent improving test scores and student achievement.
"In my opinion, it's not good for the district," she said. "It's not good for the children or employees of the district. It's quite a distraction. ... Teachers will continue to teach as they normally do, but in terms of setting goals for next year or looking at scores and setting aside resources and strategies to go forth, I don't know if any of that is happening."
The board's original vote on Edwards' contract was 3-1, with Nolan and members Monica Gilmore-Love and George Schimmel voting not to renew. Otha Burton cast the lone vote to renew Edwards' contract, and Ivory Phillips was absent. With the addition of two new members since the January vote, Collins and Linda Rush, the outcome of a second vote on Edwards' contract is uncertain.
More like this story
More stories by this author