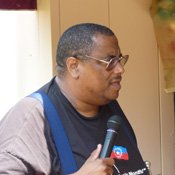 Residents gathered in the Tougaloo community this morning to push Congress to establish Juneteenth as a national holiday commemorating the abolition of slavery in the United States in 1865.
Rev. Ronald Myers is a Belzoni native and founder of the National Juneteenth Observance Foundation, a national organization that works with states and the federal government in observing the holiday. During this morning's press conference, Myers called for the U.S. Congress to pass legislation that would establish Juneteenth as a National Holiday Observance Day like Flag Day or Patriot Day. He also wants the state Legislature to establish a commission that would be responsible for establishing education curriculum for public school students about Juneteenth, and establish markers and monuments to increase tourism and educate the public.
Last year, the Mississippi Legislature passed a proclamation honoring June 19 as Juneteenth Freedom Day in Mississippi. The holiday commemorates the day Union General Gordon Granger and federal troops entered Texas and forced the emancipation of slaves in 1865.
Mississippi Senator Willie Simmons, D-Cleveland, has sponsored several bills over the years that would officially recognize Juneteenth as a legal state holiday, but the bills did not survive.
Texas has recognized Juneteenth as a state holiday since 1980, but does not close its state offices.
"If the state wants to recognize Juneteenth as a paid state holiday, we aren't going to get in the way," Myers said. "But Juneteenth is a grassroots movement, and as far as the movement goes, recognizing it as a holiday observance day is enough for us."
Meyers said that when he started the organization in 2000, only three states had passed proclamations recognizing Juneteenth. Meyers then traveled to Washington D.C. and began to campaign for congress to establish Juneteenth Independence Day as a National Day of Observance and an official state holiday or state holiday observance in all 50 states.
Today, 39 states recognize Juneteenth. Even though Congress acknowledges the holiday, Meyers is issuing a petition asking Congress to establish a federal holiday, which he will give to president Barack Obama.
"A presidential proclamation is all that is required for Juneteenth Independence Day to be recognized as a national holiday in America without the burden on taxpayers as a federal holiday," the petition states.
Simmons said today that he would like the state pass legislation officially establishing Juneteenth as a state holiday.
"Making it an official holiday is a challenge to have that accomplished, but I don't think we should give up on it," he said. "The more individuals that get involved and the more citizens that become educated, I think the better that chances are that we can do something like that."
Previous Comments
ID

163747

Comment

You have my vote; however, in view of the fact that Dr. King shares his holiday with Robert E. Lee in this State, it will surely be a L O N G shot.

Author

justjess

Date

2011-06-04T19:16:54-06:00
ID

163750

Comment

Jess- You do know that Robert E. Lee birthday was a state holiday before King was even born, don't you? The only reason they are on the same day is so the state didn't have to add a new paid holiday.

Author

BubbaT

Date

2011-06-05T12:44:08-06:00
ID

163751

Comment

Bubba, you do know that the state had slaves before Dr. King was born, right? That fact doesn't change anything.

Author

DonnaLadd

Date

2011-06-06T08:33:17-06:00
ID

163753

Comment

Does anyone know when the slaves were freed in MS? Juneteenth is celebrated in many places, but June 19, 1965 is really the day the Union enforced the emancipation of slaves in TX. I always thought that TX was one of the last states to be forced to end slavery, but I'm not sure about that. The Emancipation Proclamation was supposed to be effective on January 1, 1963, but it took 2 and a half years for the slaves in TX to get the information. Very sad...

Author

News Junkie

Date

2011-06-06T08:44:05-06:00
ID

163757

Comment

Donna- Really? No kidding? Just pointing out to her why they are on the same day. Not some slight to black people.

Author

BubbaT

Date

2011-06-06T11:52:57-06:00
ID

163758

Comment

"Bubba, you do know that the state had slaves before Dr. King was born, right? That fact doesn't change anything." Yes indeed! lol!!!

Author

Duan C.

Date

2011-06-06T12:04:12-06:00
ID

163770

Comment

News Junkie, I'm sure Walt would say they are still waiting, but union occupied areas of Mississippi were emancipated when the proclamation took effect on Jan 1, 1863. So Haley Barbour would probably say that Mississippi was one of the first, if not the first, formerly slave holding state to begin to free them.

Author

WMartin

Date

2011-06-07T19:51:25-06:00
ID

163771

Comment

The Union commander in Corinth was the only one that enforced the proclamation in Jan 1863 when it was issued. Wasn't enforced anywhere else till May in Natchez, July in Vicksburg and Jackson when they fell to Union troops.

Author

BubbaT

Date

2011-06-07T22:37:42-06:00
ID

163780

Comment

NewJunkie- It didn't take 2 1/2 for Texas to be informed,the reason they didn't enforce the proclamation in TX till troops occupied it in 1865 was Texas was in the Confederacy, a seperate country from the U.S. and as far as they were concerned the proclamation didn't apply to them.

Author

BubbaT

Date

2011-06-08T13:35:58-06:00
More like this story
More stories by this author